Every item on this page was chosen by The Fed & Fit team. The site may earn a commission on some products (read more here).
This Roasted Mayo Chicken results in a perfectly cooked, crispy chicken that will become a dinner table staple in no time!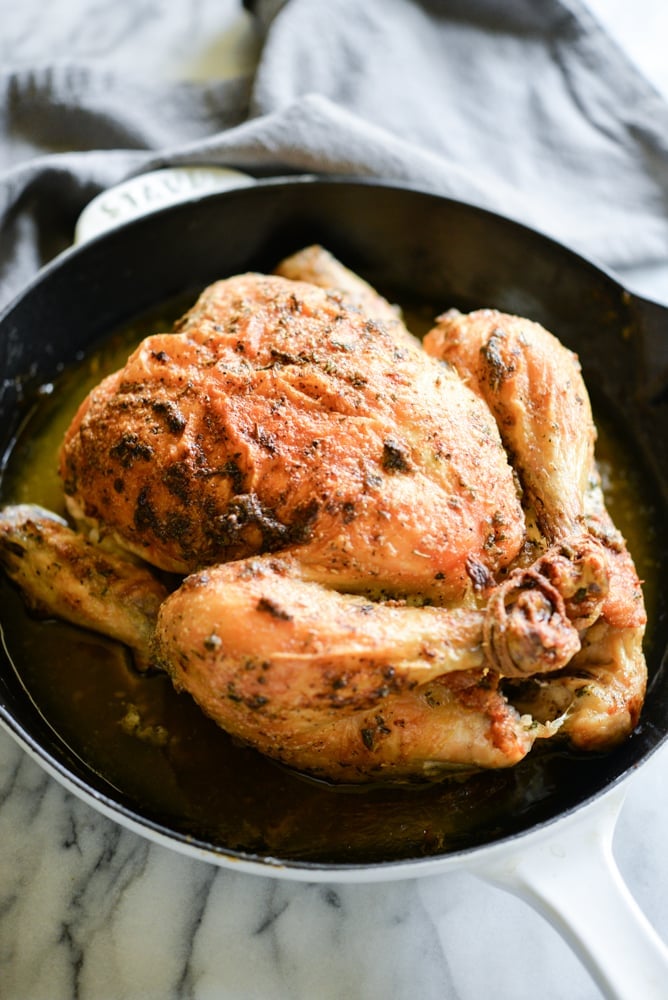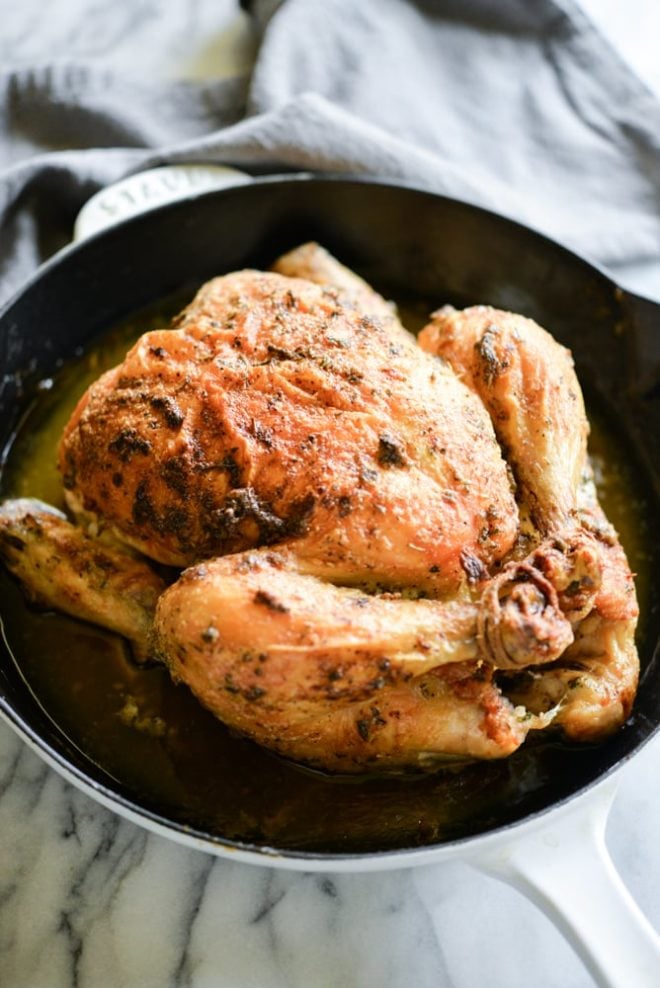 I think we've finally cracked the code on perfect roasted chicken, my friend. It calls for an unlikely dinner guest, but that dinner guest just happens to be the key to a whole new world of flavorful, delicious, crispy roasted chicken. Our special guest is MAYO! Now, before you change the channel, please hear me out. I'm not one of those people who will add a high fat ingredient just for fun (unless we're talking about bacon, of course). I'm not afraid of fat and really believe in a healthy fat's healing power, but I'm not one to butter crackers or add heaping globs of ghee to toast. Nope, I'll add it in when it makes SENSE and believe-you-me, slathering mayo on chicken actually makes sense.
Here are a few reason why:
Slathering your chicken in fat is something you were probably already going to do! Whether you were going to use olive oil or butter, this is really not that different.
Mayo actually "holds" herbs and seasonings on the chicken even better than an olive oil or butter. The emulsion stays put better vs. running off the chicken once it heats up.
Because it stays put, it also helps to really crisp that chicken skin.
….need I go on?
The kind of mayo to use is important here. I don't recommend using a conventional mayo from your usual brand. If you don't want to make it in house (you can see my recipe in this post), I recommend grabbing a jar by either Sir Kensington's or Primal Kitchen Foods.
To make this Roasted Mayo Chicken, all you need to do is pat your chicken dry, fill the cavity with lemons and/or onions, add some herbs in with a little mayo, and slather it over. Tie the legs with some twine, position it in your favorite frying pan (or dutch oven), and bake at 370 F for one hour and fifteen minutes!
Instructions
Preheat oven to 375 F.

Pat the chicken dry with paper towels, then place breast side up in a large cast iron or roasting pan.

In a small bowl, mix together mayo, lemon zest, herbs, salt, and pepper. Rub the mixture evenly over the chicken.

Place the lemon halves inside of the cavity of the chicken, then tie the legs together with the twine.

Bake for 1 hour 15 minutes to 1 hour 30 minutes, until the chicken breast reaches a temperature of 165 F and the juices run clear when cut.

Let rest for at least 10 minutes, then carve and serve!
Nutrition Information
Nutrition Facts
Mayo Chicken
Amount per Serving
% Daily Value*
* Percent Daily Values are based on a 2000 calorie diet.