This chicken salad with grapes and pecans livens up the classic with a few delicious add-ins. It is perfect for making ahead and eating all week!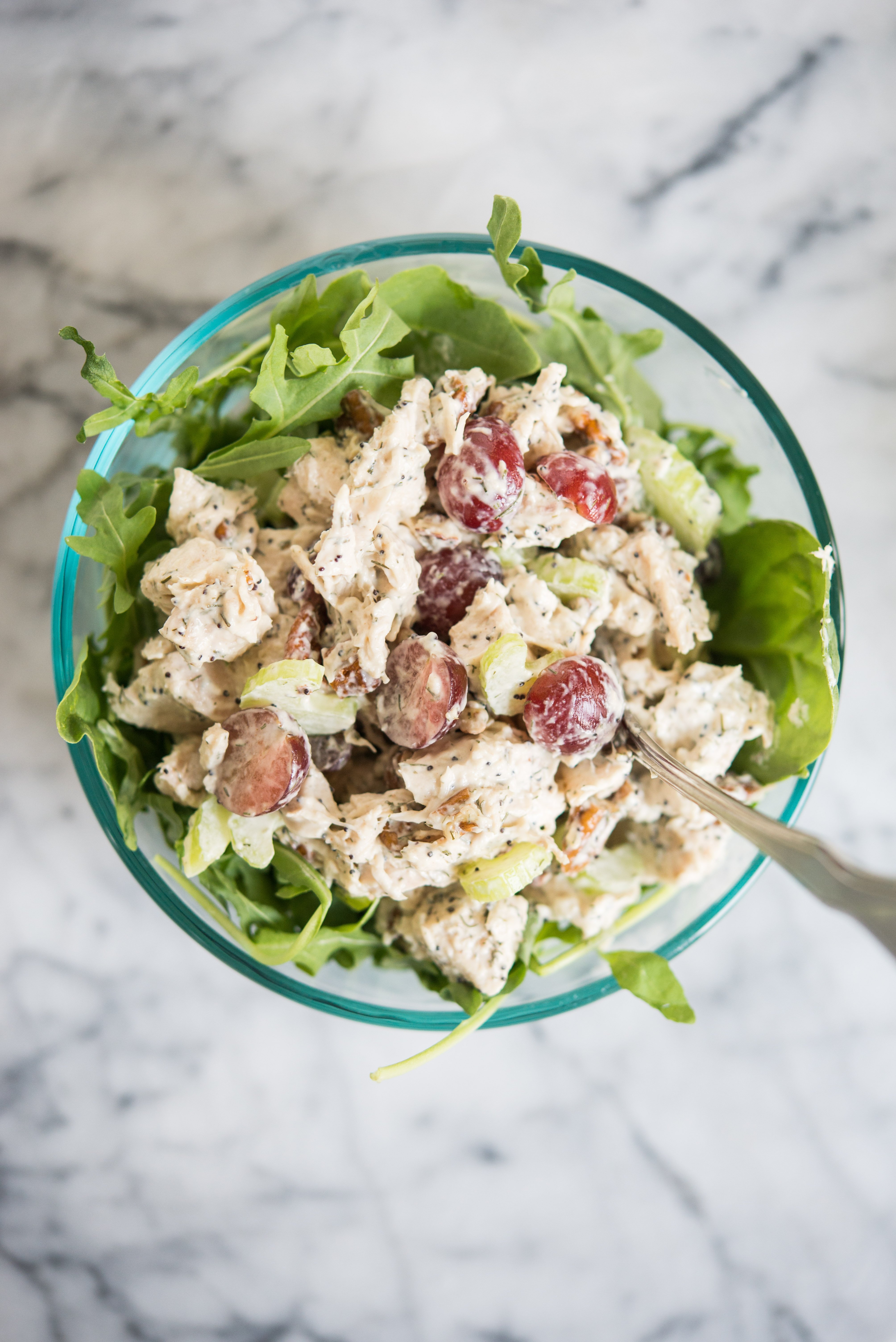 Chicken salad has long been one of my go-to lunches. It is incredibly versatile and makes for a delicious sandwich or a filling meal over greens, and it is perfect for days when I need lunch on the go. This chicken salad with grapes and pecans is my all-time favorite version of classic chicken salad. It's not too heavy on the mayo, meaning we avoid the soggy, flavorless salad you so often get when you order out to eat, and we add a good bit of dijon mustard that lends some tanginess and tons of flavor. Dill gives the chicken salad a nice, fresh flavor while the grapes add a hint of sweetness and the pecans and celery add crunch. Every bite of this chicken salad gives you something new to love!
Ingredients for Chicken Salad with Grapes and Pecans
Here's what you'll need to make this delicious chicken salad!
Chicken – the main ingredient, of course, is chicken! You can either cook up a few chicken breasts, grab a rotisserie chicken, or use up any leftover chicken you have lying around to make this chicken salad. We find that white meat works best here.
Mayo – mayo is what binds this chicken salad together. We went lighter on the mayo for this recipe so you can still taste all of the flavors in the salad. If you're a mayo-hater though, feel free to substitute Greek yogurt in its place!
Dijon Mustard – this is the secret ingredient to making this chicken salad great. First, the use of dijon mustard allows you to use less mayo, and it adds a ton of flavor that separates it from your typical chicken salad recipe.
Grapes – Red grapes help add just the right touch of sweetness to the recipe.
Pecans – pecans give the chicken salad a bit of crunch and lend a nice toasted flavor.
Celery – celery provides a bit of freshness and crunch to the salad.
Dill – dill is a classic component of chicken salad for good reason! It helps give this recipe its classic flavor and freshens up the salad a bit.
How to Make
Making chicken salad truly couldn't be any easier! Here's what you'll need to do:
Shred or cube the chicken. First, you'll want to shred or cube the chicken into bite-sized pieces.
Chop the grapes and celery. Next, you'll cut the grapes in half and slice the celery.
Add everything to a bowl and mix it up. Once you've got your prep work done, you'll simply add all of the ingredients to a large bowl and mix it together. Once it is mixed, taste the chicken salad for seasoning and add anything that is needed.
Serve or store for later. From here, you can either serve immediately or store the chicken salad in the refrigerator for up to 5 days.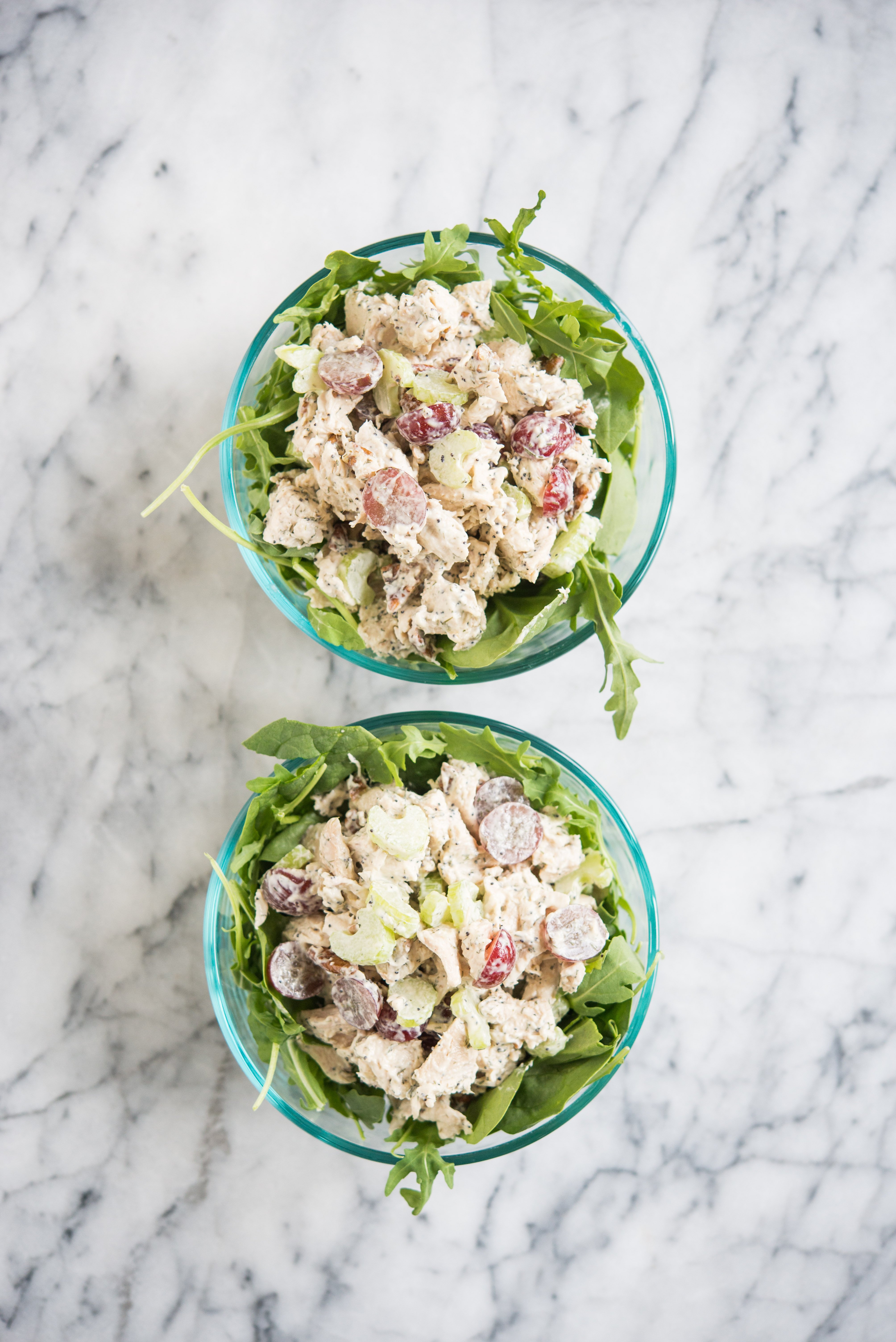 Variations To Chicken Salad With Grapes
Though this recipe is dynamite as written, there are several variations you can make to switch it up. Here are a few:
Swap the Grapes for Dried Cherries or Cranberries – if dried cranberries or cherries are more your thing, feel free to swap them in for the grapes!
Swap the Grapes for Apple – if you love apples more than grapes, swap in chopped apple (your favorite variety) in for the grapes. They both lend a really yummy crunch to the salad.
Swap the Nuts – if you don't like pecans, swap them for walnuts or almonds!
Frequently Asked Questions
How long does chicken salad last?
It depends where you're storing it! If you're storing it in the refrigerator (which is, of course, the very best option), it'll last for 4-5 days. If you're serving it at a party and it's sitting out at room temperature, we recommend not letting it sit for more than 2 hours. If you're enjoying chicken salad at a picnic outside, we recommend bringing a cooler to keep outside heat off of your chicken salad for a long period of time.
How much chicken salad per person?
We'd plan for about 4-8 ounces (or 1/4-1/2 pound) of chicken per person, so if you're looking to serve chicken salad to 8 people, you'll need about 2-4 pounds of chicken (depending on what else you're serving).
What's the best way to serve chicken salad?
You can serve this chicken salad with grapes and pecans any way you'd like! When I am meal-prepping lunches for the week, I tend to prefer serving my chicken salad over mixed greens for a healthy veggie boost. However, you can also make a sandwich, and if you want to really take it to the next level, add on some avocado and swiss cheese. This chicken salad is also great eaten on its own or with crackers for a picnic!
Video
More Favorite Lunch Recipes
Chicken Salad with Grapes and Pecans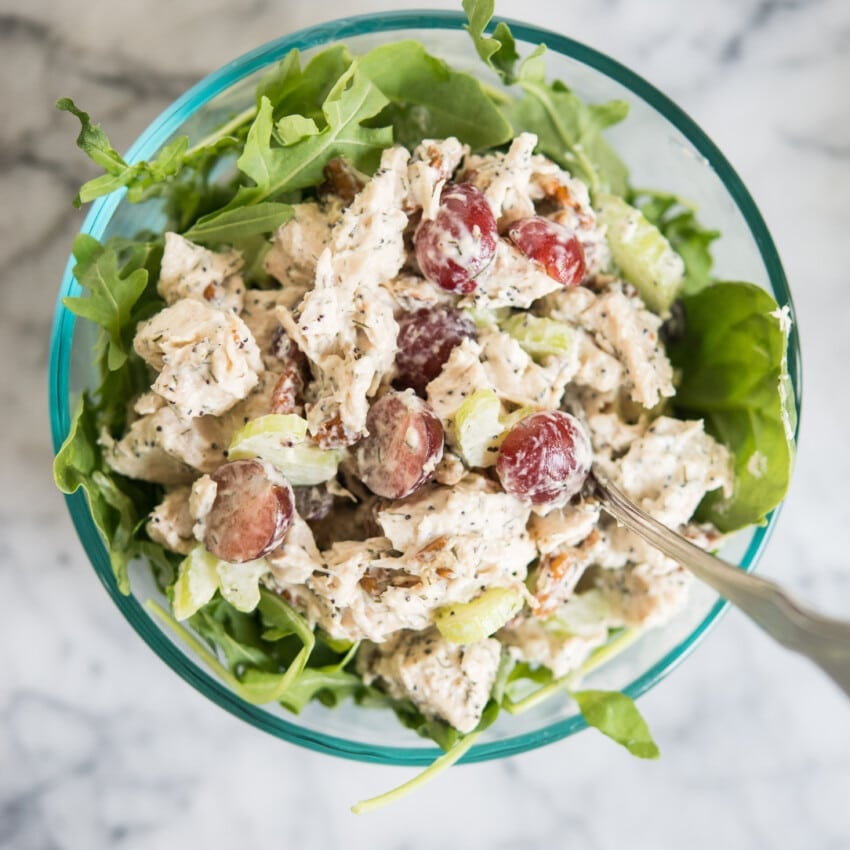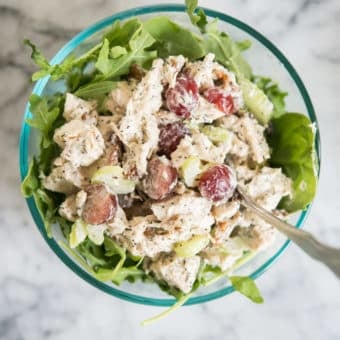 This chicken salad contains grapes, pecans, celery, dijon mustard, and dill for a creamy recipe that is bursting with fresh flavor!
Instructions
Place all ingredients in a large bowl and mix until fully combined. Taste for seasoning and add additional salt and pepper as needed.

Spoon over mixed greens and eat immediately or store in the refrigerator for up to 5 days.
Nutrition
Calories:
516
kcal
|
Carbohydrates:
7.3
g
|
Protein:
29.7
g
|
Fat:
41.3
g
|
Saturated Fat:
6
g
|
Cholesterol:
117
mg
|
Sodium:
919.3
mg
|
Fiber:
2.5
g
|
Sugar:
3.7
g