Our Favorite Small Businesses to Support This Holiday Season
Today we're talking about how to support small businesses this holiday season, even if you can't shop in person, plus we're rounding up some of our favorite small businesses perfect for gifting or everyday!
6 ways to support small businesses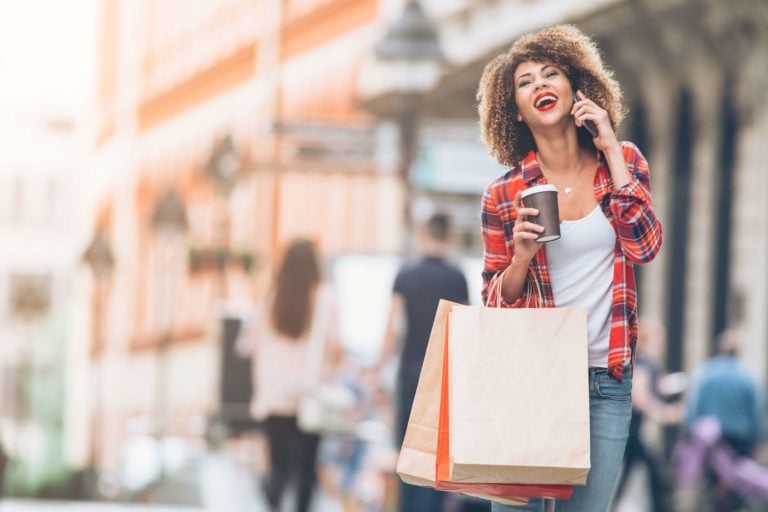 This year, shopping small matters more than ever! Many small businesses have been forced to temporarily close their doors this year, and, as a result, more business has been driven online. By making an effort to shop small this year, you can help these businesses keep their doors open.
Why shop small?
Small businesses are often referred to as the 'backbone' of the economy – did you know there are 31.7 million small businesses in the U.S. and that they make up 41.7% of U.S. employees?
Local small businesses are owned by people who actually dwell in your community, and they want the best for it just like you do – they oftentimes invest in the wellbeing of the community, but can only do this with our support.
Local businesses lean on other local businesses for day-to-day tasks (think: shipping materials, banking, farms, etc.) – they know what being a small business is all about, and the struggles that small businesses face, so their network of providers is typically more small business based! 
This is what is known as the 'multiplier effect.' Essentially, every dollar you spend at a local business has a much greater impact on your community. Studies show that about 48% of dollars spent at local businesses stay in your community, vs. just 14% at chain stores!
Even more, when you're supporting a small business, you're supporting a real person! Your purchase will help them support their families, their teams, and help them grow their businesses and create more jobs.
4 Ways to Support Small Businesses
Depending on your current local restrictions, you may not be able to shop in person like you have in years past, but that doesn't mean you can't support small businesses! Here are a few ideas to help you shop small while staying safe:
#1: Locate the Small Businesses in Your Area
Find local businesses in your area, and see if they are offering curbside pickup or shipping! Not sure where to start? Try searching for 'Small Business Saturday' in your area – many cities are doing more than ever to boost local businesses this year! You can also check out the American Express Small Business Map or this awesome small business directory from Product Boss.
#2: Buy Gift Cards
Don't forget, small businesses aren't just shops! Your local workout studios, hair salons, spas, and more are also small businesses. If you can't use their services in person right now, buying a gift card is a great way to show your support.
#3: Support Your Local Bookstore
Bookstores are also in need of support right now as more and more people shift to buying online! If you can't get to your local bookstore in person, see if you can shop online.
If that's not an option, you can buy physical books through Bookshop.org, which is offering free shipping through Cyber Monday. More of an audiobook person? You can sign up with Libro.fm and the bookstore of your choice will receive a percentage of the profits from every audiobook you purchase! Right now you can get one audiobook for free with code FEDANDFIT.
#4: Go Virtual
Many small businesses have pivoted this year to be able to offer online experiences. For example, two of my favorite local wineries, Lost Draw Cellars and William Chris Vineyards, are currently offering virtual wine tastings! This is a great way to support a small business and also have a fun night in. A few other ideas to look into are cooking classes or even cheese tasting classes, crafting classes (paint and sip classes are always fun this time of year, or check out this candle-making class!), online workout classes, and even local museum tours and events.
#5: Order Takeout
Don't forget that your favorite local restaurant is also a small business, and your support right now goes a long way! Use this as an excuse to skip cooking tonight and order in instead.
Etsy Gift Ideas
Etsy is an incredible resource for small businesses, and one of my personal favorite places to shop for unique, meaningful Christmas presents. If you really want to make sure you are supporting local, you can actually filter by location when you search for gifts! Here are a few of my favorite Etsy gifts & finds from the last few years:
Below are our favorite picks for all things beauty, wellness, and self-care!
Primally Pure
Primally Pure has long been one of our favorite safer beauty companies, but did you know that they are also a small business? It has been so amazing to see them grow over the years! Primally Pure is also having a great sale this weekend. If you're new to Primally Pure you can take 25% off your first purchase with code FEDANDFIT25. If you're a returning customer, don't worry! You can still get $10 off any $75 purchase, $20 off $100, or $35 off $150 or more!
Here are some of our favorite products:
Luv Scrub
Luv Scrub is a Black-Owned business that makes an incredible exfoliator! Use this to replace your loofahs and washcloths for incredibly smooth skin.
Moon Rivers Naturals
Moon Rivers Naturals is a small business making all-natural skincare products based in Hawkins, TX. I LOVE their body scrubs, especially the Peppermint Lavender with epsom salts for relieving muscle aches and the Grapefruit Coffee for an energizing shower.
Dazzle Dry
Our favorite nail polish company is also a small, woman-owned business! Right now you can get 25% off sitewide. We especially love their nail kits for holiday gifting.
Equilibria
Our favorite CBD company is also a small, woman-owned business based in Chicago! Now through Cyber Monday, the entire site is discounted 20% off plus, if you're a new customer you can take 15% off with the code FEDANDFIT. Their holiday sets are perfect for anyone in your life who could use some relaxation and self-care! 
Cater to Mom
We love that this small, Black-Owned business caters to postpartum moms! Each monthly box is themed with a focus on different things moms face during the postpartum period. Sign up for a subscription HERE.
MI WELLNESS
Fed + Fit Reader Recommended! Ami blends pure, powerful plants into solutions that provide wellness for women. Their Calm Herbal Tincture is on my wishlist!
Below you'll find our favorite small business picks for all things home!
Branch Basics
Branch Basics is our go-to for non-toxic cleaning, and they are a small, woman-owned business based right here in Texas! Their formula cleans like a DREAM and is so easy to use. Their starter kit will cover all your cleaning needs from laundry to bathrooms. This Black Friday weekend they are having their BIGGEST sale of the year!
Read our full review, then take 20% off all starter kits through Cyber Monday with code FEDANDFIT.
Rifle Paper Co.
This adorable small shop has everything from the cutest gift wrap, to stationery, beautiful scarves, and more! I'll be grabbing a few stocking stuffers from here. Right now you can take 30% off sitewide.
Olive and Linen
We LOVE these Turkish hand towels and bath towels from Olive and Linen! Right now you can get 30% off with code TURKEY30.
MJ Wood Co.
This small, black-owned business makes gorgeous goods out of wood. I especially love their planters and hand-crafted cutting boards.
Rug and Weave
This small Canadian business has the most gorgeous rugs, throws, ceramics, and more, many of which are sourced from local artists.
Estelle Colored Glass
This Black-Owned, woman-owned business makes the most stunning handblown glassware that is perfect for gifting this holiday season!
Hill Country Woodshop
We've gotten so many beautiful, handmade cutting boards from this local shop! They also offer gorgeous custom furniture.
Box Sparrow Studio
This Houston, TX-based shop is filled with the most gorgeous ceramic goods!
Below are a few of our favorite small jewelry shops!
Jane Winchester Jewelry
We love Jane Winchester Jewelry! Her coin pendants make the perfect thoughtful gift for your loved one this holiday season.
BYCHARI
This small, black-owned business makes beautiful jewelry, I especially love their stackable necklaces! Get 20% off with code THANKFUL.
Lace and Pearls Jewelry
I absolutely love this shop's simple, perfect-for-everyday jewelry. The Stephanie Necklace and Destiny Earrings are on my personal holiday wishlist.
Mint & Birch
F+F Reader Recommended! These hand-lettered necklaces are a perfect gift for any mom.
Mountain Beach Sea Glass
F+F Reader Recommended! This beautiful, unique sea glass jewelry would make for such a wonderful gift.
Below you'll find some of our favorite small businesses that cater to kids!
Sugar Cup Trading Co.
This children's boutique features fashion, gifts, and toys from around the world. We especially love their fabric dolls and arts and crafts kits.
Cuddle + Kind
Cuddle + Kind's fabric dolls are beyond adorable, and what's even better is that with each purchase 10 meals will be donated to children. Right now, you can save 15% with code KIND15.
Paper Play + Wonder
Paper Play + Wonder is such a fun shop! They sell tons of affordable printables for everything from paper dolls, to puzzles, to puppet theatre to keep your kids entertained all day!
Treehouse Kid & Craft
Treehouse Kid & Craft is an Atlanta-based small business that carries tons of amazing from all around the world that encourage critical thinking, problem-solving, and imaginative play.
Brown Book Box
Brown Book Box is a monthly subscription box dedicated to helping families build diverse libraries. They have monthly book box options from ages 0-9 years old starting at just $19.99!
Casita Curated Play
F+F Reader Recommended! Casita Curated Play is a monthly subscription that makes sensory play boxes for kids! You can choose to sign up for a subscription, or buy a single sensory kit.
Tweed Baby Outfitters
F+F Reader Recommended! Tweed Baby Outfitters makes adorable kids clothes and has a huge selection of unique toys.
Drink Mixy
F+F Reader Recommended! This concept is SO neat! Mixy makes making delicious craft cocktails easy and fun. They sell infusion kits with dried aromatics to give you all the flavor of craft cocktails without the work. These would make for a great stocking stuffer, or you could combine multiple for a gift basket. The Joy and the Skyline are on my list!
Iconic Cocktail Co.
F+F Reader Recommended! Iconic Cocktail Co. makes mixers that are formulated with real ingredients and less sugar for great-tasting cocktails. Their mini mixer pack is a great way to get started!