The Harvest Sparkle (Bourbon Champagne Cocktail)
jump to recipe
Part of being Fed+Fit is finding a balance between admittedly not-health-food indulgences and foods that make you feel like superwoman. Fresh Paleo foods, lots of water, unlimited crunchy veggies, and the occasional coffee make me feel like superwoman.
While feeling like a million bucks is one thing, you know what reassures me that my lifestyle isn't fleeting? The fact that I can feel healthy and indulge in the occasional cocktail, baked treat, and gluten-free delivery Dominos pizza without. any. guilt.
No guilt. Yep, it's totally possible.
I believe there's room for the indulgences that make our life feel like …life. It's okay to jump off the endless series of diets, detoxes, and 30-day "shreds." Put your thinking cap on and design a balanced lifestyle that makes you feel great, fulfilled, and complete. Understand that enjoying 1 to 2 cocktails a week doesn't make you a failure. In fact, 10 cocktails a week doesn't make you a failure, but it probably does make you feel pretty crummy.
To make up my couple drinks a week, I'll order something spectacular if Austin takes me out on a date and then I'll have a glass of red wine with our Sunday night steaks. Save for the occasional Lone Star at a nighttime kickball game, I like my cocktails to be extra special. Extra special, my friend, is the theme of this recipe.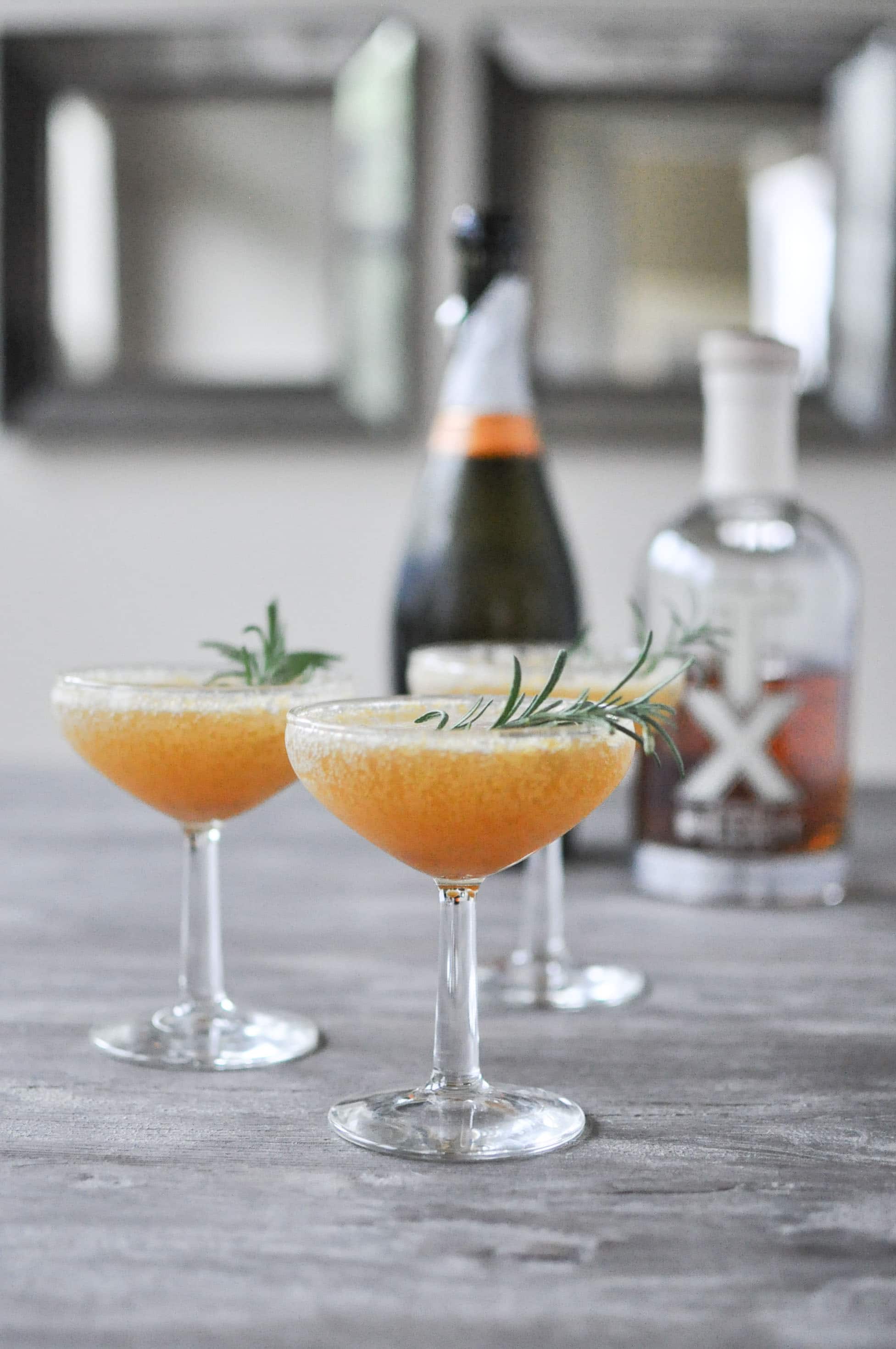 This special sip comes by way of a cider spice-infused honey, a dash of a smoky whiskey, and a good glug of a champagne or prosecco. Garnish with a fresh sprig of rosemary and let the bubbly, fall-flavored goodness transport you to falling leaves and other happy things.
I was caught fantasizing about the perfect October wedding – The Harvest Sparkle being the signature pre-dinner happy hour drink for guests to enjoy while the sun sets and the band warms up. Just a suggestion.
If you are really looking for awesome wedding inspiration or planning ideas, you should totally check out loverly.
Cheers!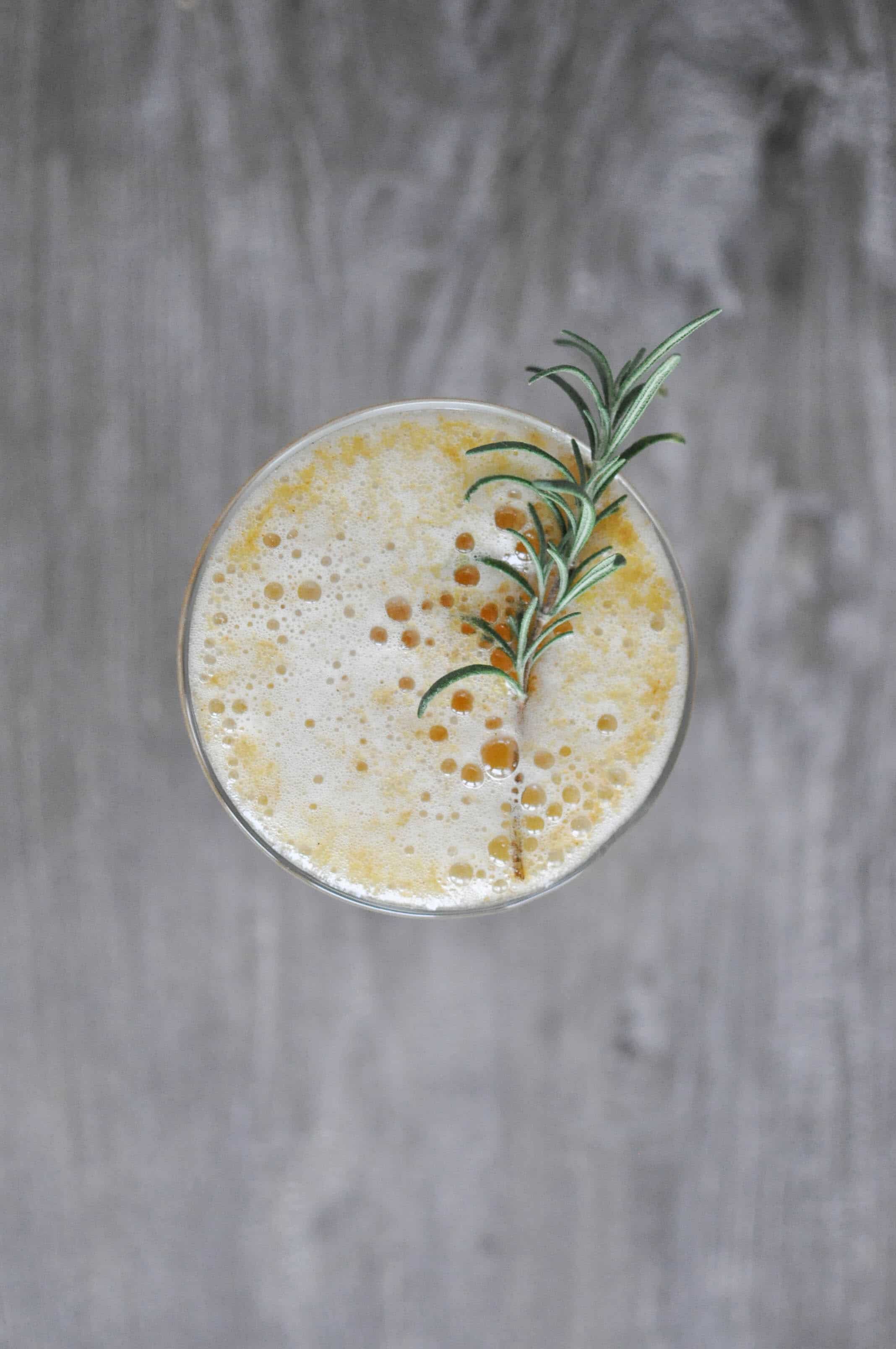 Print
The Harvest Sparkle
Author:
Prep Time:

10 minutes

Total Time:

10 minutes

Yield:

1

or

18

servings

1

x
For the cider honey syrup::
For a large batch/pitcher (serves 18)::
2 1/4 cups

whiskey or bourbon

1 1/2 cups

of the cider honey syrup (entire batch)

2 1/4 cups

prosecco, champagne, or sparkling white wine

9

sprigs of rosemary
For a single cocktail::
Instructions
In a small saucepan over medium heat, whisk the honey, ginger, cinnamon, cloves, and orange juice together until it starts to bubble. Remove from heat and let it cool for 5 minutes.
In a pitcher or shaker, mix the honey syrup and whiskey together with a good amount of ice so that it is completely chilled. Strain into a different pitcher or serving glass. (Note: caution that you don't let the honey and whiskey mixture sit in the ice for too long so that it doesn't get watered down.)
Keep refrigerated.
Just before serving, add prosecco to top off the glass and garnish with a ½ sprig of rosemary.