Turkey spaghetti casserole combines spaghetti squash, turkey Italian sausage, and tomatoes to create a comforting casserole that will feed you all week.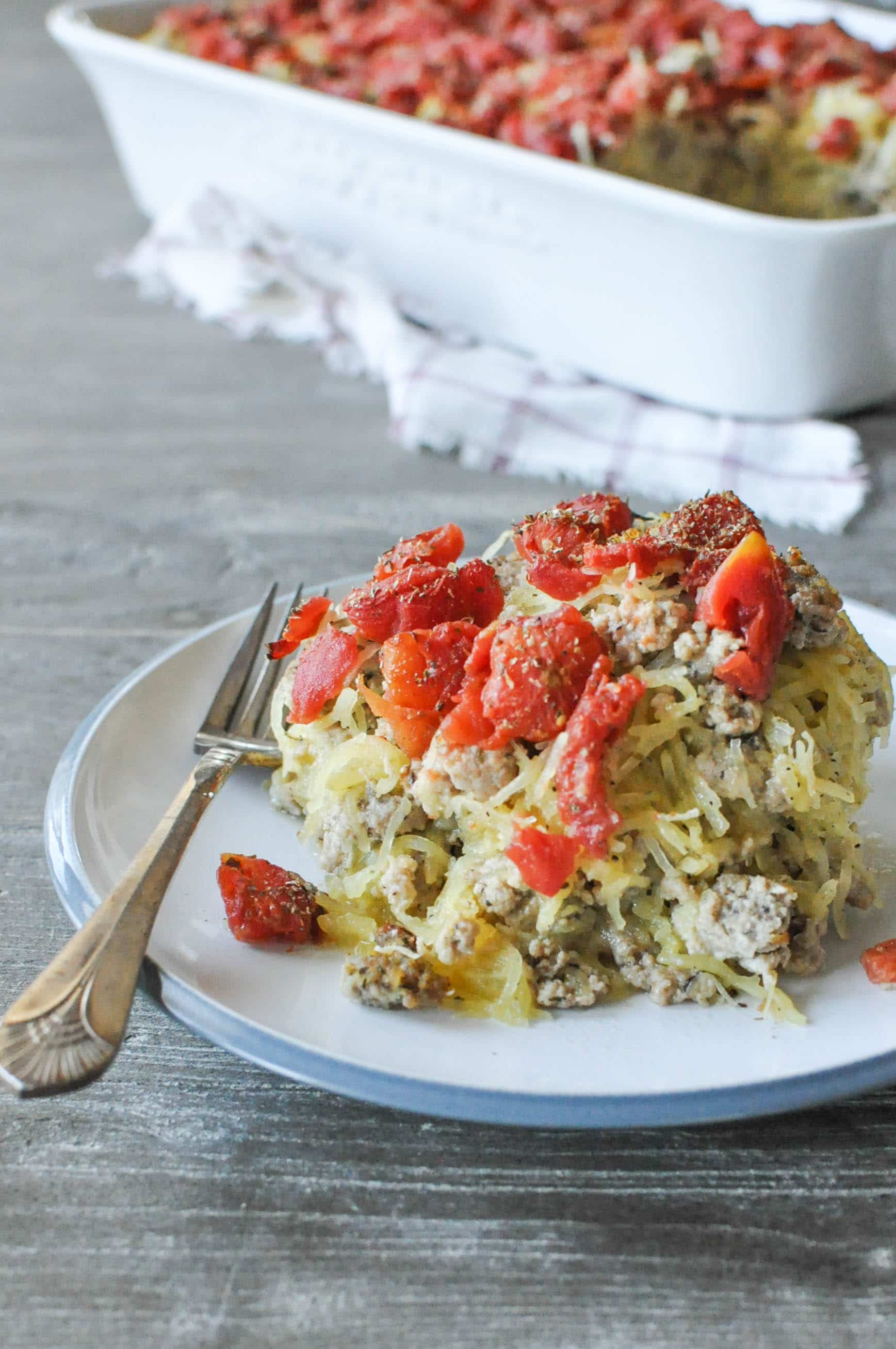 Hidden secrets to healthy lifestyle success are favorite topics in this Fed+Fit world. Mindset (which we happy gab about on the Podcast), sleep, hydration, eating the RIGHT foods, and fun exercise are all critical components.
…but, what if we zoom in and read between the lines? Where are the secrets that truly cause the rubber to meet the road? Actually living a healthy lifestyle is vastly different from knowing all about the why without taking any action.
This is where I start to fine-tune my job description.
I'm here to not only talk about why a Paleo nutrition approach combined with a mixed fitness program is the BEST label we can put on a sustainable healthy lifestyle "destination," but to also show you how. That's, essentially, what I'm up to! I'm in the beta stage of my first large-scale "program" that will walk you through the how to design YOUR OWN healthy lifestyle. Isn't that just so dang exciting? The folks in the beta group are kicking butt, giving me great feedback, and reaffirming that this Project is on the exact right track. Stay tuned for updates!
Back to this seriously delicious casserole …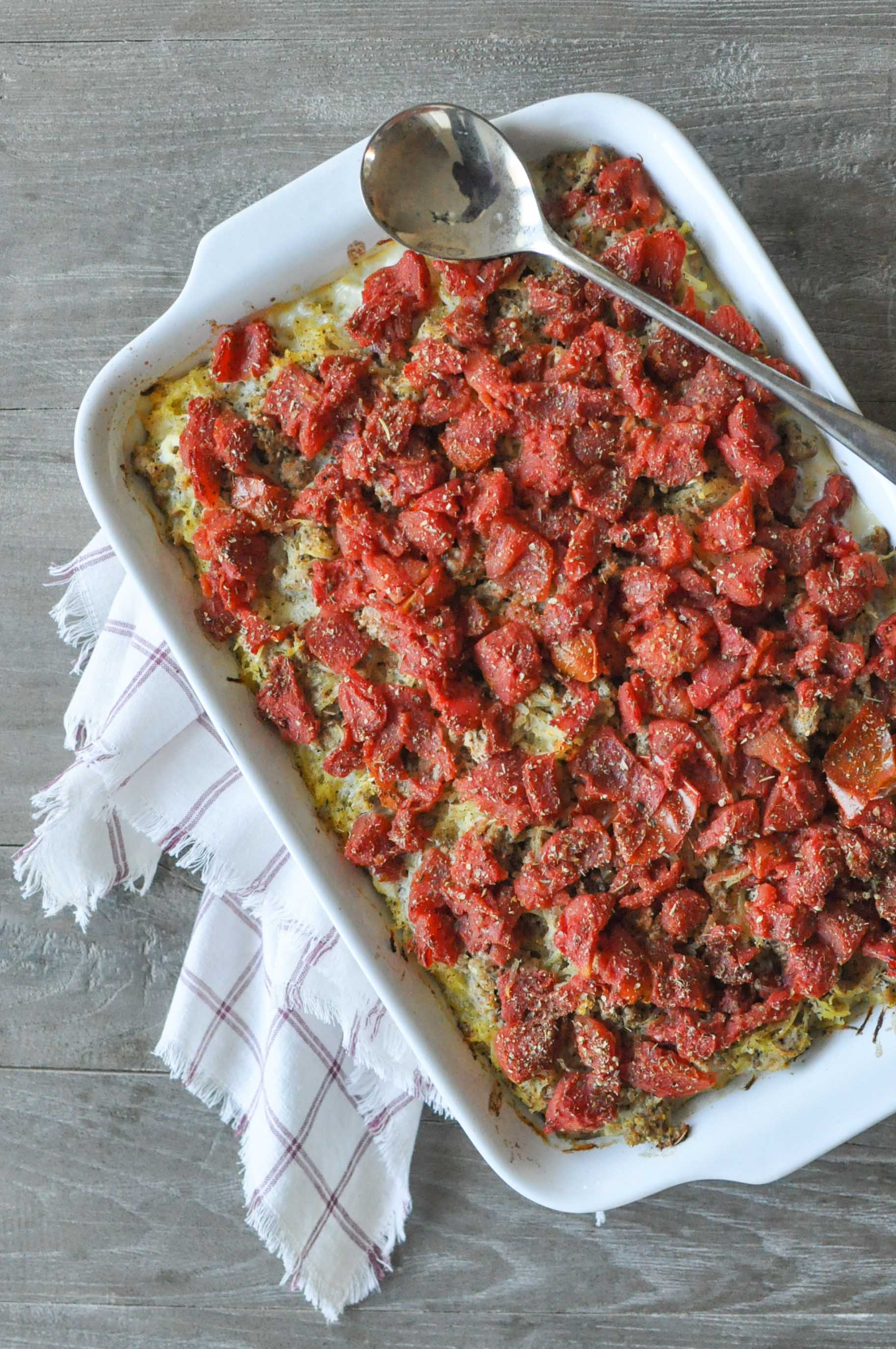 This casserole is ONE example of how I can show how. Even as a person who LOVES to cook, I go absolutely crazy if I have to make 3 new meals every single day. It's not an option! I have about 20 minutes in the morning to eat breakfast and 30 for lunch. Unless I'm relying on hard-boiled eggs and other variations of a #nocookpaleo meal, I need a robust arsenal of satisfying leftovers.
Casseroles make the best leftovers.
You hear us talk about it a lot, but one secret to healthy lifestyle success (especially concerning healthy food choices and saving time) is food prep. Repeat after me: FOOD PREP. Planning ahead and then making meals ahead makes ALL the difference! Having a delicious, hearty, satisfying, 9-generous-serving-casserole waiting for you in the refrigerator is a game changer. Pack leftovers for a workplace lunch, use it to feed (and actually fill) your ravenous teenage boys, and enjoy knowing that this dish is squeaky-clean healthy.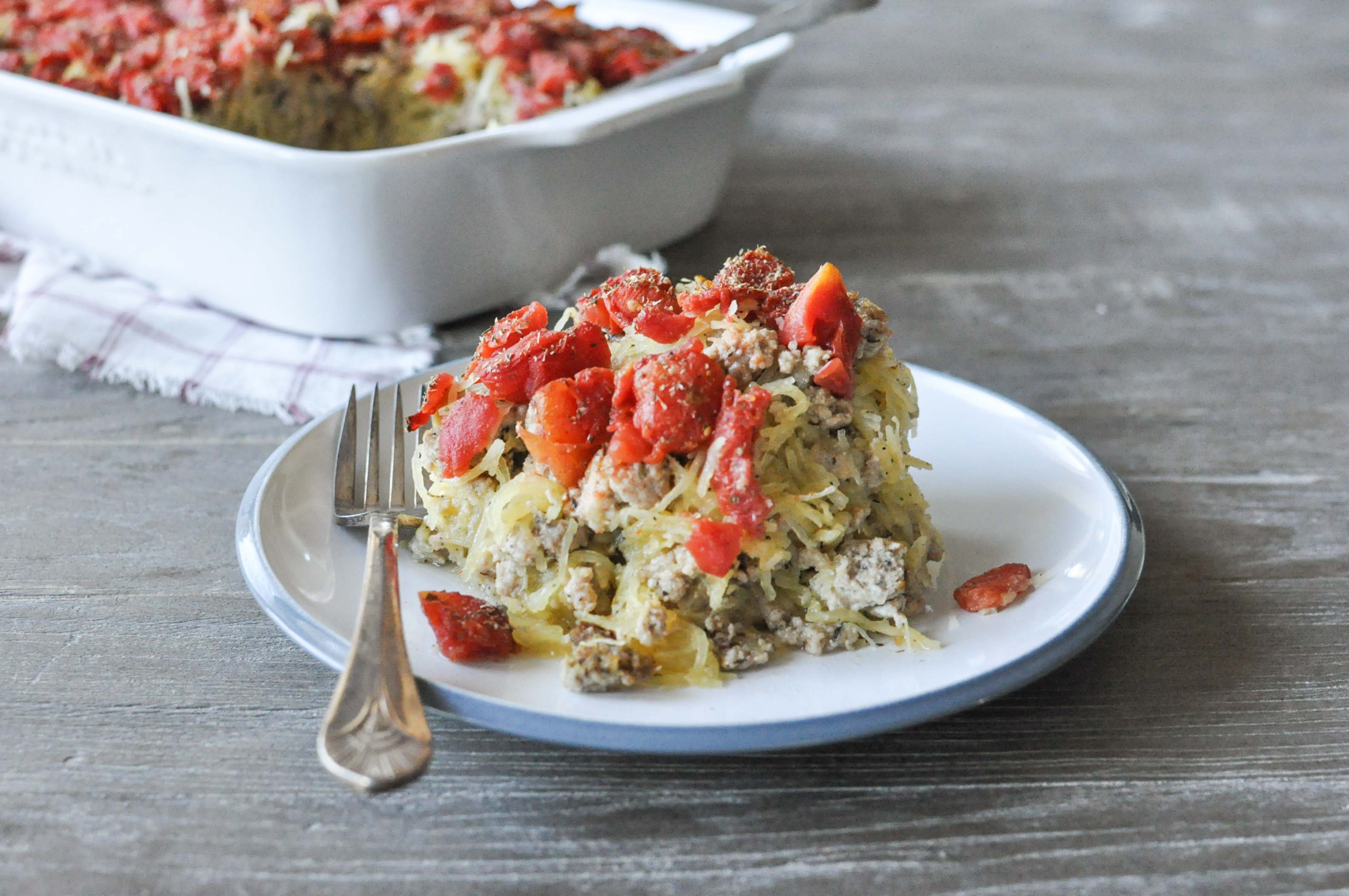 This turkey spaghetti casserole can be made with minimal effort if you break it up over two days: one day to pre-roast and then cool the spaghetti squash and the other day to put everything together for a final bake. After a little lemon butter spaghetti squash flavor magic, we stir the stringy starch with Italian seasoning-infused ground turkey that we browned in a pan. In lieu of the cheese (aka. traditional casserole glue) 4 eggs help us bind the whole dish together and diced tomatoes make for a pretty "crust." Bake and enjoy right away or store for a week's worth of lunches!
I really, really love this turkey spaghetti casserole and I know you will too!
Turkey Spaghetti Casserole
Turkey spaghetti casserole combines spaghetti squash, turkey Italian sausage, and tomatoes to create a comforting casserole that will feed you all week.
Ingredients
2

medium-sized spaghetti squash

3

pounds

ground turkey

1

tablespoon

bacon fat

may sub butter, ghee, or coconut oil

2

tablespoons

Italian seasoning

3

teaspoons

sea salt

divided

1 1/2

teaspoons

ground black pepper

divided

4

tablespoons

butter or ghee

melted

3

large lemons

juiced

4

eggs

lightly beaten

1

28-ounce can diced tomatoes, drained

additional Italian seasoning for final garnish
Instructions
Pre-bake the spaghetti squash:
Option A - cut each squash in half "long-ways," scrape out the seeds, and lay face-down on a baking sheet. Bake at 375 F for 30 minutes. Let cool completely on the counter or refrigerator before use.

Option B - Poke 1-3 holes into the center cavity of the whole squash. Place the two squash on a baking sheet and bake at 375 F for 1 hour. Let them cool completely on the counter or refrigerator before use. Note: I prefer this method because, though it takes more time to cook, cutting the whole squash in half is extremely difficult when raw.
The casserole:
In a large frying pan over medium-high heat, melt the bacon fat. Once the fat is melted, add the ground turkey, 2 tablespoons Italian seasoning, 2 teaspoons sea salt, and 1 teaspoon pepper. Stir in the pan to combine and cook until everything is browned and just starting to crisp on the edges. Remove from heat, drain, and set aside.

If your pre-baked spaghetti squash are still whole, use a sharp knife to cut them in half. Carefully scrape out the seeds (try to do your best to leave behind the stringy squash flesh) and then using a large spoon or fork, scrape the squash flesh from all 4 halves into a large mixing bowl. Add the melted butter, lemon juice, 1 teaspoon sea salt, and 1/2 teaspoon pepper. Stir to combine and set aside.

Once the browned turkey has cooled, add it to the squash with the 4 beaten eggs. Using either your hands or a large spoon, mix the everything together until it's even. Pour the casserole filling into a 9" x 12" dish.

Pour the drained diced tomatoes over the top of the casserole and sprinkle with a generous amount of additional Italian seasoning.

Bake at 350 for 30 minutes and enjoy!
Nutrition
Calories:
352
kcal
|
Carbohydrates:
23
g
|
Protein:
41
g
|
Fat:
13
g
|
Saturated Fat:
5
g
|
Polyunsaturated Fat:
2
g
|
Monounsaturated Fat:
4
g
|
Trans Fat:
0.2
g
|
Cholesterol:
171
mg
|
Sodium:
1086
mg
|
Potassium:
940
mg
|
Fiber:
6
g
|
Sugar:
9
g
|
Vitamin A:
688
IU
|
Vitamin C:
32
mg
|
Calcium:
123
mg
|
Iron:
4
mg