If you've wanted a healthy (and authentic) Thai curry and noodle sauce to keep on hand, I have the absolute best recommendation for you. Yai's Thai has been my go-to for pre-made curries and sauces for years now. Below, you'll learn about their incredible company, their fabulous products, and I'm giving you my "base" recipe for a quick curry you can make from home.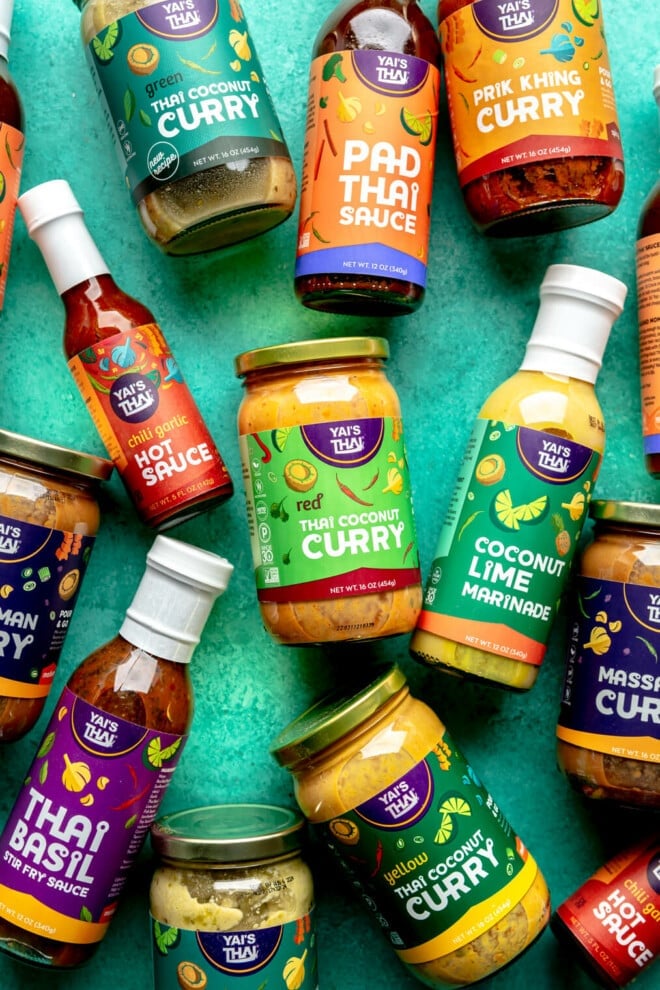 Years ago, I attended a national food conference in California called Expo West. I went with a couple friends of mine, and we had the best time touring the endless tables of food companies and tasty samples. I loved meeting the owners of these brands, tasting their newest creations, and assessing if they would be a good fit for me to bring back to you, my beloved Fed & Fit reader.
Of the hundreds of brands I met and experienced, the ones I truly LOVED is actually a very short list. I loved meeting the people behind Cappellos, adored getting to spend more time with the Garza Family behind Siete Family Foods, and was OVER-THE-MOON excited about a new (to me), authentic Thai food company called Yai's Thai.
I remember wandering up to the Yai's Thai booth, drawn in by their vibrant colors, hoping for a bite of something tasty, and when I read the ingredients on the back of their curries and sauces, I was blown away. These were really, really healthy products. No added mystery ingredients, very straight-forward, and goodness …VERY delicious.
I went home, ordered jars to have in my own pantry, and cheered them on from my kitchen as they continued to build their brand. Now, a dream come true, I have the privilege of calling Yai's Thai an official partner of Fed & Fit.
Who is Yai's Thai?
Founders Leland and Sarah were inspired to create Yai's Thai from Leland's half-Thai heritage and the Thai cooking he grew up with from his mother. "Yai," which is the Thai word for "grandma," inspired the name. The combination of flavors and recipes are meant to bring a little bit of his home into your kitchen and leave you feeling like your own Yai made the meal especially for you.
Yai's Thai was born out of a passion for wanting to change the narrative on healthy eating and a frustration of what was currently available on the market. Healthy alternatives don't have to be bland or dull! Their mission is to create the most amazing and tasty products made with better-for-you ingredients without losing any of the authentic flavors synonymous with Thai cuisine that are easy to use at home for cooks of any ability.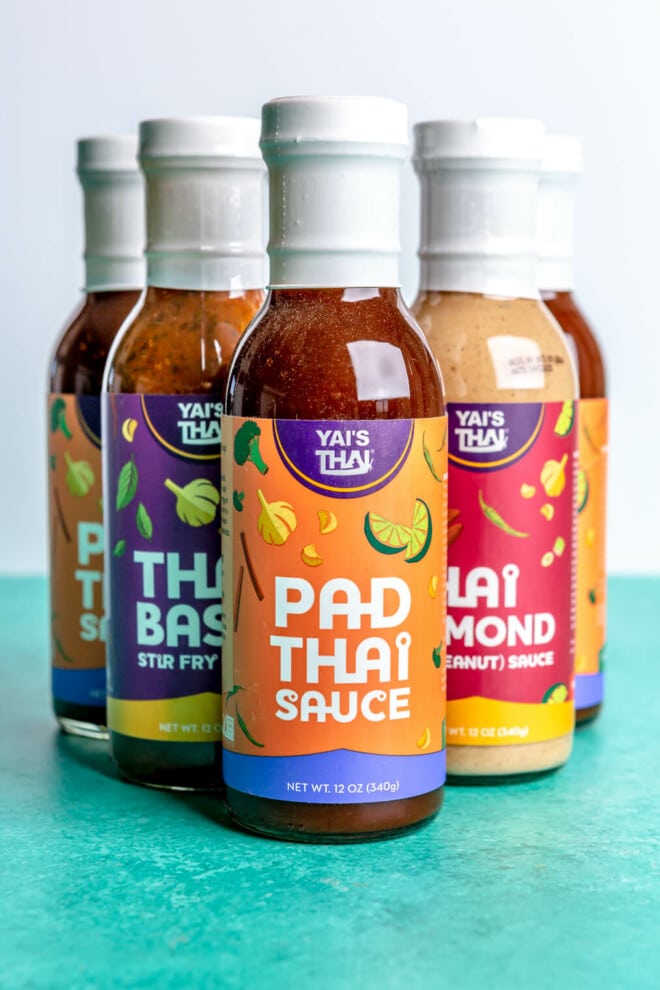 Why Eat Spice?
The real question may be, why not eat spice? In addition to the depth of flavor you can achieve in cooking with a variety of spices, they also have the ability to inhibit and eliminate bacteria. Capsaicin, the main chemical present in chili peppers (and what makes them spicy), causes a burning sensation when it comes in contact with skin (hello spice!) and offers a bounty of benefits for your gut microbiome by stimulating healthy gut flora and reducing inflammation in the intestinal tract. It is also present in the Capsicum family, including bell peppers, jalapeno peppers, and cayenne peppers. Fun side fact: capsaicin is also a common ingredient in over-the-counter creams that are used for treating a variety of pain and inflammation for conditions including arthritis, burns, and many other ailments.
Some of the most heavily spiced and spiciest dishes hail from countries including Thailand, India, Malaysia, Mexico, and Jamaica (amongst many others). Eating a diet full of spice is second nature in these cultures, albeit less common in present times in European and American cultures. However, research has shown that people who regularly eat spices are less likely to develop chronic illnesses, such as heart disease and type 2 diabetes, and have a 14% lower mortality rate.
If you're not used to eating spicier foods but would love to tap into the benefits of incorporating them into your diet, start small! Adding a little bit of spice to your dishes over time can help build tolerance as well as familiarity with the flavors.
Benefits of a Diet that Includes a Variety of Spices and Herbs
Eating a diet full of a variety of spices and herbs have proven health benefits. Some of the more commonly known benefits are that spicy foods help raise your resting metabolic rate and can help reduce inflammation in the body. Ayurvedic medicine (an ancient Indian medical system), has long utilized the anti-inflammatory properties of ginger and garlic to help combat autoimmune disorders, arthritis, and many other conditions that cause an increase of inflammation in the body. Spices have powerful antioxidant and microbial components that are known to help kill bacteria and may improve your overall heart health by helping break down the fats in foods.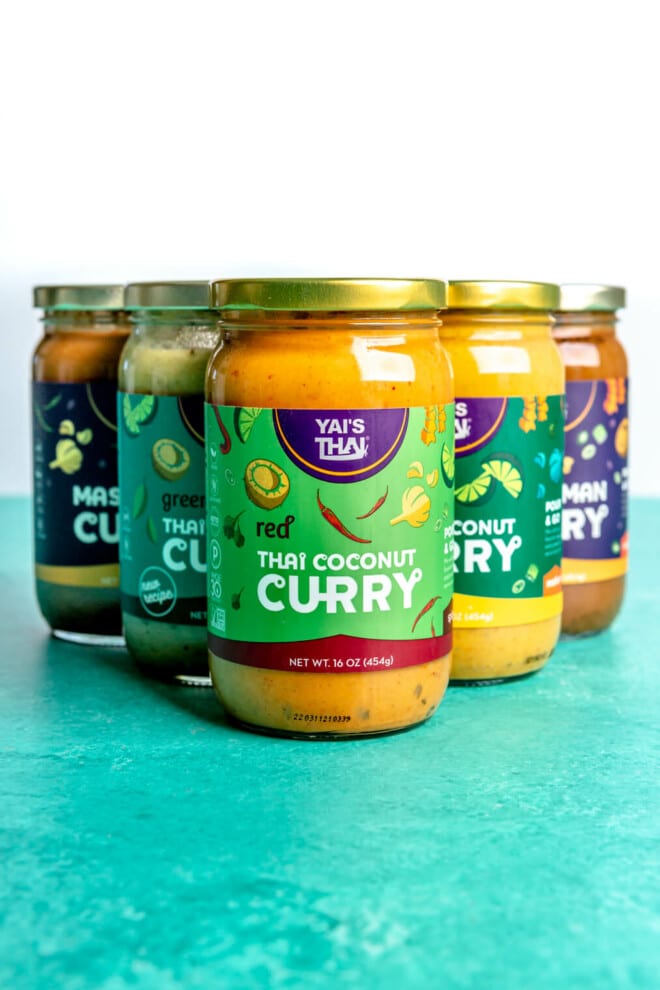 How to Introduce Spicy Foods to Children
In many countries, specifically South American and Asian countries, babies are introduced to spicier foods very early on by nature of those spices being present in the foods. Most families in these cultures will give their infants these foods without thought because that is what is natural, while in the United States, baby food is generally bland and unseasoned. Introducing a variety of spices into your child's diet is a great way for them to explore different flavors and develop their palates.
If you're just starting to introduce solids, flavoring foods with aromatics, such as ginger, onion, and garlic, can be a great way to start to incorporate different flavors. Aromatic spices, including cinnamon, cumin, nutmeg, and turmeric that are often found in curries, are also great starters. The idea is to start with a smaller amount and increase the amount of spice gradually. One of my favorite ways to do this is to make a spicy dip to go along with a favorite food or stir the spices into a sauce.
If you're looking for a guideline on introducing chilies, cayenne, or other spicier peppers, one year of age is a good date to circle on the calendar to start the exposures. Combining the spicy powder with a sweet fruit or stirring into a yogurt to temper the heat is a great way to start introducing the flavors.
Whether your child is early in their journey of exploring the world of solid foods or they're well on their way to developing and forming their individual tastes and preferences, it's never too late to start building a foundation for more spice-forward foods.
Yai's Thai Incredible Product Lineup
The quality and convenience of Yai's Thai products are unparalleled. Their ready-made curries, sauces, and marinades make getting dinner on the table such a breeze! Here's why we love each one: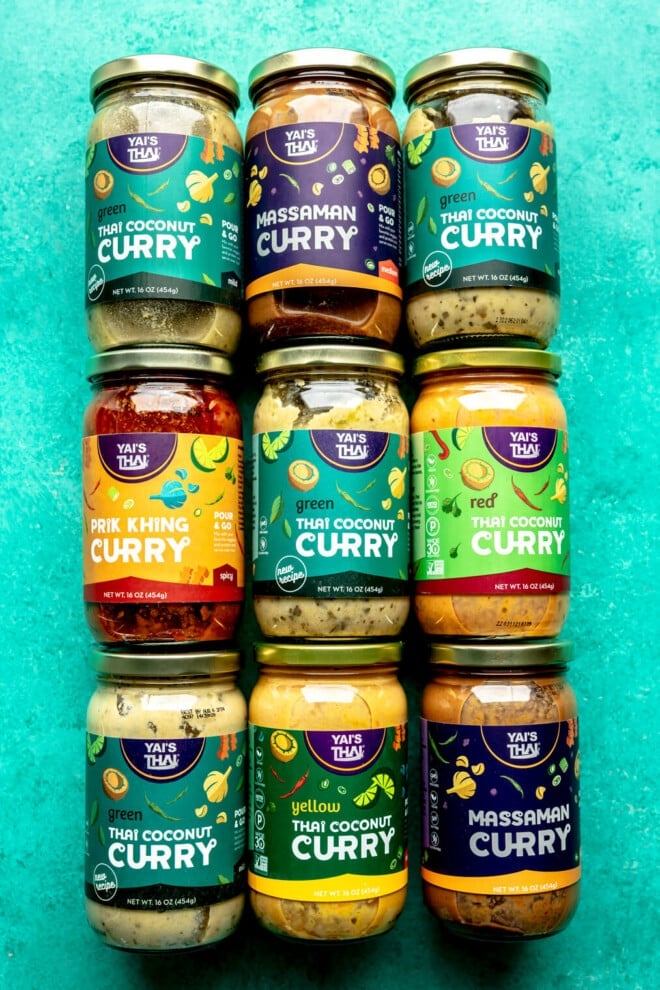 Yai's Thai Curries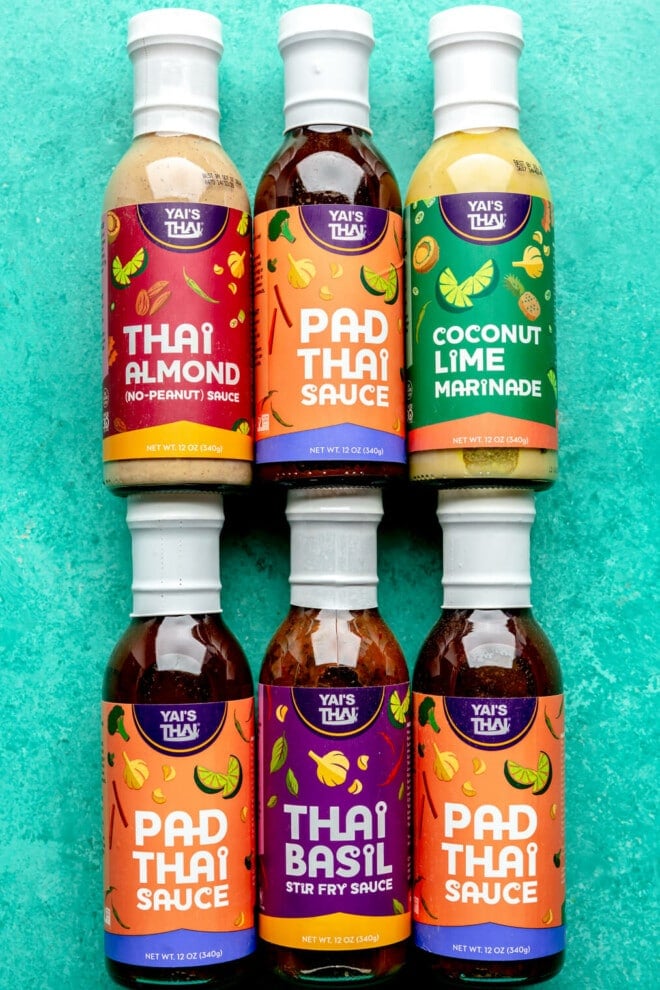 Yai's Thai Sauces & Marinades
How to Use Yai's Thai's Curries, Sauces, and Marinades
We are in the business of easy, convenient, healthy meals, and Yai's Thai fits the bill! Their curries, sauces, and marinades are easy to use and pack a ton of flavor into any meal. And the best part? You can achieve this with minimal ingredients. We would argue that you can make a complete and balanced meal with 4-ingredients or less! Once you get your collection of Yai's Thai curries to your house, the next step is having an EASY, go-to recipe in your back pocket. You can find my base recipe for a quick curry using Yai's Thai below.
Where can I find Yai's Thai?
Yai's Thai is available online, as well as many health food stores across the continental United States.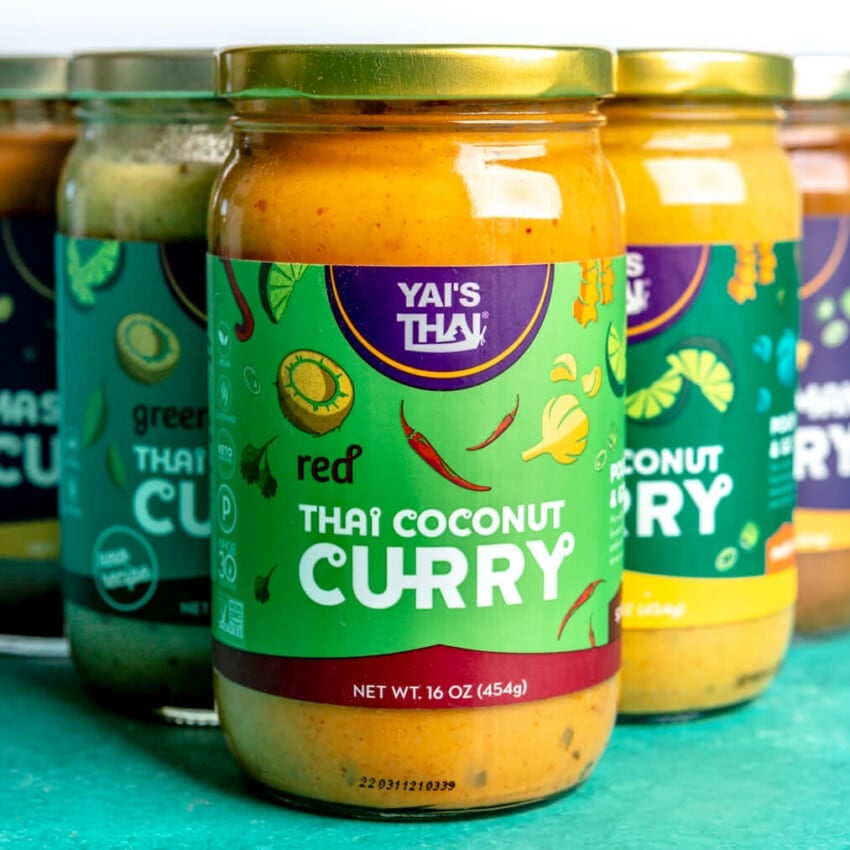 Once you get your collection of Yai's Thai curries to your house, the next step is having an EASY, go-to recipe in your back pocket. This is my base recipe for a quick curry using Yai's Thai!
Ingredients
1

tablespoon

cooking fat (olive oil, ghee, coconut oil, butter, etc.)

1

pound

protein (chicken, pork, steak, tofu, etc.)

cut into 1" pieces

1

teaspoon

fine sea salt

4

cups

vegetables (green beans, cabbage, eggplant, snow peas, mushrooms, bell peppers, onion, etc.)

cut into bite-sized pieces

1

jar

Yai's Thai Curry

4

cups

cooked rice (can also use cauliflower rice or vermicelli noodles)

for serving

¼

cup

crunchy topping (peanuts, cashews, almonds, etc.)

for garnish

¼

cup

fresh herbs (cilantro, green onion, basil, mint, etc.)

for garnish

2

fresh limes

cut into wedges
Instructions
In a large pot over medium/high heat, add the olive oil, chopped protein, and sprinkle with the sea salt. Cook, stirring occasionally, for 5-10 minutes, or until it starts to brown and is cooked-through.

To the same pot, add all of your vegetables, and toss to combine.

Pour the whole jar of Yai's Thai Curry over the protein and vegetables, and stir to combine.

Cover the pot with a lid, and let it simmer for 15-20 minutes, or until the vegetables are softened.

Serve over white rice and garnish with your crunchy topping, fresh herbs, and lime wedge. Enjoy!
Nutrition
Calories:
581
kcal
|
Carbohydrates:
58
g
|
Protein:
30
g
|
Fat:
26
g
|
Saturated Fat:
6
g
|
Polyunsaturated Fat:
6
g
|
Monounsaturated Fat:
12
g
|
Trans Fat:
0.1
g
|
Cholesterol:
85
mg
|
Sodium:
672
mg
|
Potassium:
609
mg
|
Fiber:
6
g
|
Sugar:
5
g
|
Vitamin A:
1593
IU
|
Vitamin C:
26
mg
|
Calcium:
96
mg
|
Iron:
3
mg