This oven-baked chicken tenders and fries sheet pan dinner is a great way to get a healthier version of this American classic on the table with ease. Great for a family night dinner in!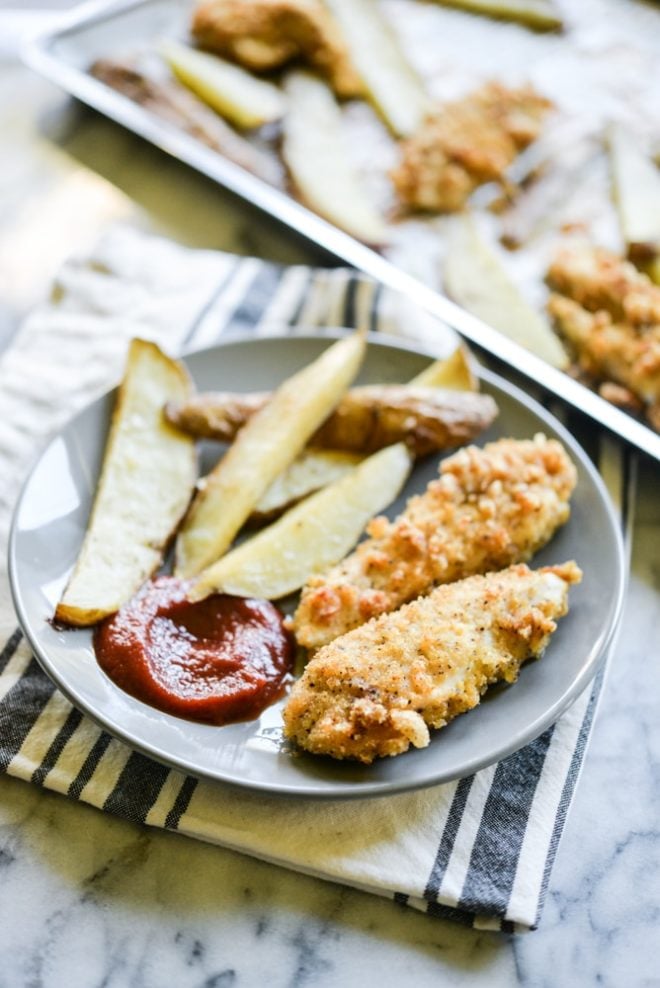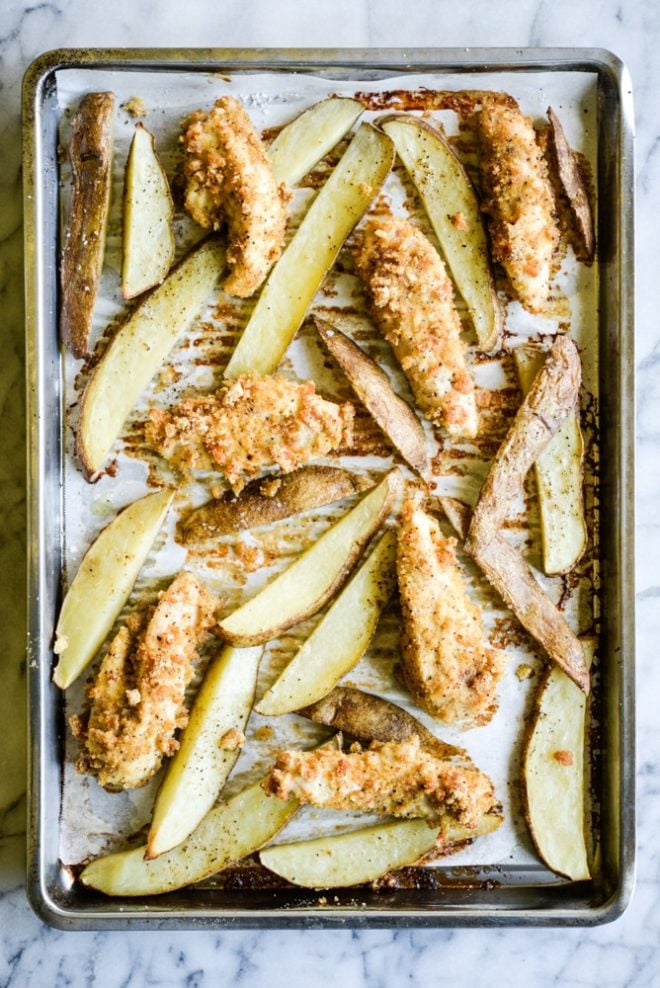 Oven Baked Chicken Tenders (No Breading)
As the last of my Christmas dinner leftovers come to a close, I'm ready to officially say goodbye to holiday foods for a while. The first food I usually crave, after weeks of hearty holiday feasting, is Chinese …then Mexican …then good old fashioned Americana grub. I'm also ready for "cleaner" versions of these eats after (again) weeks of indulgences. My first stop was this Teriyaki Beef & Broccoli Sheet Pan Dinner (oh and this Mongolian Beef), then we were onto Slow Cooker Chicken Tortilla Soup, and now we're in Americana land. Bring on the bun-less burgers and the chicken fingers!
It's no secret that I'm a big fan of the sheet pan dinner. I love, love the concept. All you need to do is prep your foods, nestle them in together on a rimmed baking sheet (I love these stainless steel ones) and let the oven do the work!
Today's recipe is an ode to the cook who wants to whip up a healthier chicken finger & french fry …but doesn't want to spend all day cooking. If you want chicken fingers, french fries, and maybe even a healthy slather of ketchup, but you would like to NOT have to go to the drive-through OR stand in front of bubbling oil at your stove, this recipe is for you!
Baked Chicken Fingers Ingredients
1½ pounds of chicken breast tenders
1½ pounds of russet or Yukon gold potatoes
2 tablespoons of olive oil
½-1 teaspoon of sea salt
1 package of pork rinds
2 eggs, whisked
Black pepper to taste
Do I have to use pork rinds?
Just like real deal 'breaded' chicken tenders, we want our oven-baked variety to be crunchy! Unfortunately, as you may know, achieving perfectly crunchy oven-baked tenders can feel like an impossible feat UNTIL pork rinds come into the picture! Using pork rinds is just a super simple way to achieve that perfect crunch every single time. If you aren't a fan of pork rinds (though, you should try them again just to *make* sure because they're REALLY delicious!), have no fear – these Oven-Baked Paleo Chicken Tenders require a tad more work than their pork rind 'breaded' counterparts, but are every bit as crisp and tasty!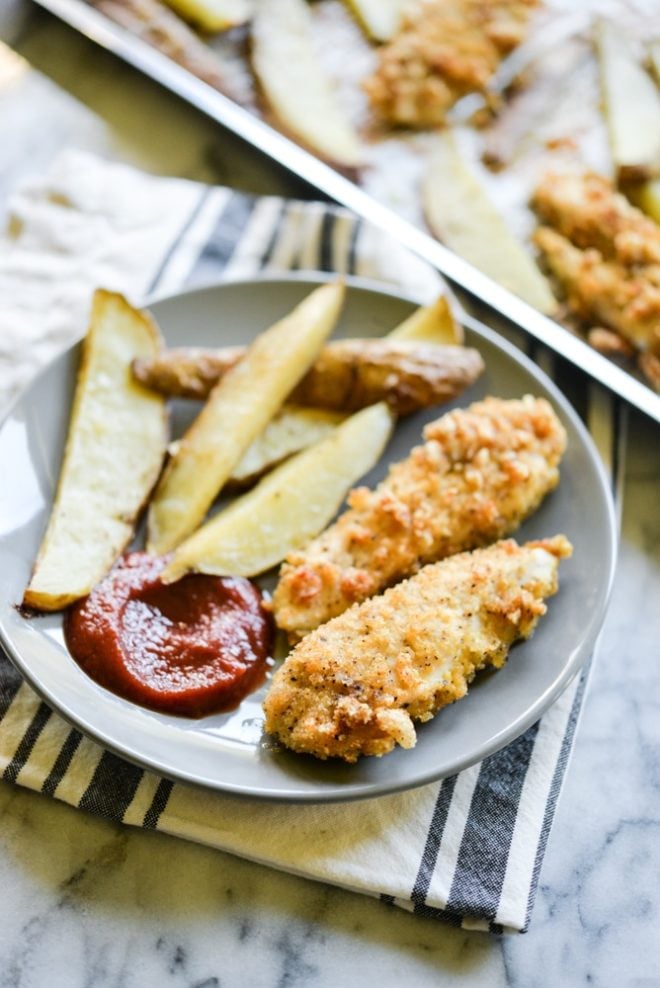 How to Cook Chicken Tenders in the Oven with Fries
This Chicken Fingers & Fries Sheet Pan Dinner is another great addition to my sheet pan dinner collection and is just as simple (and darn TASTY!) as the rest!
Prep your fries and get them in the oven.

The trick to this sheet pan dinner is to pre-cook the french fries a bit, so cut your potatoes into wedges, toss them in olive oil, salt, and pepper, spread them out on the sheet pan, and stick them in a 400°F oven for 20 minutes.

Crush the pork rinds + whisk the eggs.

While the potatoes get their initial bake on, get your chicken finger supplies ready. Whisk two eggs in a bowl and crush your pork rinds (either by hand in a gallon-sized bag OR in a food processor). Once the pork rinds are crushed, dump them into a large bowl.

'Bread' the chicken fingers. Once you've got your supplies ready, form an 'assembly line' (chicken tenders, whisked eggs, crushed pork rinds) and 'bread' the chicken fingers by dipping them in an egg wash and then coating in crushed pork rinds (my favorite for a healthier, but still crunchy 'breading').
Add the chicken to the sheet pan. After 20 minutes in the oven, pull the sheet pan out, nestle the chicken fingers in between the partially-cooked fries and then bake both together to finish for another 25 minutes!
Enjoy! Serve with the dipping sauces you enjoy most and savor that minimal kitchen cleanup!
How to Get Fries and Chicken Tenders Crispy in the Oven
There's no greater disappointment than when I order a side of fries with my meal and what comes out is actually just a floppy, soggy piece of potato. There's also nothing tastier (in my book, at least!) than a crispy on the outside, soft and potatoey on the inside wedge fry. Let me tell you, these sheet pan wedges DO NOT disappoint! We achieve the crispy wedges in a few ways: a nice and even olive oil rub down pre-bake, spreading the wedges out on the sheet pan, and keeping the heat nice and high (400°F). For crispy tenders, we use pork rinds as the 'breading' and bake at the same 400°F that gets the fries crispy.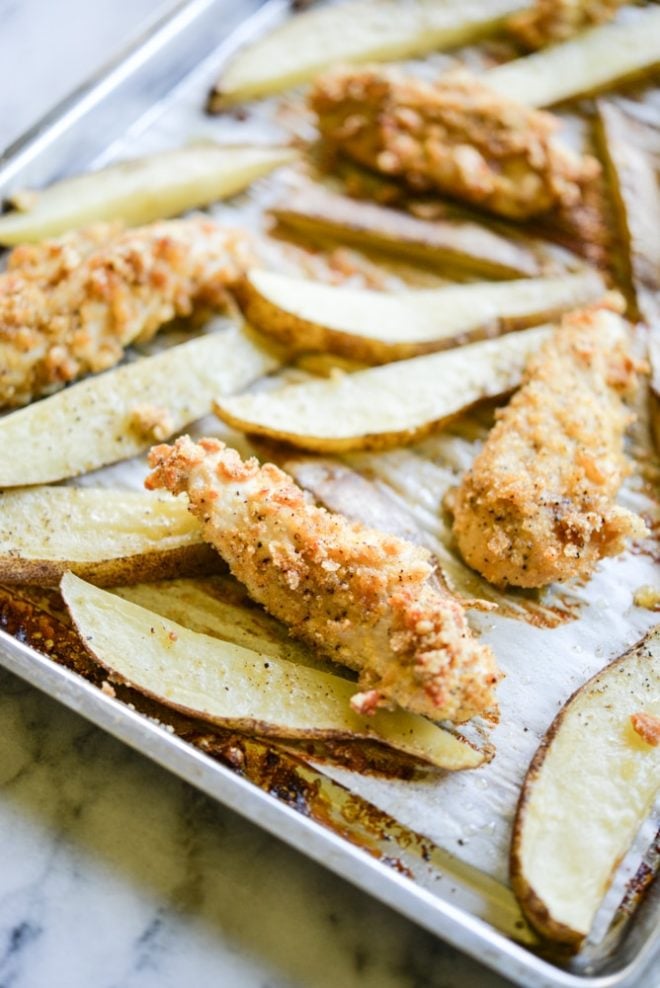 Dipping Sauces for Crispy Baked Tenders
What's a chicken finger + fries meal without a dipping sauce (or two)?! Here are our favorite homemade dipping sauces to complete this deliciously easy oven-baked tenders meal:
How to Store and Reheat Baked Crispy Chicken Tenders
While this sheet pan meal is best (and crispiest) right out of the oven, you can absolutely save leftovers if you have them! Simply store the chicken tenders and fries in an airtight container in the fridge and reheat them in the oven or air fryer (for the crispiest results), or the microwave (for a quicker reheat).
Just for You
Chicken Recipes
Want more recipes like this?
Chicken Fingers & Fries Sheet Pan Dinner
This oven-baked chicken tenders and fries sheet pan dinner is a great way to get a healthier version of this American classic on the table with ease. Great for a family night dinner in!
Ingredients
1.5

pounds

chicken breast tenders

1.5

pounds

russet or Yukon gold potatoes

2

tablespoons

olive oil

1/2-1

teaspoon

sea salt

1

package pork rinds

2

eggs

whisked

Black pepper to taste
Instructions
Preheat oven to 400 F.

Cut the potatoes into equal wedges, then toss to coat with olive oil and sea salt. Line a rimmed baking sheet with parchment paper and spread out the potatoes. Bake for 20 minutes.

While the potatoes are cooking, crush up one bag of pork rinds. You can either pour the pork rinds into a gallon-sized bag and crush them by hand, or place them in a food processor and pulse until they become fine crumbs. Once crushed, put the pork rind crumbs into a large bowl.

After the 20 minutes, remove the potatoes from the oven and flip them over. Take each chicken tender, dip it into the whisked eggs, then dip it into the pork rinds and lay onto the sheet pan. Repeat for each chicken tender.

Place the chicken tenders and fries back in the oven and bake for an additional 25 minutes, until browned and crisp. Serve alongside dipping sauce of choice!
Nutrition
Calories:
534
kcal
|
Carbohydrates:
30
g
|
Protein:
55
g
|
Fat:
20
g
|
Saturated Fat:
5
g
|
Polyunsaturated Fat:
2
g
|
Monounsaturated Fat:
7
g
|
Trans Fat:
0.03
g
|
Cholesterol:
211
mg
|
Sodium:
920
mg
|
Potassium:
1376
mg
|
Fiber:
4
g
|
Sugar:
1
g
|
Vitamin A:
184
IU
|
Vitamin C:
36
mg
|
Calcium:
48
mg
|
Iron:
3
mg