We've partnered with King Arthur Flour to bring you the perfect oven-baked Paleo chicken tenders! These chicken tenders are juicy with a crisp, flavorful coating. The whole family will love them!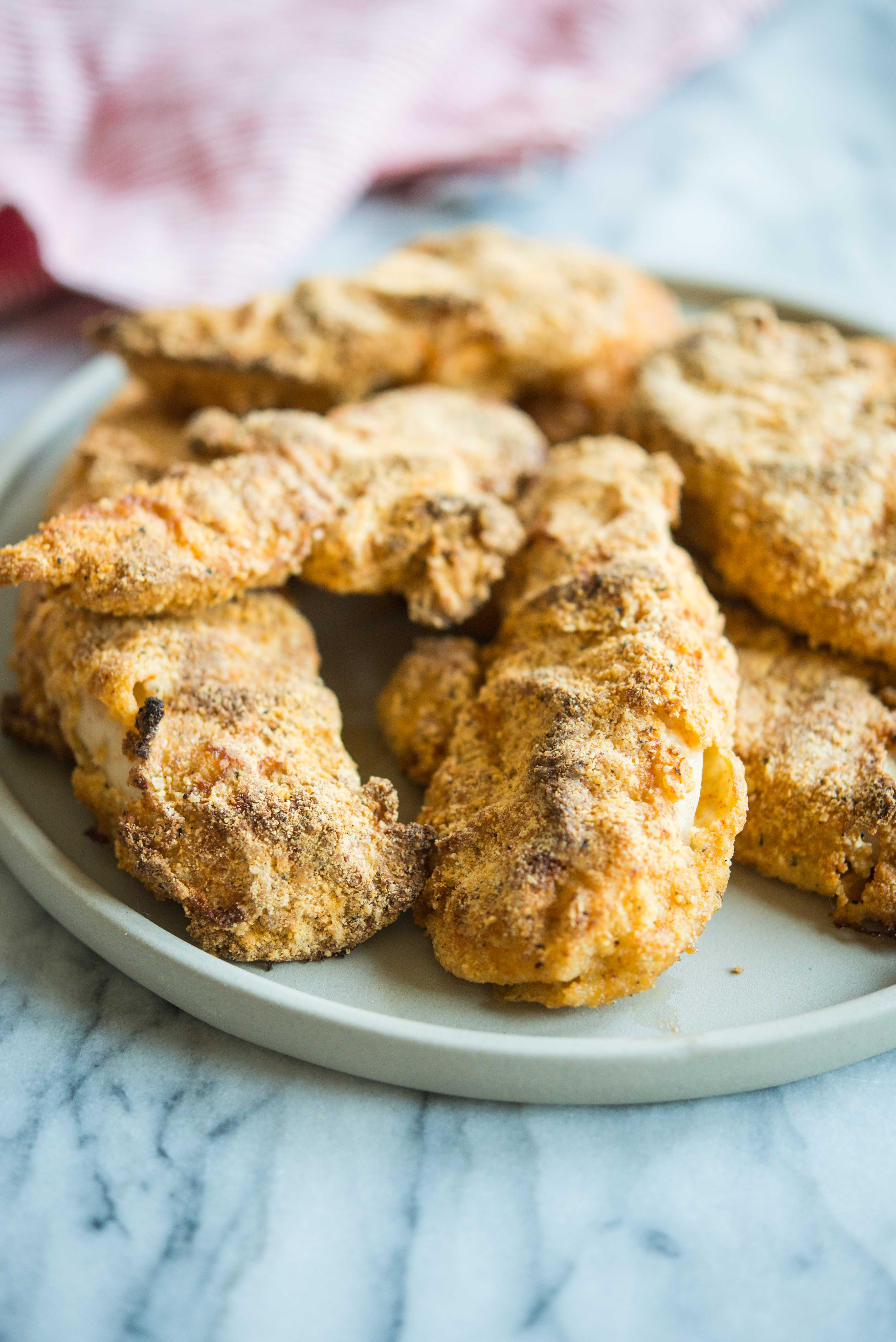 I don't know if there is any food that is more nostalgic than chicken tenders! They were my favorite as a kid and still make for a fun, satisfying dinner as an adult. However, now that I'm gluten-free, I can't just get chicken tenders anywhere as they are normally breaded with wheat flour and deep-fried. For this recipe, we are skipping the deep-frying and opting for oven baking and swapping the traditional wheat flour coating with King Arthur's Paleo Baking Flour!
How does King Arthur's Paleo Baking Flour Work?
King Arthur's Paleo Baking Flour works as a 1:1 swap for traditional flour in any recipe – and it's not just for baking! It is a grain-free blend of 3 flours: almond, coconut, and cassava. This proprietary blend is specially formulated to produce baked goods and other items that are as close to their traditional counterparts in texture and taste as possible. So far, we've used it to make Paleo Apple Muffins, Paleo Brownies, Paleo Apple Crisp, and Chewy White Chocolate Cranberry cookies with great success. This month, we wanted to put it to the test with a savory recipe, and it definitely delivered!
You can find Paleo Baking Flour on King Arthur's Website, on Amazon, or at your local Publix, Walmart, Harris Teeter, Meijer, and more.
How to Make Crispy Paleo Chicken Tenders in the Oven
When thinking through this recipe, we knew that we didn't want to deal with the hassle of deep-frying, so we chose to go with an oven method instead. Here are our top tips for getting a crispy coating on your oven-baked chicken tenders:
Double-batter the chicken tenders. We tested both single and double-battered chicken tenders and the double-battered batch produced a much thicker, crisper coating compared to the single-battered ones. When making the chicken tenders, you'll first dredge them in Paleo flour, then in egg wash, then again in flour before baking.
Use a wire rack. While the chicken tenders came out good without using a rack, they were still a bit soggy on the bottom, even when flipping halfway through. Baking them on a wire rack allows both sides to crisp up evenly.
Spray them with oil. Since we aren't deep frying, we need a way to add fat to the breading to help it get crispy. We found that the best way to do this was to spray the chicken fingers with oil. We chose an avocado oil spray but you can also use olive or coconut oil.
Bake at high heat. Baking the Paleo chicken tenders at 425 F helped produce a crispier coating without overcooking the chicken.
These crispy Paleo chicken tenders make for a perfect weeknight dinner, especially when served next to potato wedges with ketchup or a fun dipping sauce. You and your family will absolutely love them!
Oven-Baked Paleo Chicken Tenders
These paleo chicken tenders have a crisp, flavorful coating and make for a great family-friendly meal!
Ingredients
2

eggs

2

tablespoons

water

1 1/2

cups

156 g King Arthur Paleo Baking Flour

1

teaspoon

coarse sea salt

1

teaspoon

paprika

1

teaspoon

dried thyme

1

teaspoon

garlic powder

1/4

teaspoon

ground black pepper

2

pounds

chicken breast tenders

or 2 pounds boneless, skinless chicken breast cut into 1 1/2-inch strips

Avocado oil spray

may also use olive or coconut oil
Instructions
Preheat the oven to 425 F and place a

wire rack

on top of a rimmed baking sheet.

Whisk the eggs and water together in a bowl, then set aside.

In a separate bowl, whisk together the flour, salt, paprika, thyme, garlic powder, and pepper.

Dredge the chicken strips in the flour mixture, and shake off the excess flour. Then, dip the chicken strips in the egg mixture, and dip them in the flour mixture again, shaking off the excess flour.

Place the chicken strips on the wire rack, and spray them with avocado oil. If you don't have a spray oil, you can lightly brush them with oil instead.

Bake for 10 minutes, then flip the chicken strips, spray with oil again, and bake for an additional 10 minutes, until the coating is browned and crisp. Remove from the oven and serve with your favorite dipping sauce!
Nutrition
Calories:
355
kcal
|
Carbohydrates:
7
g
|
Protein:
40
g
|
Fat:
19
g
|
Saturated Fat:
2
g
|
Polyunsaturated Fat:
1
g
|
Monounsaturated Fat:
2
g
|
Trans Fat:
0.02
g
|
Cholesterol:
151
mg
|
Sodium:
585
mg
|
Potassium:
596
mg
|
Fiber:
3
g
|
Sugar:
1
g
|
Vitamin A:
296
IU
|
Vitamin C:
2
mg
|
Calcium:
80
mg
|
Iron:
2
mg