This Chocolate Chai Swirl Coffee Cake combines two of my greatest loves – chocolate and coffee, for one of the most perfectly soft and lightly sweetened desserts I have ever made! And let me tell you friend, it's even BETTER the second day. You know those meals that taste great when you pull them out of the oven, but somehow magically morph into 5-star cuisine overnight? This is one of those, and I'm not mad about it one bit.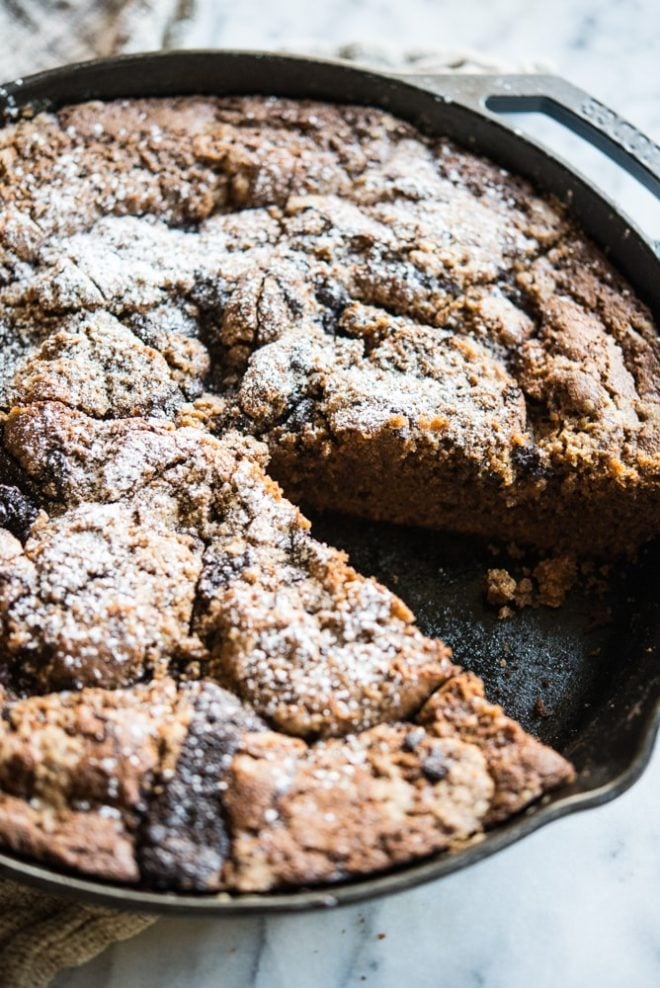 We have a thing for coffee cake around here, and it's no secret (check out our Pumpkin Spice Coffee cake and Hazelnut coffee cake too)! This dessert has a long-standing tradition that originally started with the Danish, and was then borrowed and made popular in Germany. In the United States, it also became customary "back in the day" to offer coffee cake with a strong cup of black coffee, to be eaten with friends and family around the coffee table.  Now this perfect little sweet has become a household favorite for breakfast, or after dinner with a little decaf nightcap.
Traditionally, coffee cakes are a denser, thicker consistency paired with a buttery, spiced crumble on top. They're also usually slightly less sweet than other breakfast cake/muffin varieties (like these Maple Bacon Pancake Muffins), and not quite as fluffy as your typical angel food or yellow cake options. We created our Chocolate Chai Swirl Coffee Cake with a super simple base batter of almond flour and arrowroot starch, then kicked it up a notch with some quintessential chai spices like ginger, cinnamon, cardamom, allspice, and cloves for a really interesting and fun flavor! The ginger in this recipe gives this cake the perfect little kick that I just LOVE. Topped with a simple, buttery crumble and a drizzle of warm chocolate, you get the perfect amount of sweetness in every bite!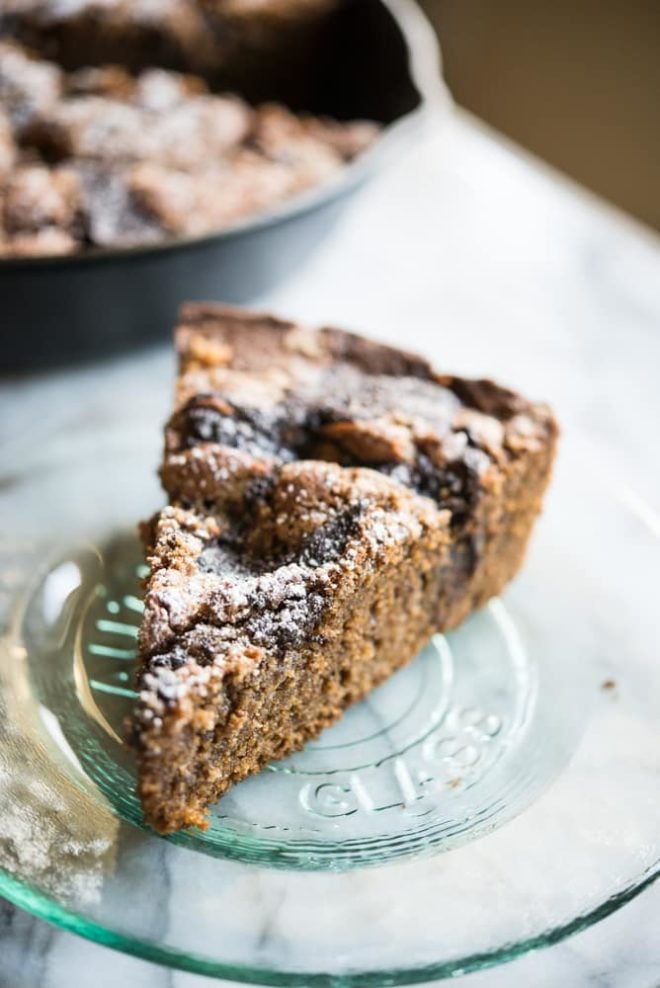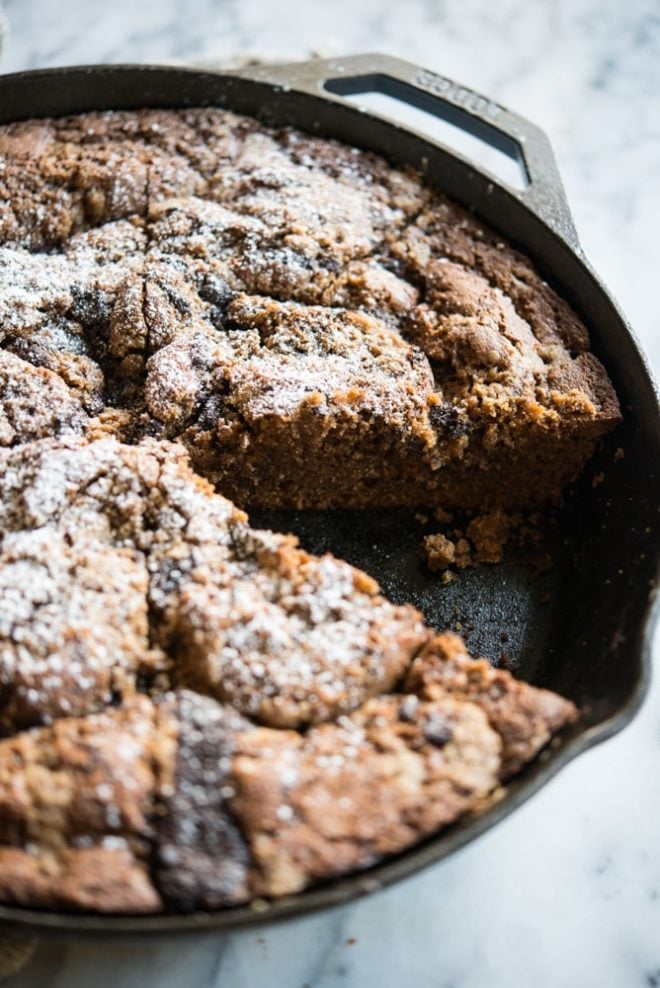 Can this be made egg-free?
It can! In fact, we tested a TON of different egg substitutes in several different baked goods, took all kinds of notes, and then laid it all out for you in this super helpful guide to egg-free baking. For cakes and cupcakes, we recommend subbing in plain Greek yogurt (¼ cup of yogurt per egg) – Greek yogurt made for fluffy and slightly crisp on the outside cakes that had a really delicious flavor and held together really well.
This Chocolate Chai Swirl Coffee Cake is the perfect sweet option to make ahead for your holiday guests. Warmed up with a little powdered sugar garnish, and a strong cup of coffee to get your day going, sounds like the PERFECT way to get your day started!
Chocolate Chai Swirl Coffee Cake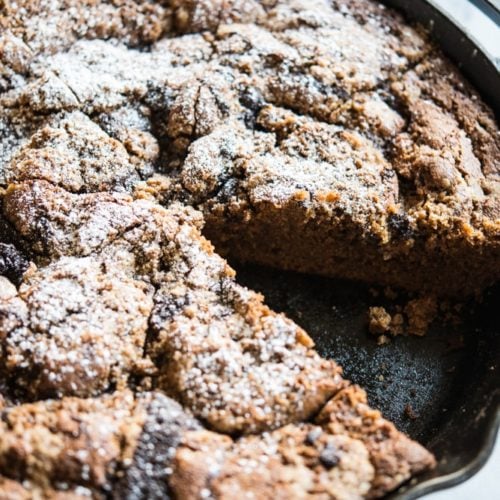 This chocolate chai swirl coffee cake is lightly sweetened, filled with warm spices, and swirled with chocolate for a treat that is perfect for breakfast and dessert alike!
Instructions
Preheat the oven to 350 F.

Grease a 12-inch cast iron skillet* or line with parchment paper.

Add the almond flour, arrowroot, coconut sugar, baking soda, spices, and salt to a large bowl. Whisk to combine.

In a separate large bowl, add the butter, eggs, coconut milk, vanilla, and lemon juice. Mix together using either a stand mixer or a hand held electric mixture.

Add about 1 cup of the dry mixture into the wet mixture at a time, continuing to mix the batter constantly, until all of the dry mixture has been incorporated. Pour the batter into the greased baking dish.

Add all of the crumble ingredients to a bowl and mix to combine. The mixture will be slightly lumpy. Break up and sprinkle the crumble evenly over the top of the cake.

To melt the chocolate either use a double-boiler or microwave it, stirring every 30 seconds, slowly melt the chocolate. Remove the chocolate from heat as soon as all of the solid pieces are gone, then drizzle over the coffee cake.

Bake at 350 F for 35 minutes, until cake is fully set and no longer jiggly in the middle.

Let cool completely, then cut into 10 slices and serve!
Recipe Notes
*This recipe will also work in a 9×13 inch baking dish or in a bundt pan. The skillet will help create a more crisp crust. 
Nutrition
Calories:
656
kcal
|
Carbohydrates:
59
g
|
Protein:
11
g
|
Fat:
45
g
|
Saturated Fat:
19
g
|
Polyunsaturated Fat:
1
g
|
Monounsaturated Fat:
7
g
|
Trans Fat:
1
g
|
Cholesterol:
115
mg
|
Sodium:
448
mg
|
Potassium:
152
mg
|
Fiber:
6
g
|
Sugar:
21
g
|
Vitamin A:
670
IU
|
Vitamin C:
1
mg
|
Calcium:
112
mg
|
Iron:
3
mg