Every item on this page was chosen by The Fed & Fit team. The site may earn a commission on some products (read more here).
Chocolate chia pudding is a rich, chocolatey, delicious treat that also happens to be healthy! Naturally sweetened, dairy-free, and made with only 5 ingredients, this dessert will quickly become one of your go-to's.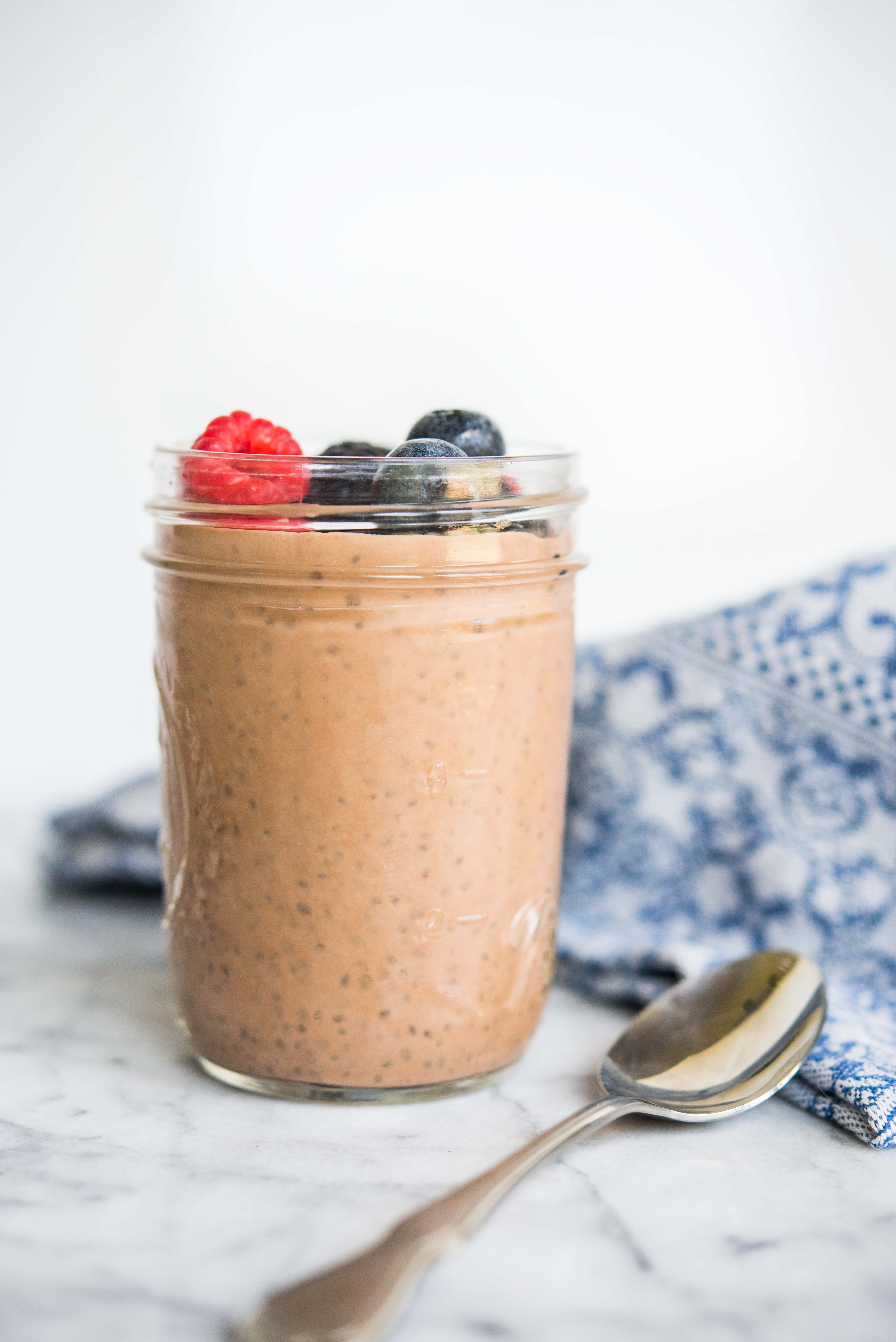 Chocolate Chia Pudding Recipe
Every few months, I get on a chia pudding kick. Whether it is a simple vanilla chia pudding for breakfast or a chocolate chia pudding for dessert, this magical little seed can make a great satisfying snack! This chia pudding is ideal for meal prep because it is a cinch to make, completely crave-able, and it keeps well in the fridge. It's also packed with fiber, completely dairy-free, and can double as either breakfast or a snack in addition to dessert. You are definitely going to want to keep this recipe in your back pocket.
Vegan Chocolate Chia Pudding Ingredients
This chocolate chia pudding only requires 5 ingredients:
Chia seeds. The chia seeds are the base of this pudding. While traditional pudding is thickened using eggs to make a cooked custard, chia seeds allow you to skip all that work! When mixed with liquid, chia seeds swell and become gelatinous on the outside, doing the work of thickening for you. Chia seeds also have a number of health benefits – they are high in fiber, anti-inflammatory Omega-3 fatty acids, and antioxidants.
Cocao powder. We've used cocoa powder here to give the chia pudding it's chocolatey flavor – and another antioxidant boost!
Coconut milk. Since we wanted this chia pudding to really feel like dessert, we chose full-fat coconut milk as our milk of choice to ensure that the pudding was rich and creamy. If coconut isn't your thing though, cashew milk would make a great substitute!
Maple syrup. We opted for just a bit of maple syrup to sweeten this pudding and found that it was the perfect balance with the chocolate. If you're following a low-carb plan, stevia will work, too.
Vanilla extract. Just a bit of vanilla extract helps round out the flavor of this chocolate chia pudding.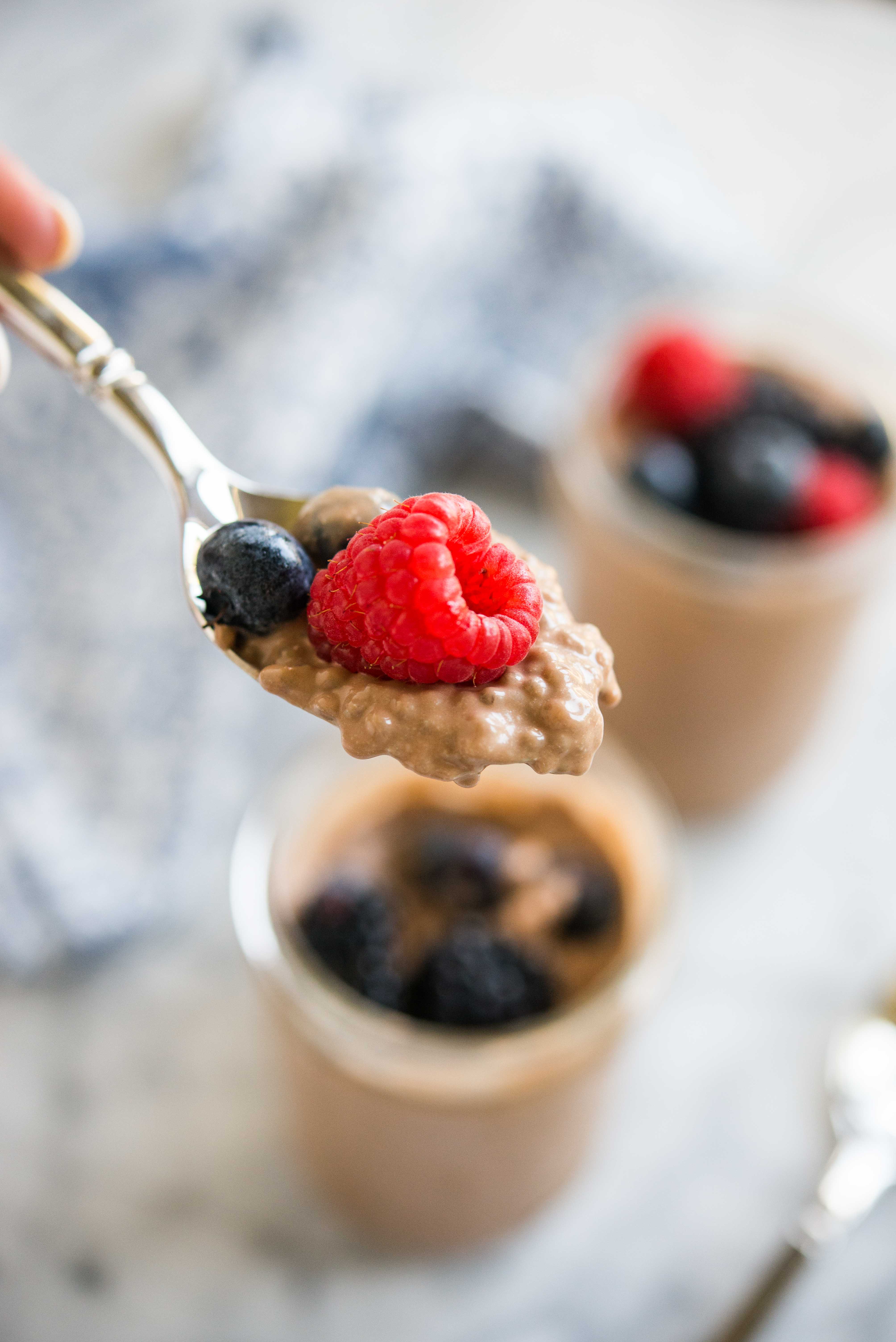 How to Make Vegan Chia Pudding with Chocolate
Making chocolate chia pudding could not be simpler and is nearly impossible to mess up! You'll just follow these few easy steps:
Mix your ingredients. First things first, you'll whisk all of your ingredients together until fully combined.
Pour the pudding into jars and refrigerate. We prefer individual serving-sized mason jars like these, so you can grab a serving and eat immediately.
Shake the puddings. About 30 minutes into refrigeration, give your puddings a good shake or mix them up again. This ensures that the seeds don't settle on the bottom and that the pudding sets well.
Refrigerate. To finish the puddings, let them set in the refrigerator for 4 hours, then enjoy!
How to Store Vegan Chocolate Chia Seed Pudding
How long does vegan chia seed pudding last?
Since chia pudding is made with non-dairy milk, it'll last longer than it's dairy and egg-filled counterparts. You can eat these puddings for up to 5-6 days after making them – which means they are perfect for meal prep!
Troubleshooting a Vegan Chia Pudding Recipe
How do I thicken my chia pudding?
The combination of the chia seeds and coconut milk should produce a perfectly thick pudding, but if you still feel like your pudding is too thin, go ahead and stir in an extra tablespoon of chia seeds, then let it sit for an hour. Repeat this process until the desired consistency is achieved.
Chocolate Chia Seed Pudding FAQ
How healthy is Chia Seed Pudding?
Yes! Chia pudding is a great healthy dessert, snack or breakfast option. Chia seeds are a great source of fiber and contain anti-inflammatory Omega-3 fatty acids, as well as antioxidants. Meanwhile, the cocoa powder adds additional antioxidants to this recipe while coconut milk serves as a source of healthy, satiating fats.
More Healthy Dessert Recipes
Instructions
Place the coconut milk, maple syrup, cocoa powder, collagen peptides, and vanilla extract in a blender and blend until fully incorporated.

Transfer the coconut milk mixture to a bowl and whisk in the chia seeds.

Pour the chia seed mixture evenly into 8 4-ounce mason jars or similar-sized containers, seal the lids, and shake the containers. Refrigerate for 1 hour.

After 1 hour, shake the jars again to make sure the chia seeds don't sink to the bottom, then place in the refrigerator and let set overnight, or for at least 3 hours.

Top the chia pudding with berries and enjoy!
Nutrition Information
Nutrition Facts
Vegan Chocolate Chia Seed Pudding
Amount per Serving
% Daily Value*
* Percent Daily Values are based on a 2000 calorie diet.
Recipe Notes
You can substitute cashew milk for coconut milk, if desired
This recipe will keep for up to 5 days in the refrigerator.