Herbed Goat Cheese Stuffed Pork Loin
jump to recipe
I officially nominate this herbed goat cheese stuffed pork loin as the main dish for your next holiday dinner! Simple pork loin is rubbed with fresh herbs, stuffed with goat cheese, and finished with a white wine pan sauce to create a meal that your family won't be able to stop talking about!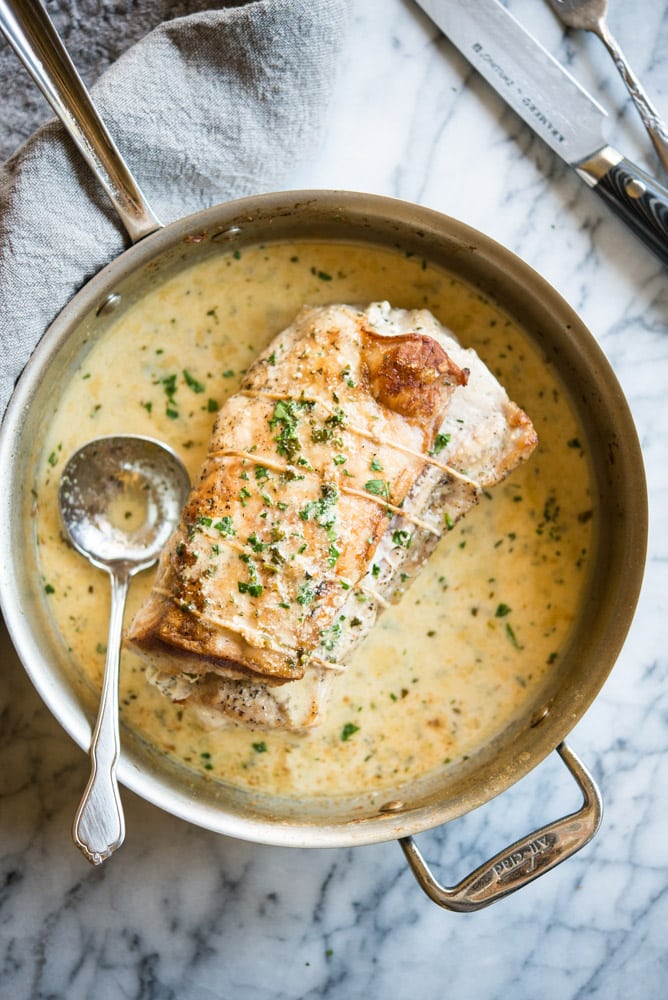 Whether you have a family of ham-haters, the prime rib is looking just a little too pricey this year, or you're simply looking to whip up something different for your holiday feat this year, we've got you covered with this herbed goat cheese stuffed pork loin! It is perfect for a holiday party, Christmas dinner, or even a fancy New Year's Eve in, especially when accompanied with some mashed potatoes, pasta, or even risotto, and a little something green.
I'll admit: pork used to be at the bottom of my list when selecting what to cook that week. After many dinners of dry, tough, flavorless pork, I gave up on this delicious protein for a while. Then, ButcherBox came into my life and I found myself with pork chops and loins on hand that needed to be cooked, so I set out to find a good cooking technique. After some trial error, what came out of it was these Best-Ever Pork Chops and this Honey Mustard Pork Roast – one of our most popular recipes that also convinced many of you to start loving pork again too!
So, when we set out to develop a holiday-friendly main dish, the first question we asked ourselves was how we could make the humble pork loin special occasion-worthy. The answer? GOAT CHEESE! In this recipe, we take our tried-and-true cooking technique for pork, but we first butterfly the pork loin, which gives it the the spiral shape (stick with me, I PROMISE it is easier than it sounds!), then stuff it with a mixture of goat cheese, fresh herbs, and lemon zest for maximum flavor.
After roasting the pork loin for about an hour, you'll remove it from the pan and use it's drippings to make a delicious white wine cream sauce that makes everything just a little bit better. We hope you enjoy this herbed goat cheese stuffed pork loin as much as we did!
Print
Herbed Goat Cheese Stuffed Pork Loin
Pork loin is filled with herbed goat cheese and finished with a white wine cream dish for a main dish that is perfect for a dinner party or a date night-in!
Author:
Prep Time:

30 minutes

Cook Time:

70 minutes

Total Time:

1 hour 40 minutes

Yield: Serves

6

-

8

1

x
For the pork loin:
1, 3-4 pound pork loin

1/2 tablespoon

sea salt

1/2 teaspoon

ground black pepper

8 ounces goat cheese

2 tablespoons fresh chopped flat-leaf parsley

1 teaspoon fresh chopped thyme

1 teaspoon

fresh chopped rosemary

Zest of one lemon

1 tablespoon

avocado oil or extra-virgin olive oil

1/2 cup

chicken broth
For the pan sauce:
1 tablespoon

butter

3

cloves garlic, minced

1/2 cup

dry white wine

3/4 cup

chicken broth

1/4 cup

cream

1 tablespoon

lemon juice

1 teaspoon

fresh chopped thyme

2 tablespoons

fresh chopped flat leaf parsley, divided
Instructions
Preheat oven to 325 F.
Pat the pork loin dry. With the fat-side up, Insert the knife about 1/3 of the way down the pork loin and make a lengthwise cut. Continue cutting until you get about half an inch from cutting through the edge pork loin. Open the flap. From here, cut down until you get to the bottom 1/3 of the pork loin, and cut lengthwise again, stopping when there is a 1/2 inch left. Open that flap as well.
At this point, your pork loin should be a rectangle shape. If the pork is uneven in some places, place a piece of plastic wrap over the pork and use a meat mallet to pound the thicker parts and even it out. Then, season the pork with salt and pepper on both sides.
In a small bowl, combine the goat cheese, 2 tablespoons fresh chopped parsley, 1 teaspoon fresh chopped thyme, 1 teaspoon fresh chopped rosemary, and lemon zest. Stir until well-combined, then spread over the pork loin.
Fold the pork loin back up, then tie with kitchen twine at 1-inch intervals.
Place a large cast iron pan or other heavy-bottomed, oven-safe skillet over medium high heat. Add the oil to the pan. Once hot, add the pork loin and sear fat-side down for 5-6 minutes, until browned. Flip the pork loin and sear for an additional 3-4 minutes, until browned, then pour in the chicken broth and place in the oven.
Bake for about 1 hour to 1 hour and 15 minutes, until a thermometer inserted into the thickest part of the meat reads 145 F, then remove from the oven.
Once cooked, removed the pork from the pan and pour off any drippings. Place the pan over medium-high heat and add the butter and garlic to the pan and saute for 30 seconds, until fragrant, then pour in the wine. Let the wine come to a boil and cook for about 1 minute, until reduced, then add the chicken broth. Cook the mixture for 4-5 minutes, until the mixture has thickened slightly and reduced to 1/2 cup.
Turn off the heat and whisk in the cream, lemon juice, thyme and parsley.
Remove the twine from the pork, slice, and serve alongside the white wine sauce!
Notes
We highly recommend using an in-oven thermometer to monitor the pork, so you can pull it out right when it comes to 145 F!
Instead of creating a spiral in the pork loin, you can also butterfly it by cutting the loin in half lengthwise about 1/3 of the way through. Then you will stuff it with the goat cheese mixture and tie it together. The spiral is an additional step but helps keep all of the goat cheese inside the pork and makes for a nice presentation. This video is a great step-by-step on both the butterflying and spiral methods.