I'm so excited to bring you this egg-free pumpkin pie with cinnamon crumble topping in partnership with my friends at EverlyWell! This egg-free pumpkin pie checks all of the allergen-friendly boxes, and has a flaky crust, creamy filling, and delicious, buttery crumble on top that will make it a hit with your whole Thanksgiving table.
When I took my Food Sensitivity test from EverlyWell a few months back and confirmed my suspicions that I had an intolerance to eggs and some dairy, I began the process of cutting both out of my diet. While dairy still makes its way back in from time to time (I truly love cheese!), I've seen the most noticeable difference from eliminating eggs, and have continued to limit them in my diet. One of the lucky side effects of me giving up eggs (other than feeling better) has been the feedback from so many of YOU who also don't tolerate eggs well. This knowledge has led us to develop more egg-free breakfasts and baked goods over the past few months (hence the creation of this egg-free pumpkin pie!)
So, when we set out to make a Thanksgiving dish that was compatible with my food sensitivities we decided to go BIG and make a gluten-free, dairy-free, and egg-free pumpkin pie! First up was the crust. I developed my perfect Paleo pie crust a few years back, and it's been my go-to ever since, but we found that it is definitely reliant on an egg to hold it together. Once we swapped in a gluten free flour blend and a little bit of water though, we were good to go with a sturdy, yet flaky pie crust! Note that both the crust and crumble topping for this pie both contain butter, but you can substitute ghee, coconut oil, or palm shortening depending on your preferences!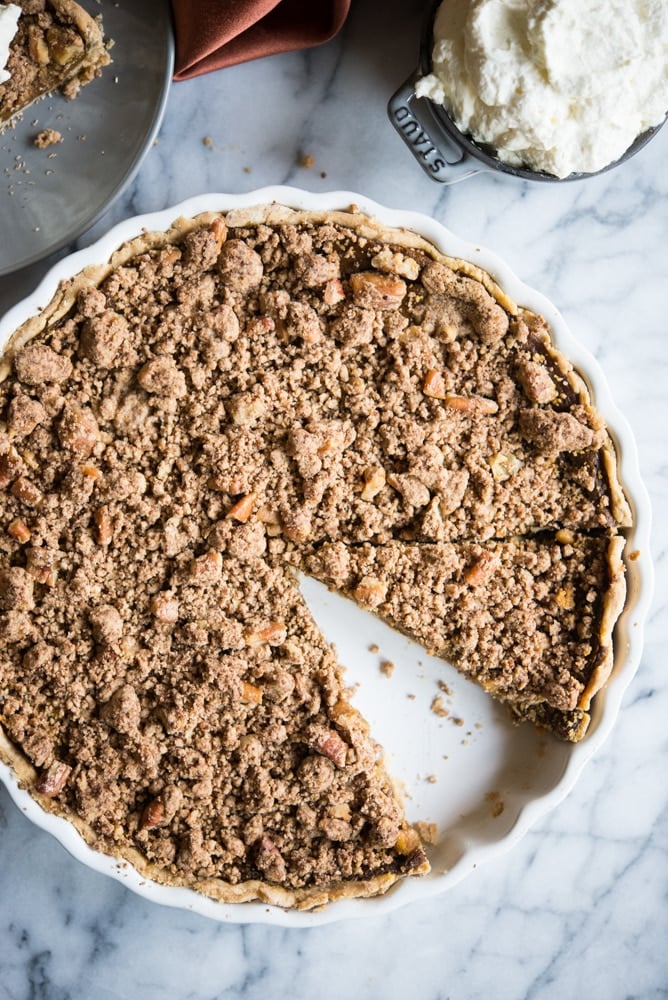 Next up was the filling – traditional pumpkin pie uses both eggs and dairy to make a custard. After multiple tests, we settled on swapping the milk for coconut milk, and arrowroot starch for the eggs! The resulting filling was slightly firm, but still had that creamy texture incredible flavor reminiscent of traditional pumpkin pie. Finally, because we really wanted to take this pie to the next level, we made a crumble topping with gluten free flour, butter, pecans, and more pumpkin pie spices that adds an extra layer of deliciousness. Seriously, no matter what your dietary needs are, you will LOVE this egg-free pumpkin pie with cinnamon crumble topping.
If you've been dealing with unexplained symptoms like digestive upset, fatigue, joint pain, or even stuffiness, taking a food sensitivity test and finding answers there can be SUCH a relief (as it was for me!), but it can also make the holidays a daunting time if you feel like your only choices are to give up all your old family favorites or eating them and feeling terrible for days afterward. But, I have great news for you – it doesn't HAVE to be that way! When you know your food sensitivities, you can have your cake egg-free pumpkin pie and eat it too!
How you ask? Well, it's a combination of two things – good recipes and a game plan! When you've got both of those you can end your Thanksgiving meal feeling totally satisfied, without that lethargic, overfull, worried-about-the-future-stomach-ache feeling.
To show you this combination in action, here's how the Fed & Fit Team is handling their food sensitivities this holiday season!
Cassy Joy
Sensitive to: gluten (gives me migraines, in addition to other painful symptoms), eggs (noticeable decreased energy), dairy (also takes a toll on energy + digestion), and doesn't do well with lots of nuts or refined sugars.

Holiday game plan: I like to go big on Holidays! The only thing I really avoid is wheat gluten (the migraines aren't worth it). That being said, I will make egg-free, dairy-free, and nut-free options when they're as KILLER as this pie. I make sure to wash down with lots of water and take walks after big meals to help my body digest. I also try to take in LOTS of greens (via juice or lemony kale) to also help offset the eggs and (especially) sugar.

Favorite healthier recipe for the holiday: this Apple Pie (it's legit), this Bacon Cranberry Cornbread Stuffing, and this Harvest Sparkle cocktail.
Jess
Sensitive to: nightshades (skin reaction, digestive upset) but most other foods I can eat in moderation! Yes EVEN gluten! I have noticed if I eat too much of any one thing, or overload my system with all of the things that generally cause most people gut issues, then my most noticeable symptom will be feeling lethargic and gut distress!
Holiday Game Plan: make and bring at least one option for desserts and sides that I know will not cause me ANY issues (I always bring a grain free stuffing like this Sweet Potato Cranberry stuffing that everyone in my family loves), and I always bring a gluten-free dessert option. Since I don't have any food sensitivities that will knock me out for extended periods of time my mindset is to enjoy a little of everything in moderation (yes even REAL gluten filled dinner rolls!).  I'm already thinking I may need to add this egg-free pumpkin pie to the mix though because it is THE REAL DEAL!
Favorite recipes for the holiday: Sweet Potato Cranberry Stuffing, Old Fashioned Chocolate Cream Pie, Browned Butter Parsnip Mash
Amber
Sensitive to: gluten (I'm Celiac so I'm looking at a week+ of digestive distress and exhaustion with any exposure!), excess dairy (digestive upset), FODMAPs (digestive upset), excess refined sugar (canker sores, decreased energy). I've found through trial and error that I can tolerate some FODMAPs and lower-lactose dairy, and both are MUCH shorter-lived reactions than gluten!
Holiday Game Plan: I'm very fortunate to have a family supportive of my dietary needs. We secretly switched over to making gluten free stuffing, green bean casserole, and pies years ago and no one mentioned anything so we never looked back! While gluten is an absolute no for me, my other reactions tend to happen when I have too much of what I'm sensitive to. So, while I'll indulge in stuffing this year (FODMAPs), I'll make my own FODMAP-free green bean casserole and go for mashed potatoes over sweet. For dessert, I'm opting for pecan pie bars (GF, DF, and refined-sugar free!) and pumpkin cheesecake, but skipping out on my Mom's coconut cream pie because I know two dairy-filled desserts will push me over the edge!
Favorite recipes for the holiday: these Pecan Pie Bars, loaded twice-baked mashed potatoes, and a (very labor-intensive but totally worth-it) Pumpkin Cheesecake, but I sub gluten free gingersnaps and pecans for the graham cracker crust! 
If you're suspicious that you may have food sensitivities and you want to come out of the holiday season feeling better than ever, we strongly recommend checking out EverlyWell's food sensitivity testing! You can learn more about how the food sensitivity test works here, what my results were here, and then order your own here using the code "FED" for 15% off any EverlyWell test.
We hope you love this egg-free pumpkin pie with cinnamon crumble topping!
Egg-Free Pumpkin Pie with Cinnamon Crumble Topping
This pumpkin pie is egg, gluten, and dairy-free while still being every bit as delicious as your traditional favorite!
Instructions
Preheat the oven to 350 F.

Place your pie crust into a pie pan and bake for 7 minutes, then remove from oven.

In a small bowl, whisk together the arrowroot, cinnamon, ginger, nutmeg, cloves, and salt.

In a large bowl or in the bowl of your stand mixer, add the coconut sugar and pumpkin and beat with an electric mixer until smooth. Add in the coconut milk and vanilla and continue to mix.

Add the arrowroot mixture to the pumpkin and beat on high until no lumps remain.

Pour the filling into the pie crust and bake for 25 minutes at 350.

To make the crumble: whisk together the flour, sugar, and spices in a bowl. Once the spices are fully incorporated, add the butter and work it into the mixture with your hands, until the mixture takes on a crumbly texture. Add the pecans and work them into the mixture with your hands.

Once the pie has baked for 25 minutes, sprinkle the crumble mixture over top and return to the oven to bake for an additional 20 minutes.

After 20 minutes, the crumble should be browned on top and the pie will be slightly jiggly, but will firm as it cools. Let the pie cool on the counter, then cover and refrigerate for at least 2 hours and up to overnight to let it set.
Recipe Notes
For dairy-free: substitute ghee or coconut oil for the crumble topping
For nut-free: omit the pecans. If you'd like you can replace them with pumpkin seeds, sunflower seeds, or even crystallized ginger for a little extra ginger kick!
Nutrition
Calories:
486
kcal
|
Carbohydrates:
54
g
|
Protein:
5
g
|
Fat:
30
g
|
Saturated Fat:
16
g
|
Polyunsaturated Fat:
3
g
|
Monounsaturated Fat:
9
g
|
Trans Fat:
0.5
g
|
Cholesterol:
30
mg
|
Sodium:
235
mg
|
Potassium:
258
mg
|
Fiber:
5
g
|
Sugar:
19
g
|
Vitamin A:
9180
IU
|
Vitamin C:
3
mg
|
Calcium:
53
mg
|
Iron:
3
mg