These banana overnight oats are a healthy make-ahead breakfast reminiscent of classic banana nut bread.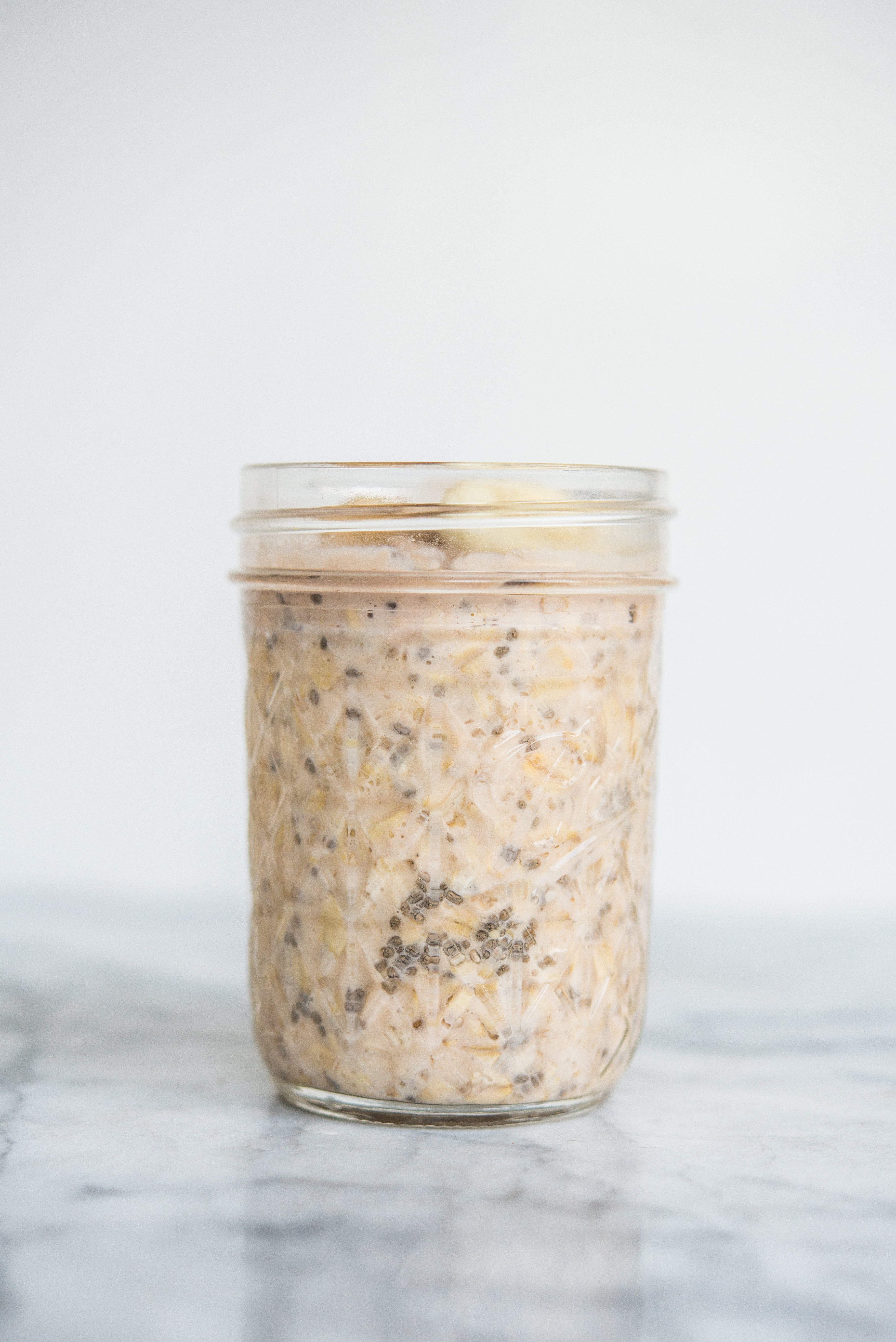 Our last addition to this month's overnight oats series is these banana nut overnight oats! So far we've made Apple Pie Overnight Oats, Chocolate Peanut Butter, Maple Pecan, and a Pumpkin Spice version. Y'all have been loving these easy breakfast recipes and we think this one just might take the cake. If you're a fan of banana bread (and really, who isn't?) you've got to try these banana overnight oats out.
What are overnight oats?
Just as a quick overview, let's talk about the magic of overnight oats. These are the ultimate meal prep-friendly breakfast! You can assemble them in jars on Sunday, then they're ready to grab and go each morning. Overnight oats don't require cooking, instead, the oats will soften in the milk overnight and be ready to eat in the morning. Whether you eat them cold or warm them up for about a minute in the microwave is totally up to you!
For more about overnight oats, check out our overnight oats guide with 15 healthy overnight oats recipes.
Banana Overnight Oats Ingredients
Every overnight oats recipe starts out with a few basic ingredients, and then a few extras to add flavor and pizazz! Here's what you'll need for these absolutely delicious banana overnight oats:
Rolled Oats – we like using these Gluten-Free Old Fashioned Rolled Oats from Bob's Red Mill. Whatever brand you choose, we recommend going for rolled or quick-cooking oats and steering clear of steel cut oats or extra thick oats, as they'll need a different ratio of milk to oats.
Chia Seeds – 4 teaspoons of these fiber-packed seeds helps help thicken the oats and make them taste a little bit richer.
Milk – choose whatever milk you love most! We prefer whole, cashew, or almond milk – no matter which you choose, you'll need 2 cups!
Bananas – you'll need 2 bananas for this recipe, meaning each serving of oats has half a banana – just enough to give it that distinct banana flavor…YUM!
Vanilla Extract – 1 teaspoon adds the perfect hint of vanilla here.
Walnuts – what is classic banana nut bread without walnuts?! You'll use 1/4 cup for topping your oats. If you don't have walnuts, feel free to use any nut that you do have – pecans would also be really yummy!
How to Make Banana Nut Overnight Oats
As mentioned earlier, overnight oats are a breeze to make, just follow the steps below!
Spoon the oats and chia seeds into mason jars. To start off, you'll spoon an equal amount of oats and chia seeds into 4 8-ounce mason jars.
Blend the milk, banana, and vanilla. Next, blend the banana, milk, and vanilla extract until smooth, then set it aside.
Pour the banana milk mixture over the oats. Next, you'll pour an equal amount of the banana milk mixture into each mason jar (about 1/2 cup plus 2 tablespoons), then place the lid on the oats and shake them up (or give them a really good stir) to combine.
Refrigerate overnight, then enjoy! Finally, you'll refrigerate the oats overnight and they'll be ready to eat in the morning. You can eat them hot or cold, and store them for up to 5 days in the refrigerator.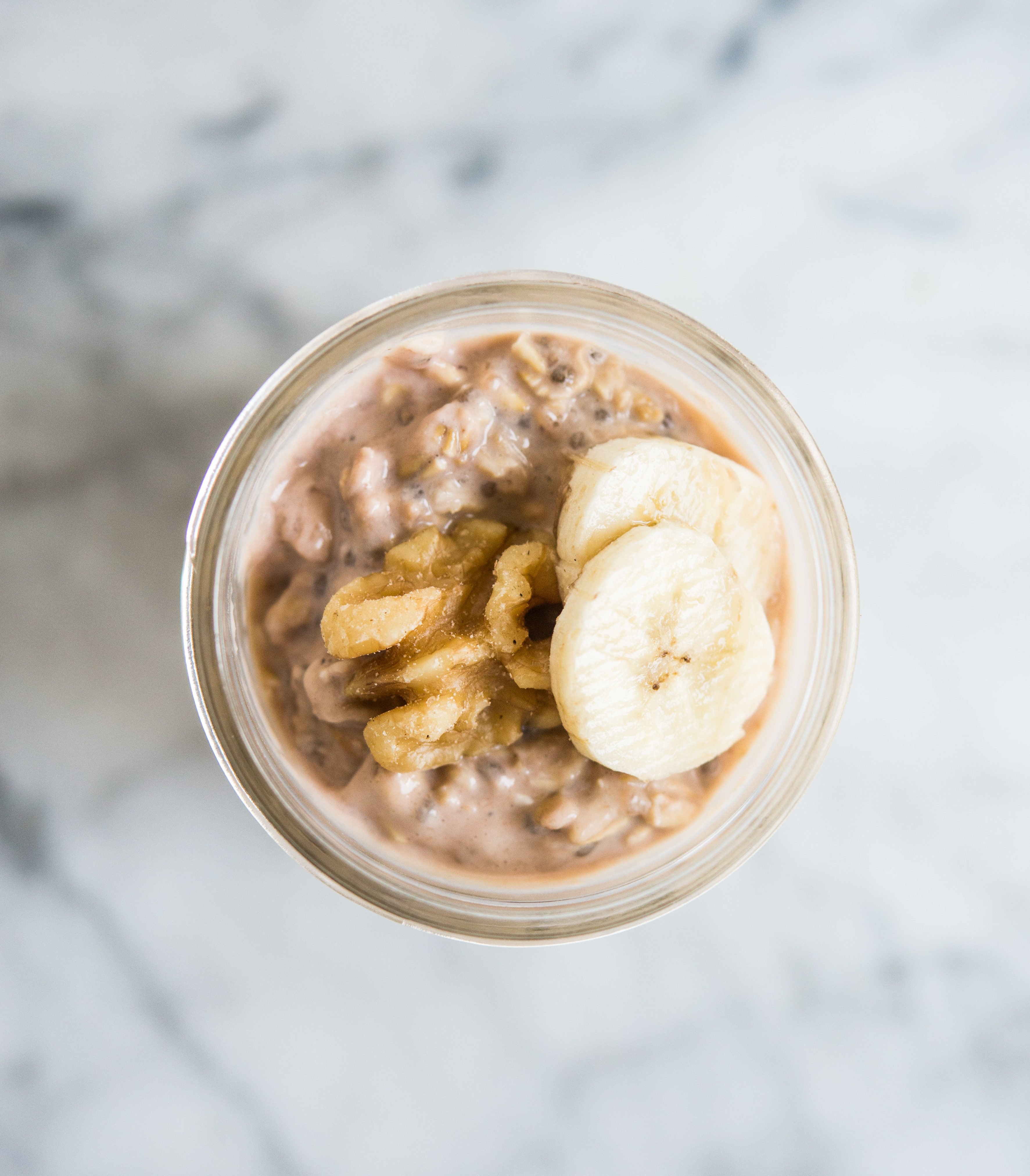 What else can I add to overnight oats?
Overnight oats are easy to make your own! Here are a few of our suggested add-ins:
Fruit: While these already have bananas in them, additional sliced bananas, blueberries, or strawberries would all be wonderful here.
Nut butter: You can blend in 1/4 cup of the nut butter of your choice with the milk (peanut butter banana sounds pretty good to us!) to add more flavor and a boost of healthy fats and a bit of protein that will help keep you full till lunch.
Sweetener: We felt this recipe was sweet enough as is thanks to the banana, but if you like things on the sweeter side, feel free to add a bit of honey or maple syrup.
Collagen Peptides: We love collagen peptides for their benefits for skin and gut health, and mixing them into your oats is a perfect way to get your daily dose.
Protein Powder: If you're looking to up your protein at breakfast, we recommend adding a scoop of whey protein to these oats.
Flax or Hemp Seeds: Flax and hemp seeds are both high in Omega 3 fatty acids, and flax is also a good source of fiber. These would make a great addition to your morning oats.
Shredded Coconut: Shredded coconut will add a nice crunch and serves as a great source of healthy fats.
Greek Yogurt: Add 1 cup full-fat Greek yogurt to this recipe for an extra boost of protein!
Whichever way you choose to eat them, we hope you love these banana overnight oats!
Overnight Oats Frequently Asked Questions
Are overnight oats healthy?
We think so! Oats are a really balanced food and contain LOTS of many nutrients that are a part of a healthy diet, some of which include fiber, protein, magnesium, potassium, and omega 3 fatty acids. They are also a whole grain, which means that the sugar naturally present in them will absorb more slowly into the bloodstream to limit blood sugar spikes and keep you full for longer.
Is it bad to eat overnight oats every morning?
We don't think so! Because of all of the really great nutrients present in oats, we actually think that including them in your daily diet is a great idea.
How long do overnight oats last for?
Overnight oats will last for about 5 days in the refrigerator, so they are a perfect make-ahead breakfast option!
Banana Nut Overnight Oats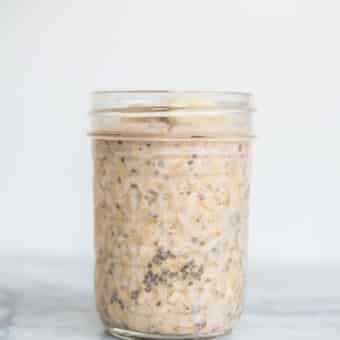 These banana nut overnight oats are the perfect easy breakfast that taste like banana nut bread!
Ingredients
2

medium bananas

the riper the sweeter the recipe will be

1

teaspoon

vanilla extract

2

cups

milk of choice

we prefer whole, almond, or cashew milk here

2

cups

rolled oats

4

teaspoons

chia seeds

1/4

cup

walnuts

for topping
Instructions
Pour 1/2 cup oats into 4,

8-ounce mason jars

, then pour 1 teaspoon chia seeds into each jar.

Blend the milk, bananas, and vanilla until smooth, then pour an equal amount of the mixture (about 1/2 cup plus 2 tablespoons – this will vary depending on the size of your bananas) into each jar.

Seal the jars, shake them, and then refrigerate overnight. When you're ready to eat them, sprinkle the walnuts over top. These can be enjoyed hot or cold, depending on your preference.
Recipe Notes
If you'd prefer, you can mix all the ingredients in one large container and refrigerate overnight. You can also add 1-2 tablespoons honey or maple syrup if you prefer your oats on the sweeter side!
Nutrition
Calories:
349
kcal
|
Carbohydrates:
49
g
|
Protein:
12
g
|
Fat:
13
g
|
Saturated Fat:
3
g
|
Polyunsaturated Fat:
6
g
|
Monounsaturated Fat:
2
g
|
Trans Fat:
0.01
g
|
Cholesterol:
15
mg
|
Sodium:
50
mg
|
Potassium:
591
mg
|
Fiber:
7
g
|
Sugar:
14
g
|
Vitamin A:
239
IU
|
Vitamin C:
5
mg
|
Calcium:
207
mg
|
Iron:
2
mg