Sausage Stuffed Butternut Squash
jump to recipe
This Sausage Stuffed Butternut Squash is the perfect healthy whole-meal for your Fall table. Complete with spicy Italian sausage, healthy butternut squash, bright pomegranate seeds, and a savory lemon rosemary sauce, you will want to put this dish on repeat.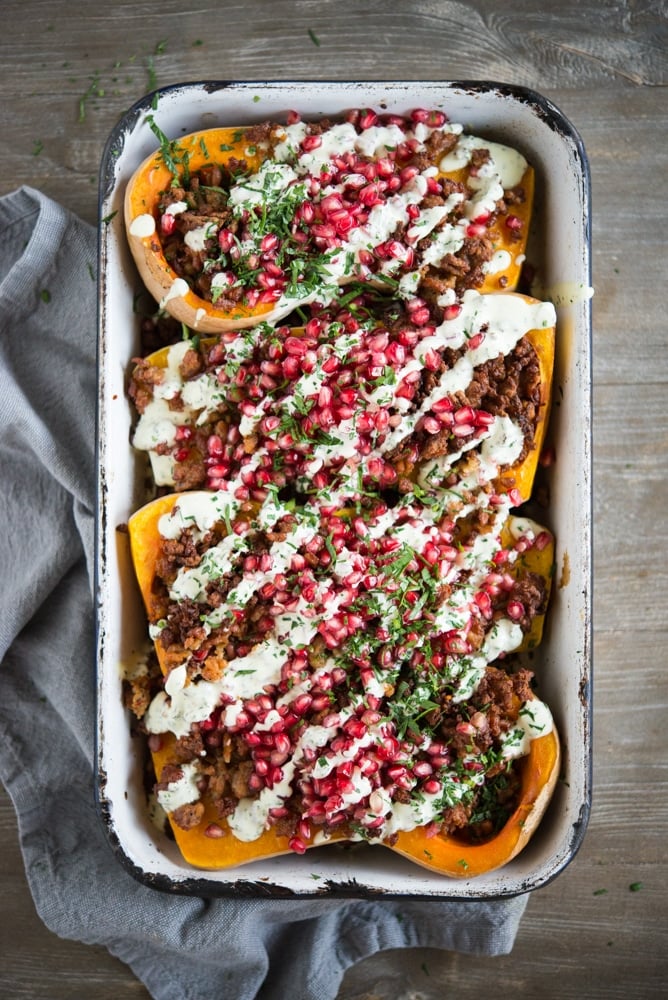 I'm just so darn thrilled for this recipe! It's quintessential Fall and quintessential delicious. We've enrolled fresh butternut squash AND pomegranates, two pieces of produce that are beginning to overrun grocery stores and farmer's markets with their seasonal abundance. After creating a recipe for stuffed acorn squash in my 'Fed & Fit' book , I couldn't help but use the same hot Italian sausage here. Something magical happens when you mix hot sausage with squash. It's the kind of magic that turns health food into craveable food – which is essentially the entire name of my recipe-development game.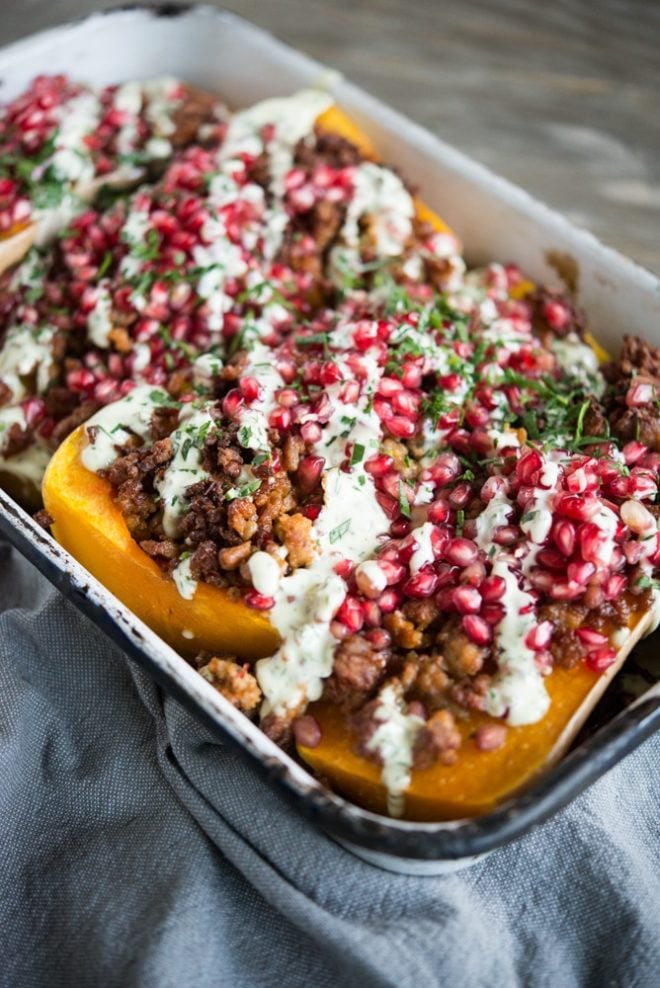 The sausage is browned in a pan until crispy first. I like to think that the crisp is important because it provides a texture that contrasts well with the squash. Said sausage is spooned over the butternut squash and the two head into the oven for holy delicious matrimony. Butternut squash takes a little while to bake (about 1 hour 15 minutes), so feel free to go chase the kids, write a blog post, or sneak in a couple rerun episodes of 30 Rock. You could also take this time to deseed a pomegranate (unless you found them already deseeded, you lucky dog) and/or whip up the lemon rosemary sauce.
Once the dish comes out of the oven and the squash is nicely cooked (a fork will slide into the thickest piece easily), you're ready to decorate it! Switch on your right brain creative side and have fun tossing fresh pomegranate seeds over the top. Follow that by a generous drizzle of the sauce and a final splash of color with the parsley. GORGEOUS!
If you've never had pomegranate seeds before, you're probably wondering, "do you actually eat the whole seed?" Answer: yes, yes you do. The bright burst of fresh pomegranate flavor and the crunch of the seed (no more crunchy than a nut) bring this entire dish to life.
Because I get so many questions about how to handle leftovers (freezing/reheating), I offered up some step-wise tips below! I hope you find them helpful.
I think this dish would be PERFECT for when you have family over this Fall. May the night before Thanksgiving? Maybe a random Tuesday because you just want to #treatyoself? Your call. Either way, I knew you needed this in your life and I hope you love it as much as I love it.
xo,
Cassy Joy
Print
Sausage & Pomegranate Stuffed Butternut Squash
Author:
Prep Time:

5 minutes

Cook Time:

1 hour 25 minutes

Total Time:

1 hour 30 minutes

Yield:

8 servings
Ingredients
1 tablespoon

grass-fed butter, ghee, or avocado oil

2

pounds hot or mild Italian sausage (add an extra pound if you'd like more than .

25

# of protein per serving)

2

small-medium sized butternut squash, sliced in half lengthwise and deseeded

1/2 teaspoon

fine sea salt

1

large pomegranate, deseeded (about

1 cup

)

2 tablespoons

chopped fresh Italian parsley
For the lemon rosemary sauce::
1/2 cup

healthy mayo (find a recipe in my 'Fed & Fit' book or use Primal Kitchen Mayo)

2 tablespoons

fresh lemon juice (about

1

lemon)

1 tablespoon

fresh finely chopped rosemary
Instructions
Preheat the oven to 375 F. Add the butter to a large frying pan over high heat. Once melted, add the sausage. Using a spoon to break it up as it cooks, cook the sausage until it's brown and slightly crispy, about 10 minutes.
Place the cut butternut squash cut-side up in a large casserole dish or one a large rimmed baking sheet. Sprinkle the tops with the sea salt. Once browned, spoon the sausage over the squash, tint the top with a sheet of aluminum foil (lightly it place it on top), and bake at 375 F for 1 hour. Remove the foil and bake for an additional 15 minutes, or until a fork slides easily into the thickest part of the squash.
While the squash is in the oven, I suggest deseeding the pomegranate and make the sauce! To make the sauce, whisk all the ingredients together until smooth.
Once cooked, sprinkle the top of the squash with the pomegranate seeds, pour the sauce over top, finish with the fresh parsley, and serve.
Freezing leftovers:
For an entire batch: wrap tightly with plastic and then with aluminum foil.
For individual servings: cut each squash piece in half and spoon a full serving into either a glass container (if you prefer), a plastic bag, or plastic wrap. If wrapped in plastic, place those pieces into a large plastic bag labeled with the name and date of the dish.
Freeze solid and enjoy within 5 months of date.
To reheat in the oven: place a squash piece, several pieces, or the entire pan in the oven while it's cool. Turn the oven up to 375 F and set a timer for 30 minutes to 1 hour 30 minutes (depending on the number of pieces). Remove when bubbly, but not burnt.
To reheat in the microwave: place a single serving on a plate, cover, and cook for 4-5 minutes, or until cooked through.