With bold, zesty cajun flavors, this shrimp jambalaya is a classic for good reason! It is the perfect warm, hearty one-pot meal to make for a crowd.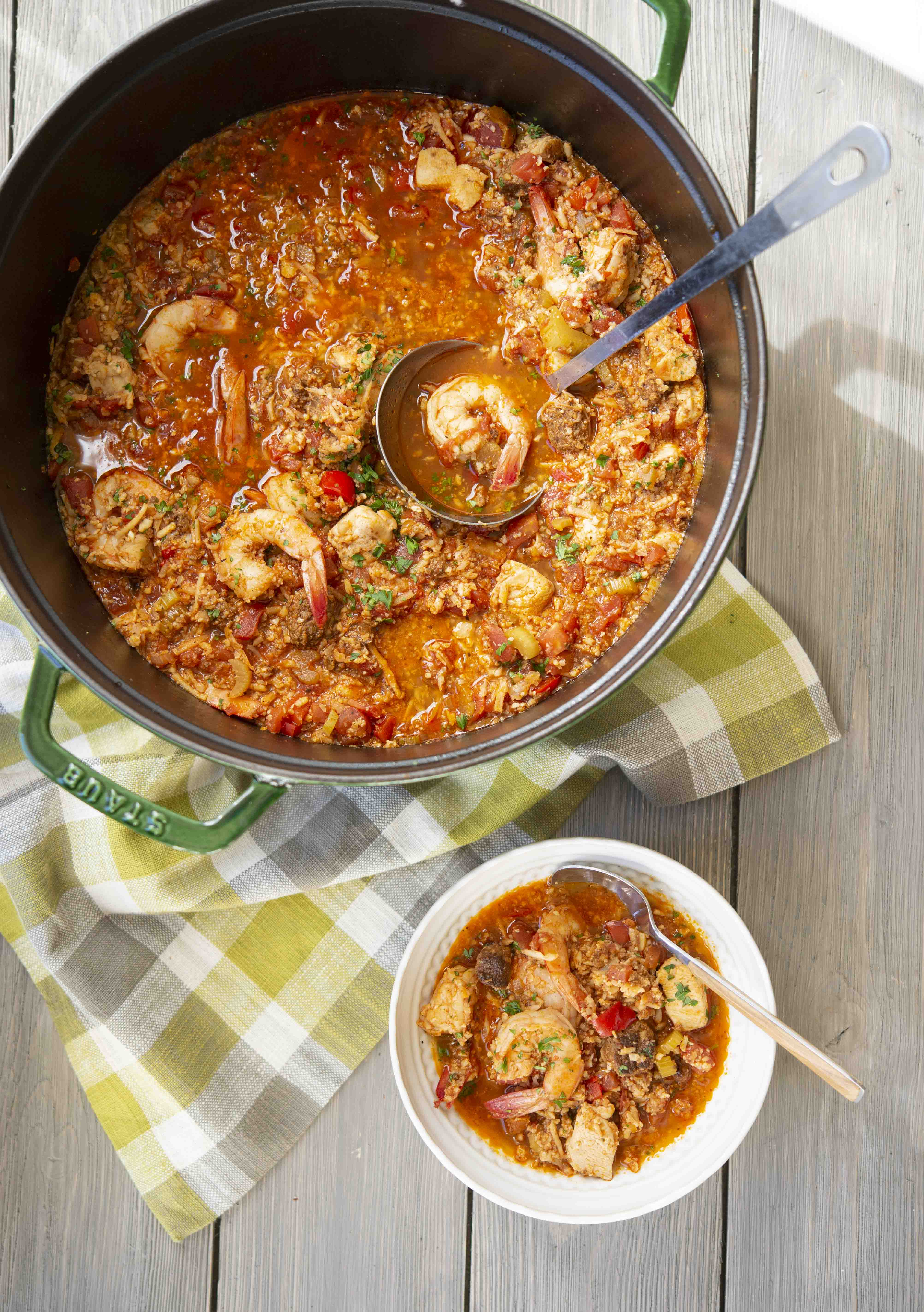 This shrimp jambalaya is a reader-favorite recipe from the Fed + Fit book! We've decided to re-publish it here because it is perfect for the holiday season. This dish is just a little bit spicy and filled with a variety of veggies and protein. It is ideal for a cold night and can be served over white rice or cauliflower rice. Jambalaya originates from Louisiana, where you'll find tons of variations on the dish. This version includes chorizo, shrimp, and chicken for protein, celery, onion, bell pepper, and tomatoes for veggies, and a variety of Cajun spices like cayenne and oregano for flavor.
What is the difference between jambalaya and gumbo?
Gumbo is another classic Cajun dish popular in Louisiana, and we actually have a fantastic chicken and sausage gumbo recipe! Jambalaya and gumbo have many similarities. They both start with the 'Cajun holy trinity' of onions, celery, and bell pepper, often contain a combination of seafood, chicken, and sausage, and are seasoned with plentiful Cajun spices.
Unlike jambalaya, however, gumbo begins with a roux, a mixture of butter and flour, that is cooked down until it is browned. The roux gives the gumbo thickness and provides a distinct flavor to the recipe. Jambalaya, on the other hand, is more brothy because it doesn't contain a roux, and the Creole version of gumbo is tomato-based, whereas gumbo does not contain tomatoes.
Creole vs. Cajun Jambalaya
When developing this recipe, I was surprised to learn that the Jambalaya I'd grown up eating was actually Creole, not Cajun. What's the difference? Simply explained, Cajun food is described as "country food" while Creole food is described as "city food." Creole food often comes from New Orleans and has a blend of cultural influences including Italian, Spanish, African, and Caribbean foods (for a more in-depth explanation, see this article). The biggest difference between the two cuisines, however, is that Cajun food does not contain tomatoes.
So, the biggest difference between creole and cajun jambalaya is that the cajun jambalaya does not contain tomatoes. The other difference is that in Cajun jambalaya, proteins are seared before cooking. In this recipe, we've chosen to sear the proteins to add flavor, so it is a bit of a mix between both Creole and Cajun!
Shrimp Jambalaya Ingredients
Now that we've talked a little bit about the history of shrimp jambalaya, let's talk about what you'll need to make a pot of this incredible stuff!
Onions, Celery, and Bell Pepper – Also known as the "Cajun Holy Trinity" this is a cajun twist on classic French mirepoix (which uses carrots instead of bell pepper) and provides an incredible base of flavor to the dish. You can use either green or red bell pepper here!
Chorizo – being from Texas, we LOVE a good chorizo and thought it would add a nice, spicy twist here. If chorizo isn't your thing though, andouille sausage is another great choice!
Chicken – our next protein of choice was chicken. You can use either chicken breast or thighs here depending on preference.
Shrimp – it of course wouldn't be shrimp jambalaya without the shrimp!
Canned Diced Tomatoes – we used plain canned diced tomatoes in this recipe to get that brothy, tomato flavor.
Coconut Aminos – though it isn't a traditional ingredient in jambalaya, we love the flavor of coconut aminos here to add just a bit of salty umami.
Cayenne Pepper Sauce – we personally love Frank's RedHot for this jambalaya, though you can use any type of hot pepper sauce you enjoy! If you prefer less spicy food or have kiddos to feed, start with just a few tablespoons and work your way up to your desired spice level.
How to Make Shrimp Jambalaya
Now that you've got your ingredients, it's time to get cooking!
Cook the chorizo, shrimp, and chicken. To start, you'll cook the chorizo until crisp, then cook the sausage, and the chicken until browned and fully cooked through. Once that's done, remove the proteins from the pot and set aside.
Saute the celery, onion, and bell pepper. Next, you'll add the celery, onion, and bell pepper to the pot and saute for about 10 minutes, until the onion is browned and the bell peppers have softened.
Add in the broth, tomatoes, and seasonings. Once the onion and celery have cooked, you'll stir in the broth, tomatoes, coconut aminos, hot pepper sauce, and seasonings.
Add the proteins back to the pot. Finally, you'll add the chorizo, chicken, and shrimp back to the pot and cook until simmering, then you're ready to serve over rice or cauliflower rice.
Can you freeze jambalaya?
YES! Jambalaya freezes beautifully. This recipe makes a BIG pot of jambalaya (about 10-12 servings) so we definitely recommend freezing any leftovers. To freeze, simply let it cool, then portion into Ziplock bags or glass storage containers, label it, then freeze for up to 3 months.  To reheat, you can either microwave it for 4-5 minutes from frozen or add it to a pot over medium heat on the stove and cook for about 15 minutes, until fully heated through.
We hope you love this shrimp jambalaya recipe!
Creole Shrimp Jambalaya with Chicken and Sausage
This shrimp jambalaya is full of rich, zesty flavors and is perfect for feeding a big crowd!
Ingredients
1

pound

chorizo

bulk or link style

1

pound

shrimp

peeled and deveined

1

pound

boneless

skinless chicken breast or thighs, cut into ½-inch pieces

1

tablespoon

salted butter

if needed

2

cups

chopped celery

about 6 stalks

1

small onion

chopped 1 red bell pepper, seeded and chopped

5

cloves

garlic

minced

1

28-ounce can diced tomatoes

¾

cup

chicken or beef broth

storebought or homemade

½

cup

coconut aminos

½

cup

Frank's RedHot Sauce

2

tablespoons

fresh lemon juice

about 1 small lemon

2

tablespoons

dried oregano leaves

2

teaspoons

fine sea salt

1

tablespoon

onion powder

½

teaspoon

ground black pepper

½

teaspoon

cayenne pepper

¼

cup

chopped fresh flat-leaf parsley

for garnish

White rice or cauliflower rice

for serving
Instructions
If using link-style chorizo, remove the sausage from its casings. Cook the chorizo in an enameled cast-iron or other heavy-bottomed deep-sided sauté pan or Dutch oven over high heat, using a spoon or spatula to break it up into crumbles, for 10 minutes or until browned and starting to become crispy. Using a slotted spoon, remove the chorizo from the pan and place it in a large bowl, leaving the grease in the pan.

Reduce the heat to medium and add the shrimp to the pan with the sausage grease. Cook the shrimp for about 3 minutes per side, until pink and no longer opaque. Transfer the cooked shrimp to the bowl with the cooked chorizo.

Add the chicken to the pan and cook for about 3 minutes per side, until slightly browned. Transfer the cooked chicken to the bowl with the shrimp and chorizo and set aside.

If there isn't any grease left in the pan, add a tablespoon of butter. Turn the heat up to high and add the chopped celery, onion, and bell pepper. Sauté for about 10 minutes, until the onion is translucent and starting to brown and the bell pepper has softened. Add the garlic and cook for an additional 3 minutes, or until fragrant. Add the tomatoes, broth, coconut aminos, hot sauce, lemon juice, oregano, salt, onion powder, black pepper, and cayenne pepper. Stir to combine and bring to a simmer over medium heat.

Once the soup is bubbling, return the chorizo, shrimp, and chicken to the pan. Stir to combine and bring to a simmer once more. Season with more salt and cayenne pepper to taste.

Serve warm, garnished with fresh parsley.
Nutrition
Calories:
273
kcal
|
Carbohydrates:
9
g
|
Protein:
27
g
|
Fat:
13
g
|
Saturated Fat:
5
g
|
Polyunsaturated Fat:
0.4
g
|
Monounsaturated Fat:
1
g
|
Trans Fat:
0.1
g
|
Cholesterol:
134
mg
|
Sodium:
1418
mg
|
Potassium:
549
mg
|
Fiber:
2
g
|
Sugar:
3
g
|
Vitamin A:
581
IU
|
Vitamin C:
13
mg
|
Calcium:
92
mg
|
Iron:
3
mg