Sheet pan dinners can be total life-savers when you're short on time or ingredients. Today we're going to share our favorite sheet pan meals, plus give you a formula for creating your own!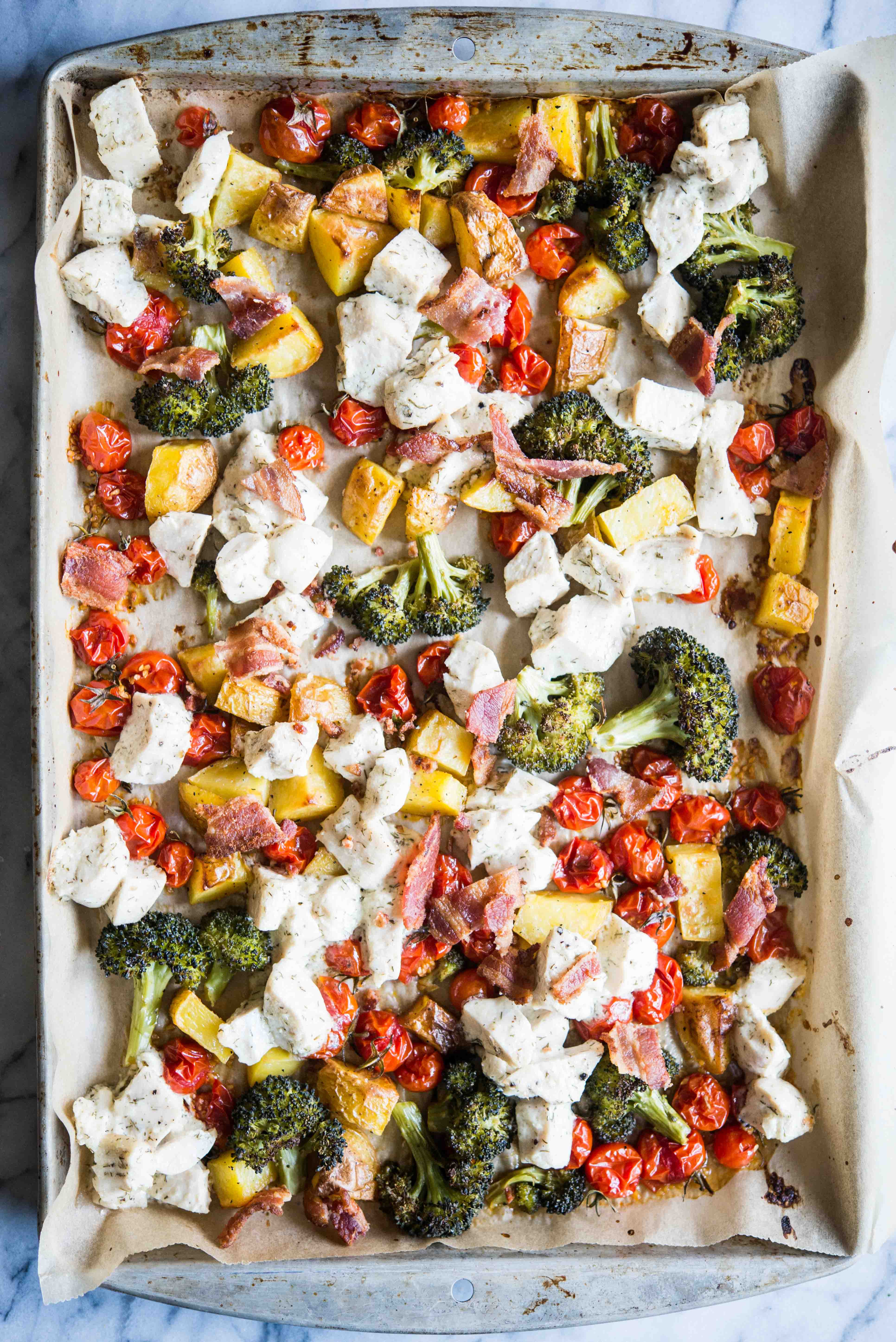 Sheet pan dinners are my go-to on nights when I don't feel like cooking, or simply need to throw together an easy, healthy dinner in a hurry. They are endlessly customizable, require very little hands-on time, and are a great way to use up whatever veggies are lurking in your fridge! Below, we'll share our basic formula for putting together a sheet pan dinner, our top tips for making them great, and our favorite sheet pan dinner recipes.
Sheet Pan Dinner Ingredients
The first step in making a sheet pan dinner is to choose your ingredients! We recommend choosing 1 protein, 1-3 veggies, 1 starch, and a sauce or seasoning to tie it together!
Proteins
Almost any protein can make for a great sheet pan dinner. Here are our favorites:
Beef – thinly sliced beef, like sirloin, is perfect for sheet pan meals.
Chicken – almost any kind of chicken will work for a sheet pan dinner! Boneless skinless or bone-in skin-on breasts and thighs, and drumsticks all work fantastically.
Pork – pork tenderloin is your best bet for a sheet pan meal. It'll cook up in about 30 minutes and goes with any flavor.
Seafood – salmon, shrimp, and white fish make for super speedy dinners.
Sausage – pre-cooked chicken or pork sausage is another great protein for sheet pan meals. You can cook the sausage whole, or slice it up so that it browns.
Veggies
Like proteins, most vegetables work for sheet pan meals. We recommend steering clear of any delicate vegetables, like leafy greens, as they won't roast well. Here are our favorites:
Asparagus
Bell Peppers
Broccoli
Brussels Sprouts
Cabbage
Cauliflower
Green Beans
Onions
Radishes
Snow Peas
Summer Squash
Tomatoes
Zucchini
Starches
When it comes to starches, your choices fall into two camps: root vegetables or winter squash. If you don't have either of these on hand, but still want to up the carbohydrate content of your meal, you can always serve your dinner with a simple side of rice or quinoa instead.
Acorn Squash
Butternut Squash
Carrots
Delicata Squash
Kabocha Squash
Parsnips
Potatoes – all varieties
Rutabaga
Sweet Potatoes
Turnips
Sauces and Seasonings
BBQ Sauce
Buffalo Sauce
Curry Powder
Greek Spice Blend
Herbs de Provence + Lemon + Garlic for a simple garlic-herb seasoning
Honey Mustard
Mexican or Taco Seasoning
Ranch
Teriyaki Sauce
How to Make a Sheet Pan Dinner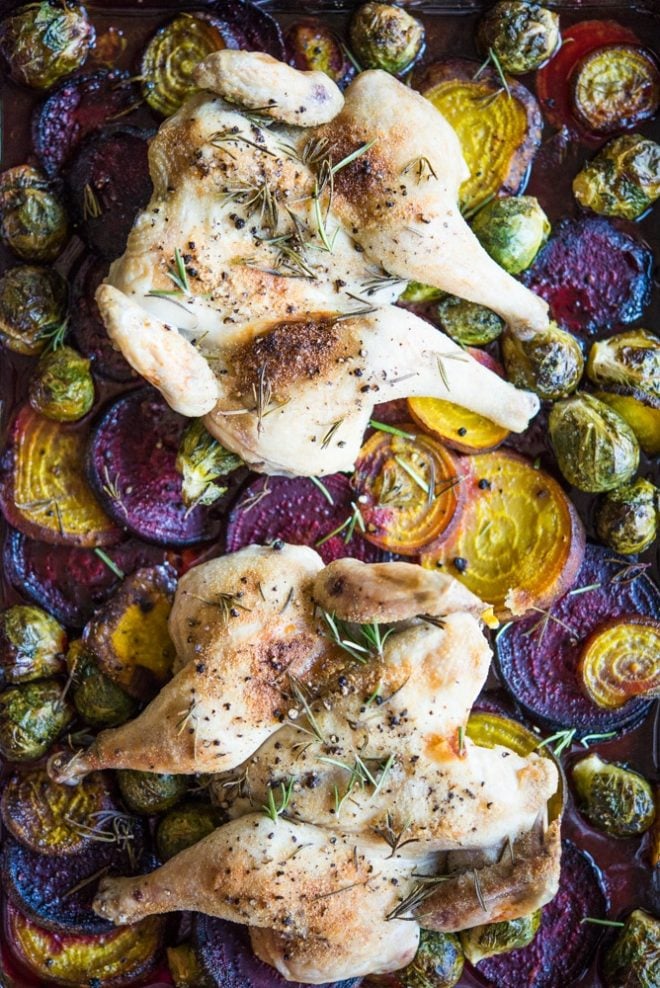 Step 1: Choose Your Ingredients
We've listed some of your potential options above, here are a few examples of how you can put them all together:
Honey Mustard Pork Sheet Pan Dinner – pork tenderloin, brussels sprouts, carrots, butternut squash, and honey mustard
Buffalo Chicken Sheet Pan Dinner – chicken breast, carrots, cauliflower, potatoes, and buffalo sauce
BBQ Chicken Sheet Pan Dinner – chicken thighs, sweet potatoes, broccoli, and BBQ sauce
Teriyaki Salmon Sheet Pan Dinner – salmon filet, broccoli, red bell pepper, teriyaki sauce
Sausage and Peppers Sheet Pan Dinner – sliced sausage, bell peppers, onions, and potatoes
See? It's that easy! Whatever combo you choose, you really can't go wrong.
Step 2: Determine Your Cook Time
Once you have your ingredients picked out, you'll have to figure out the time and temperature to cook them at. Here are some general rules of thumb:
Protein Cooking Times:
| Protein | Cook Time | Cook Temp | Done When |
| --- | --- | --- | --- |
| Boneless/Skinless Chicken Thighs or Breasts | 20-25 Minutes | 400 F | Temp reaches 165 F |
| Bone-In Thighs, Breasts, or Drumsticks | 30-35 Minutes | 425 F | Temp reaches 165 F |
| Pork Tenderloin | 15-20 Minutes | 425 F | Temp reaches 145 F |
| Beef | 15-20 Minutes | 400 F | Temp reaches 145 F |
| Sausage | 15-20 Minutes | 400-425 F | It is browned |
| Salmon | 13-15 Minutes | 375 F | It flakes easily with fork |
| Shrimp | 5-7 Minutes | 400-425 F | Shrimp starts to curl |
| Fish | 10-15 Minutes | 400-425 F | It flakes easily with fork |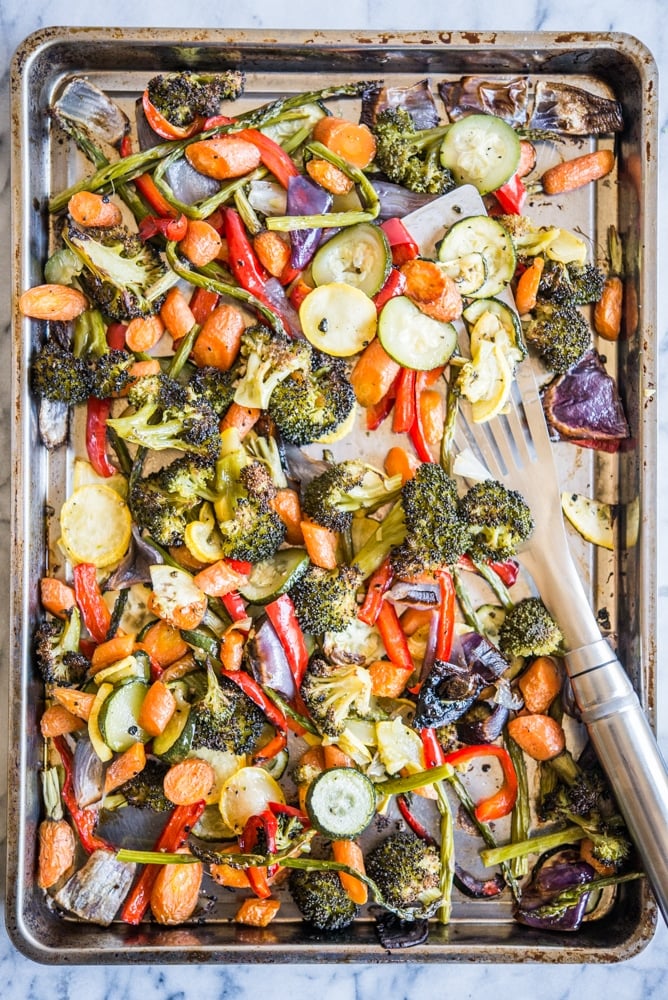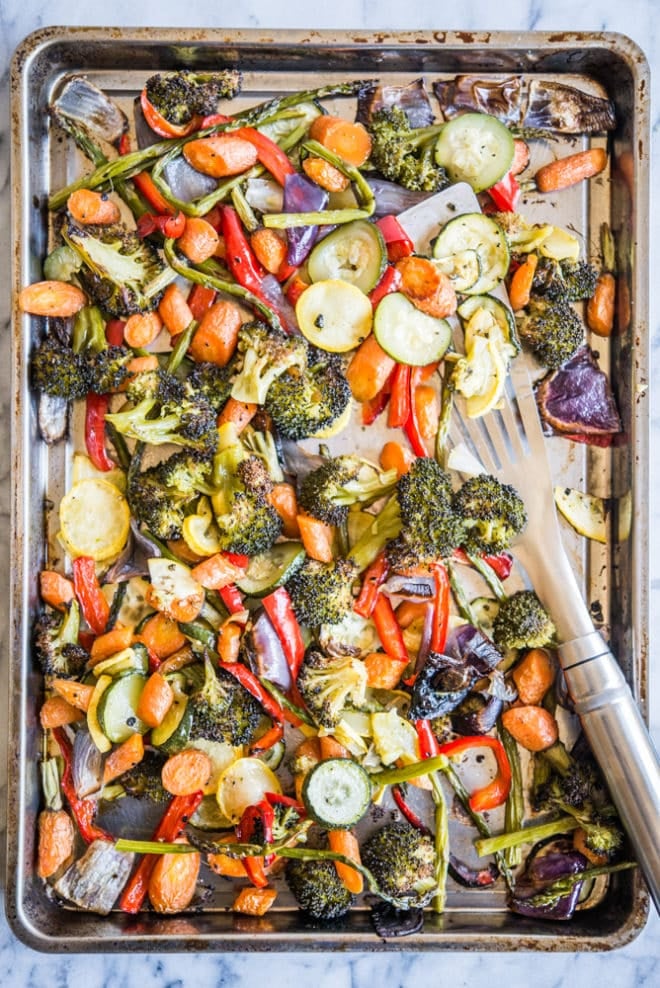 Veggie Cooking Times:
Below are our recommended veggie cooking times. For the most part, we suggest roasting your veggies at 400-425 F. The low end of the cook time range is for veggies roasted at 425 F, while the high end is for those at 400 F. When roasting veggies, you'll know they are done when they are easily pierced with a fork, and browned on the outside.
| Veggie | Cook Time |
| --- | --- |
| Asparagus | 15-20 Minutes |
| Beets | 35-45 Minutes |
| Bell Peppers | 20-30 Minutes |
| Broccoli | 25-30 Minutes |
| Brussels Sprouts | 25-35 Minutes |
| Cabbage Wedges | 35-45 Minutes |
| Carrots | 35-45 Minutes |
| Cauliflower | 25-30 Minutes |
| Green Beans | 15-20 Minutes |
| Onions | 30-40 Minutes |
| Parsnips | 35-45 Minutes |
| Potatoes | 35-45 Minutes |
| Snow Peas | 15-20 Minutes |
| Summer Squash | 15-20 Minutes |
| Sweet Potatoes | 35-45 Minutes |
| Tomatoes | 35-45 Minutes |
| Turnips | 35-45 Minutes |
| Winter Squash | 35-45 Minutes |
| Zucchini | 15-20 Minutes |
Step 3: Cook!
Now that you've picked your ingredients and you have your cooking times laid out, it is time to get everything in the oven. If you're using root veggies or winter squash, you'll want to give these a head-start in the oven, then add on the protein and medium-weight or tender veggies to finish cooking.
Now, let's take a few of the example sheet pan dinners from earlier and calculate the cooking times to see how it all comes together. Remember, this is not an exact science! If the cook times don't line up exactly, it'll be ok. Prioritize making sure your protein will be properly cooked – a slightly overdone veggie is much more appealing than an overcooked protein!
Honey Mustard Pork Sheet Pan Dinner
Ingredients:

Protein: pork tenderloin
Root Veggies/Winter Squash: carrots, butternut squash
Medium-Weight Veggies: brussels sprouts

Cook Time: start the butternut squash and carrots at 425°F for 15 minutes, then add in the pork tenderloin and brussels sprouts for an additional 20 minutes.
Buffalo Chicken Sheet Pan Dinner
Ingredients:

Protein: chicken breast
Root veggies: carrots, potatoes
Medium-weight veggies: cauliflower

Cook Time: start the potatoes and carrots at 400°F for 15 minutes, then add the cauliflower and chicken and cook for an additional 20-25 minutes.
Teriyaki Salmon Sheet Pan Dinner
Ingredients:

Protein: salmon filet
Medium-Weight Veggies: broccoli, red bell pepper

Cook Time: cook the broccoli and bell pepper at 425°F for 10 minutes, then lower the temperature to 375°F and add the salmon and cook for an additional 13-15 minutes.
Tips for Making a Perfect Sheet Pan Dinner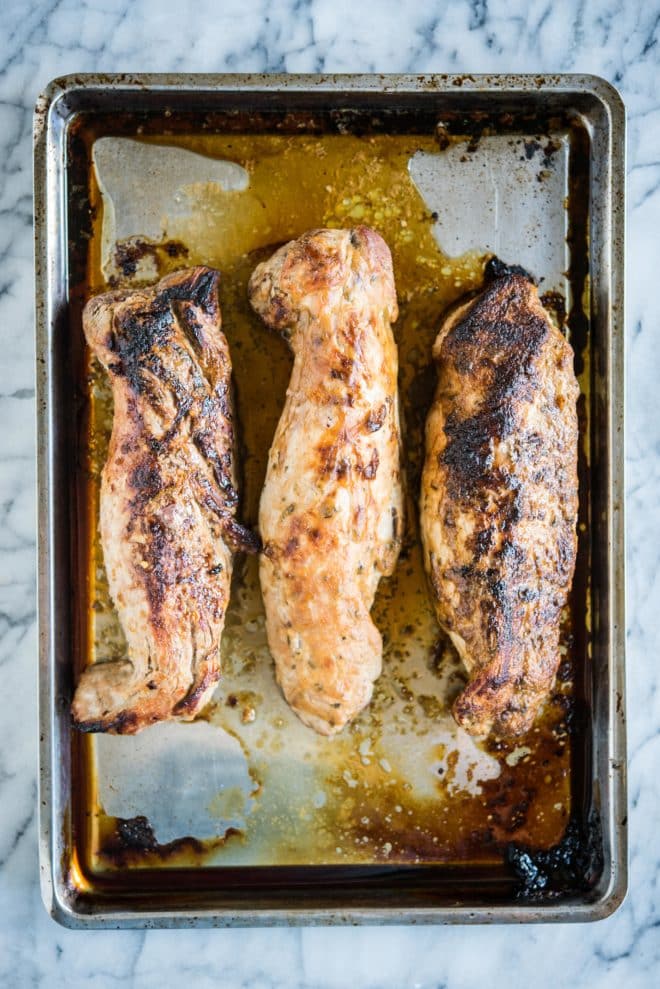 Here are a few general rules of thumb for making your sheet pan dinners great!
Don't over-crowd the vegetables. If you pile on your vegetables and overlap them, your veggies won't be able to crisp and may not cook evenly. The solution? Use two sheet pans that can fit side-by-side in the oven instead of using just one. We love these sheet pans and they clean like a dream!
Try cooking your meat and veggies separately. If crispy potatoes are what you're after, we recommend cooking your meat on a separate sheet pan. Chicken, especially, will release juices as it cooks, and this can prevent some veggies from getting truly crisp. If this is a deal-breaker for you, use the same method outlined above to cook on two sheet pans at the same time.
Don't be afraid to season! Make sure your entire meal is well-seasoned. If you're using a sauce, make sure the protein is fully coated in it and the veggies are seasoned with salt, pepper, and tossed in oil. If you're using a dry seasoning, don't be afraid to use a little extra!
In a pinch, use the broiler. The broiler is a great way to brown everything quickly. If the skin on your chicken didn't get as crisp as you wanted or your potatoes aren't fully browned, turn on the broiler for a few minutes to finish everything off – but make sure you keep a close eye on the food so it doesn't burn.
Chicken Sheet Pan Dinners
Spinach pesto marinated chicken thighs and red potatoes cook together for the perfect flavorful weeknight meal!
Super simple and super flavorful! Featuring curried chicken thighs and carrots, this sheet pan dinner is perfect on its own or served alongside white rice.
A healthier version of the American classic! Wedge fries + pork rind "breaded" chicken tenders bake together for an easy, whole-family-approved meal!
Heavily seasoned chicken legs, fresh chorizo, and some seriously under-used vegetables (leeks + radishes) make up this sheet pan dinner. It's an easy crowd-pleaser for sure!
Pork Sheet Pan Dinners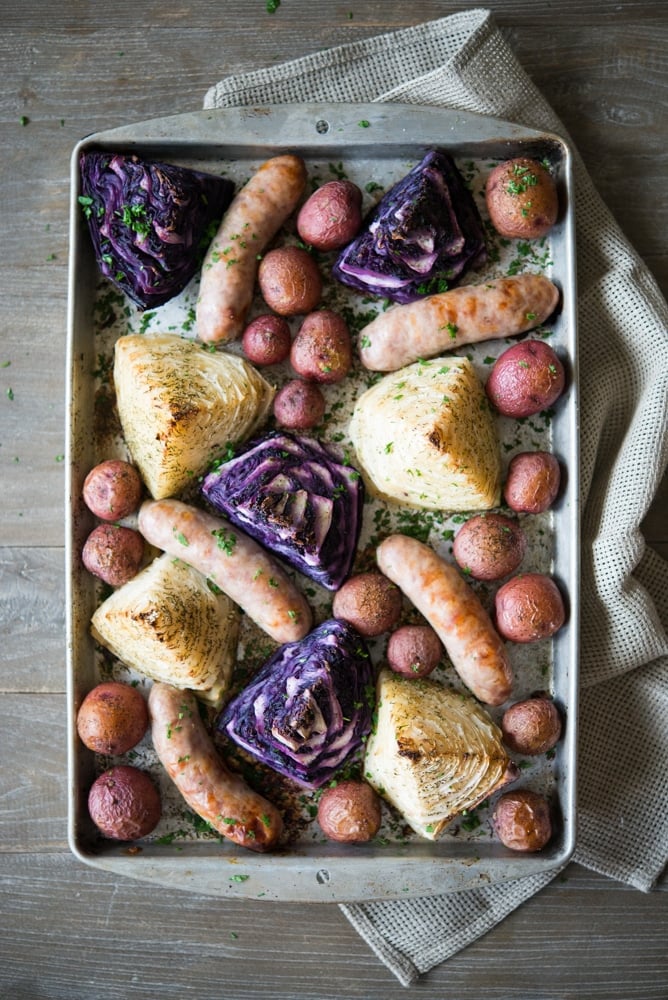 The combination of sausage, cabbage, and potatoes is as comforting as it is delicious, and (BONUS!) makes for some really scrumptious leftovers.
Beets, onion, brussels sprouts, and pork tenderloin bake together for a flavorful, simple meal. We use a higher rimmed casserole dish for this one, but the result is the same: one dirty dish and a deliciously easy meal!
Beef Sheet Pan Dinners
This sheet pan dinner combines a flavorful chimichurri-marinated steak with roasted broccolini and sweet potatoes…YUM!
Thinly sliced beef, broccoli, and a craveable teriyaki marinade make up this just as easy as take-out, but way better for you meal!
Seafood Sheet Pan Dinners
This Cajun Shrimp Sheet Pan Dinner is a little like gumbo (minus all the hard gumbo work) and the remoulade sauce is seriously drool-worthy!
For this dinner, a whole salmon filet is topped with a simple, but flavorful lemon-herb sauce and accompanied by crisp baby potatoes. This is a party-worthy meal, for sure!
We combine asparagus with red potatoes, a few onions, sprinkle of seasonings, and then a ranch dressing-dipped halibut to make a really simple, yet completely delicious dinner. The combination is divine!
Shrimp, bell peppers, onions, and a few seasonings bake together on a sheet pan for a dinner that is reminiscent of classic fajitas but with hardly any hands-on time involved!
We hope that this sheet pan dinner guide gives you the confidence to try some of our favorite recipes, or create your own!