This guide will walk you through exactly how to build a hot dog bar – from quality hot dogs to ALL of the tasty topping options – for your next gathering or summertime celebration!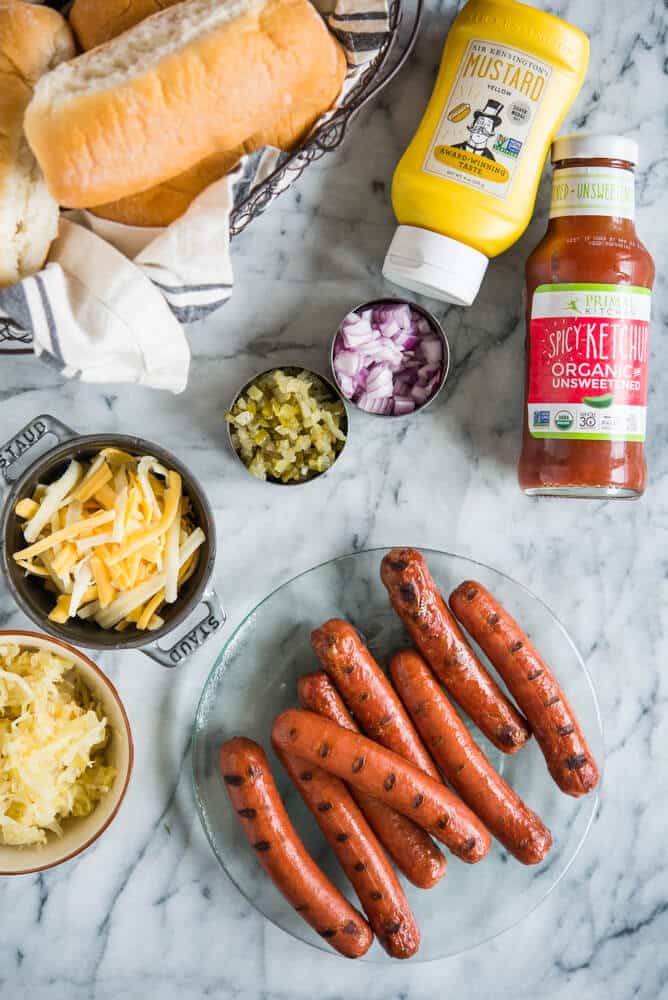 Warm weather means gathering with those you love (friends, family, or a combination of the two!) to soak in the sunshine, conversation, and make lifelong memories! Do you know what else was *made* for the summertime? Cooking on the grill!
Growing up, all of the warm weather parties and gatherings I went to included a large number of hamburgers and hot dogs being cooked up right there amongst the laughter! When it was time to eat, the inner 'hamburger or hot dog?' struggle would hit, and after contemplating for a minute or two, I'd always grab a hot dog and head over to the 'fixins' (my inner Texan is coming out there!) table to load up on toppings galore! Bottom line, when it comes to outdoor gatherings and poolside hangs, a *good* dressed up hot dog just can't be beat!
In this guide, we'll take you beyond the old Oscar Meyer hot dogs topped with mustard and ketchup, and show you how to set up your own hot dog bar that your guests will absolutely love!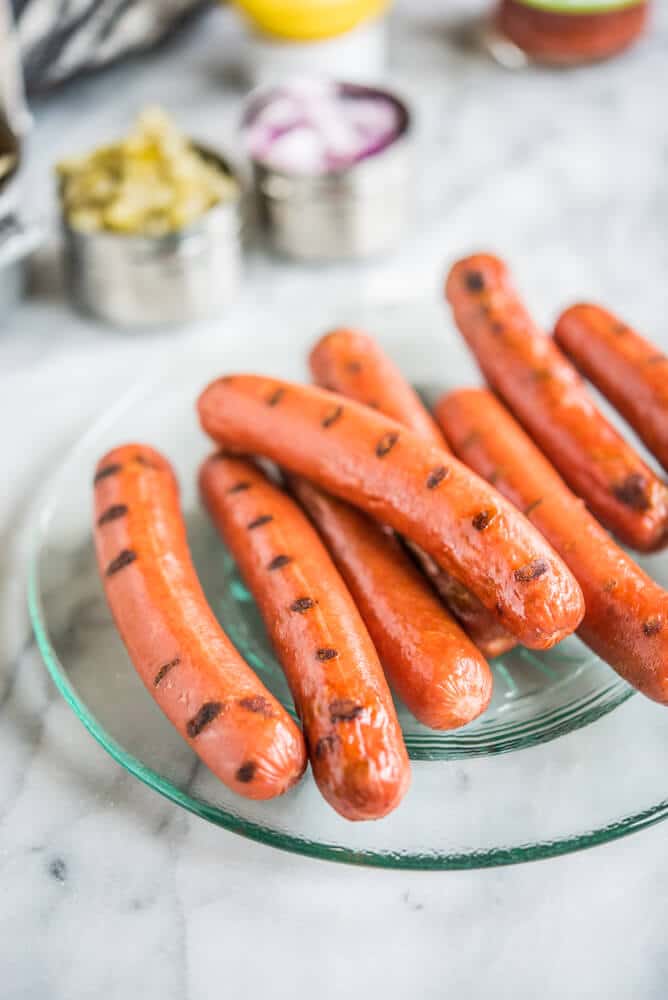 What goes on a hot dog bar?
Good question! You'll need buns, hot dogs (of course!), toppings (the more the better), and condiments. Below, we'll give you options for each so that you can build a hot dog bar that will please everyone!
#1: Hot Dog Buns
When it comes to hot dog buns, you have a ton of options! You could just grab the usual grocery store packs, or you can take it to the next level with buttery brioche buns, lightly sweet Hawaiian buns, or even a salty pretzel bun. Gluten-free? Don't worry, there are a ton of great options on the market now! We love these and these! Both are sturdy, toast well, and taste absolutely delicious.
#2: Hot Dogs & Sausages
It's up to you whether you want to go with just hot dogs, or if you want to do a variety of hot dogs and sausages! Below are our favorite picks in each category.
Our Favorite Types of Hot Dogs
Hot dogs have quite a reputation for being a wee bit of a mystery, don't they? Choosing a quality hot dog is KEY in making a hot dog bar that'll go down in party history! Luckily, hot dogs have come a LONG way from when I was a kid. Whenever possible, I try to go for hot dogs that are made with grass-fed beef (read all about that here: Why Grass-Fed Beef?), are nitrate and nitrite-free, and are made with real-food ingredients. If you have a Costco membership, you can often find high-quality hot dogs at a great price there.
We recommend going with these Teton Waters Ranch Uncured Beef Hot Dogs (they've got a store locator on their site), these Organic Valley Uncured Grass-Fed Beef Hot Dogs, or these Applegate Naturals Uncured Beef Hot Dogs (the latter two are widely available and can be found at most grocery stores!).
Sausages
For those who may not be crazy about hot dogs, sausages are a great alternative! We look for similar things in our sausages as our hot dogs – grass-fed or pasture-raised beef or pork, when possible, nitrate and nitrite-free, and made with minimal ingredients. Pederson's Farms, Aidell's, and Applegate all have a ton of great flavor varieties from bratwurst to pineapple & bacon chicken sausage, so there's something for everyone!
Vegetarian Hot Dog Options
If you want to have some vegetarian options on your hot dog bar, Beyond Meat bratwurst, Trader Joe's Sausage-Less Italian Sausage, and Field Roast are good options, or you can make your own!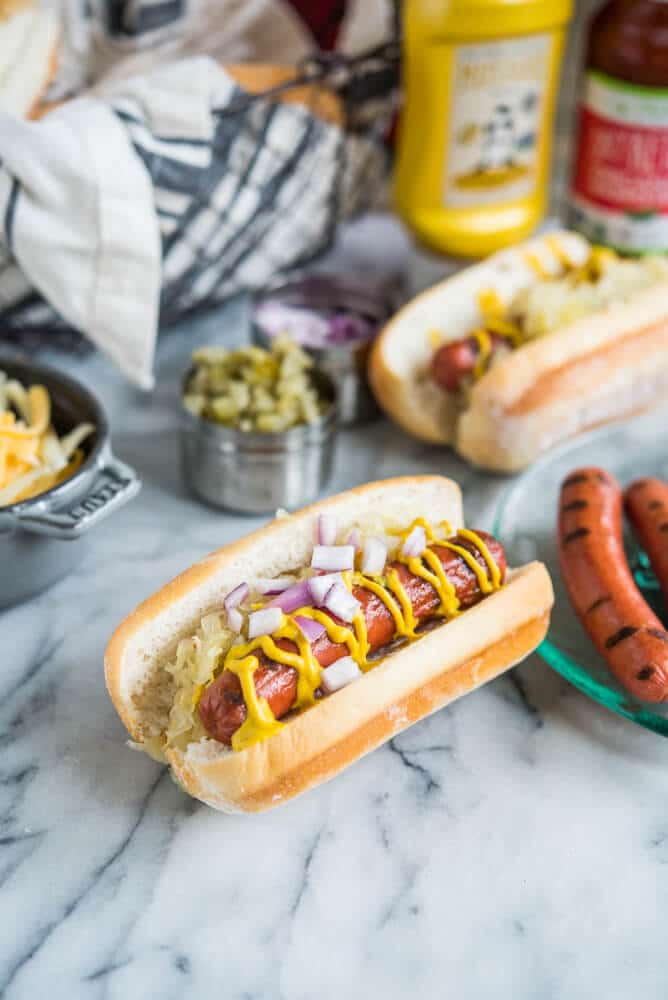 #3: Lots of Toppings!
THIS is where the real fun starts! Everybody loves their hot dogs dressed a little bit differently, don't they? My husband LOVES his hot dogs smothered with yellow mustard, dill relish, onions, and cheddar cheese, while I love a good chili dog. In order to have a better hot dog bar that pleases a crowd, you've got to have a variety of toppings that'll jive with all of the different tastes and preferences! Below are some GREAT hot dog topping ideas (and remember that you don't have to include them ALL in order to have a totally delicious, crowd-pleasing hot dog bar!)
Shredded Cheese – You can use whatever kind of cheese you like here, but we recommend a classic cheddar, a melty white cheese like smoked gouda, and a spicy pepper jack.
Onions – Here you can choose diced raw onions, or you can caramelize onions for extra flavor
Relish – Sweet pickle relish or classic dill relish are both great options! When picking out a relish, look for one that's free of dyes and corn syrup.
Dill Pickle Spears
Crumbled Bacon
Chili (this one is easy and delicious – feel free to swap the bison for ground beef if you need to!)
Chives
Sauteed Bell Peppers + Onions
Grilled Pineapple
Refried Beans
Avocado or Guacamole
Crushed Fritos or Tortilla Chips
Pickled Jalapenos
#4: Don't Forget the Condiments
So, you've got a quality hot dog stuffed into a good, sturdy bun, and loaded up with ALL of your favorite toppings. What's missing? Condiments! This is the final step in achieving real hot dog perfection. Here are our favorite hot dog bar condiments: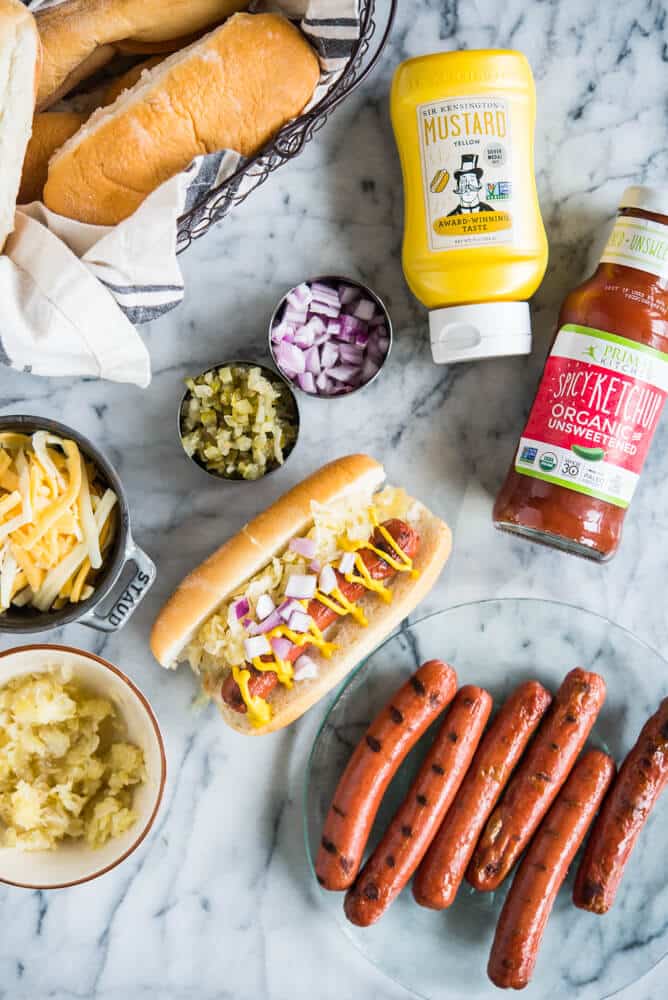 Ideas for Building Your Hot Dog
While you can't have EVERYTHING included in your hot dog spread, you will need to have components that work well together, so be sure to keep that in mind as you make your grocery list. Below are a few examples of ready-to-eat hot dogs using some of the toppings and condiments listed above!
The Classic Hot Dog
Sometimes, there's nothing better than a simple hot dog. Here's what this variation may look like as far as toppings go: shredded cheddar cheese, ketchup, mustard, chopped onions, and relish.
The Loaded Hot Dog
This one has got a bit more to it than the traditional variety above, and can be made using the toppings we've listed! This dog would look something like this: bun + hot dog (of course!) topped with caramelized onions, crumbled bacon, sauerkraut, pickled jalapeno peppers, and Dijon mustard.
The Spicy Buffalo Hot Dog
This one is a fun spin on the classic hot dog! Load up your grass-fed beef dog with diced onions, crumbled bacon, chives, buffalo sauce, and a drizzle of ranch! If you want to get REALLY fancy, a crumble of blue cheese would be great with this one too!
The Mexican-Inspired Hot Dog
This one is SO good (no surprise there…Mexican food is my jam!) Start with a good bun and a quality hot dog, and then stuff that bad boy with sauteed fajita-style bell peppers + onions, refried beans, guacamole, pickled jalapenos, shredded cheese, and a spoonful of salsa!
The Chili Dog
Ok, my long-time favorite (when I'm not wearing a shirt that I love, and I have PLENTY of napkins nearby)! When I'm going for a deliciously messy chili dog, I start with chili (of course), then add a sprinkle of shredded cheddar, a few pickled jalapenos, and a good squirt of mustard.
The Hawaiian Dog
It may seem a little weird at first glance, but hear me out! Put your hot dog in a Hawaiian bun, then top it with grilled pineapple, caramelized onions, a bit of mayo, pickled jalapenos, and bacon, and you've got a deliciously savory-spicy-sweet meal.
The BBQ Dog
Here, we're going to take the classic pulled pork sandwich and make it hot dog-style! Simply start with a good-quality bun, then add your hot dog, BBQ sauce, caramelized onions, and pile on the coleslaw and top with a sprinkle of bacon!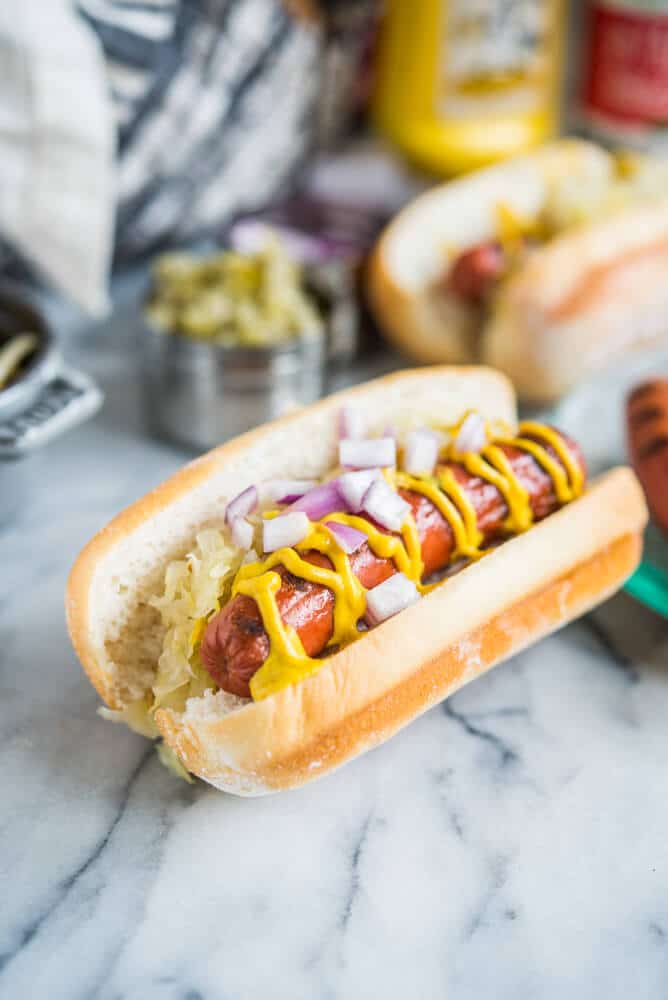 What to Serve with Hot Dogs
Looking for more to add to your party spread? This homemade Chex Mix is the perfect party appetizer, this Broccoli Crunch Salad, this Spicy Watermelon Salad, and this German Potato Salad make for incredible sides, and these No-Bake Cheesecake Bars and this Yogurt Fruit Salad are super yummy, light, fruity desserts sure to please your guests!
Can you prepare your hot dog bar ahead of time?
You sure can! Keep all of the components separate, storing the chopped and prepared toppings in airtight containers (or bowls covered with saran wrap) in the fridge. Hot dogs taste best right off the grill, so we don't recommend cooking those ahead of time, but having all of the other components ready to go can be a real time-saver!
How to Make the Ultimate Hot Dog Bar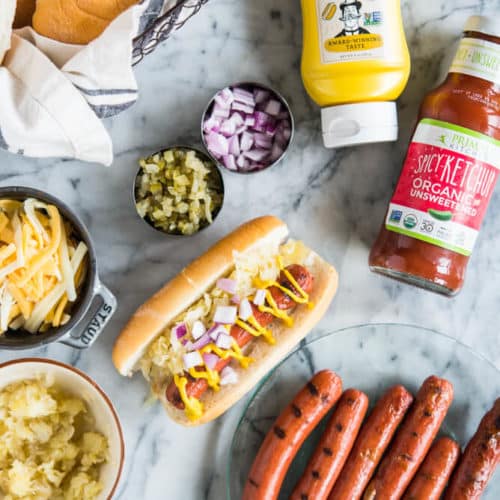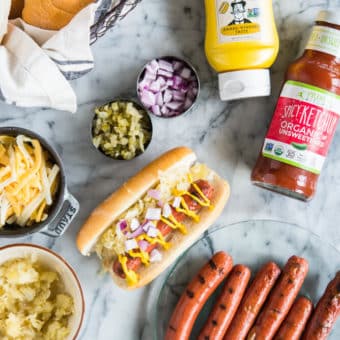 This hot dog bar is sure to be a crowd-pleaser for any summer cookout!
Ingredients
For the Hot Dogs
8

of your favorite hot dogs

we like these

8

hot dog buns

these are our favorite for gluten-free
Toppings:
Instructions
Pick at least 5 toppings and 5 condiments from the list and prep any that need to be cooked (like chili or caramelized onions). Arrange them into individual bowls, and set aside until ready to eat.

Grill or pan-sear your hot dogs for about 3-4 minutes, until they are browned, then remove from heat.

Set up your hot dog bar with your hot dogs, buns, toppings, and condiments. Enjoy!
Nutrition
Calories:
223
kcal
|
Carbohydrates:
27
g
|
Protein:
9
g
|
Fat:
9
g
|
Saturated Fat:
3
g
|
Polyunsaturated Fat:
1
g
|
Monounsaturated Fat:
4
g
|
Cholesterol:
20
mg
|
Sodium:
502
mg
|
Potassium:
134
mg
|
Fiber:
2
g
|
Sugar:
3
g
|
Vitamin C:
0.04
mg
|
Calcium:
51
mg
|
Iron:
3
mg