Make the most out of your bacon by saving the rendered bacon grease using this easy kitchen hack.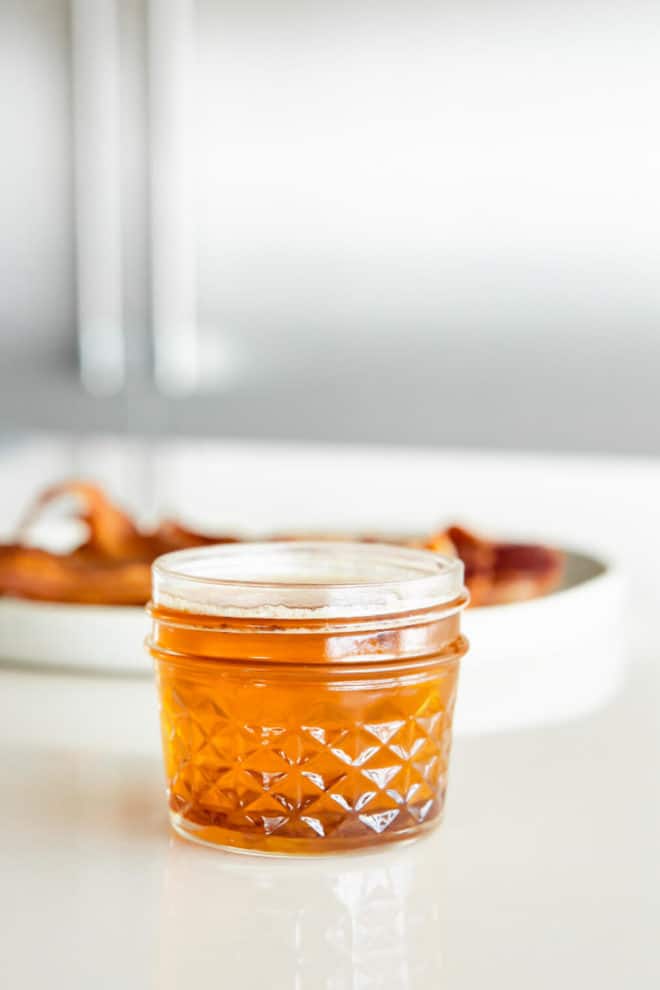 Why save bacon grease?
I cook a lot of bacon in my house (I'm talking at least a package a week), and saving the bacon grease from cooking is one of my all-time favorite kitchen hacks without any added effort. I used to pour the grease into an old pasta sauce jar (you definitely don't want to pour any grease down the drain) and keep it under the sink until it was full, then throw it away. One day, after purchasing a pricey jar of pork lard, I thought, "why am I not using the bacon fat I'm already rendering down in the cooking process and saving it…for free?!" This kitchen hack is going to help you repurpose a product you've already purchased and give you another option for cooking fat that brings so much flavor to your dishes.
Kitchen Hack: Save and Reuse Bacon Grease
To save and reuse your bacon grease, here's what you'll do:
Let cool. Let your bacon grease cool slightly in the pan (or wherever you cooked your bacon).
Pour. Carefully pour your grease into a glass jar (preferably tempered to ensure that it won't crack or break under heat).
Store and use when cooking. Keep your grease jar either next to the stove or stored in the fridge and use it in place of olive oil, ghee, or other cooking fats to add delicious flavor to your meals.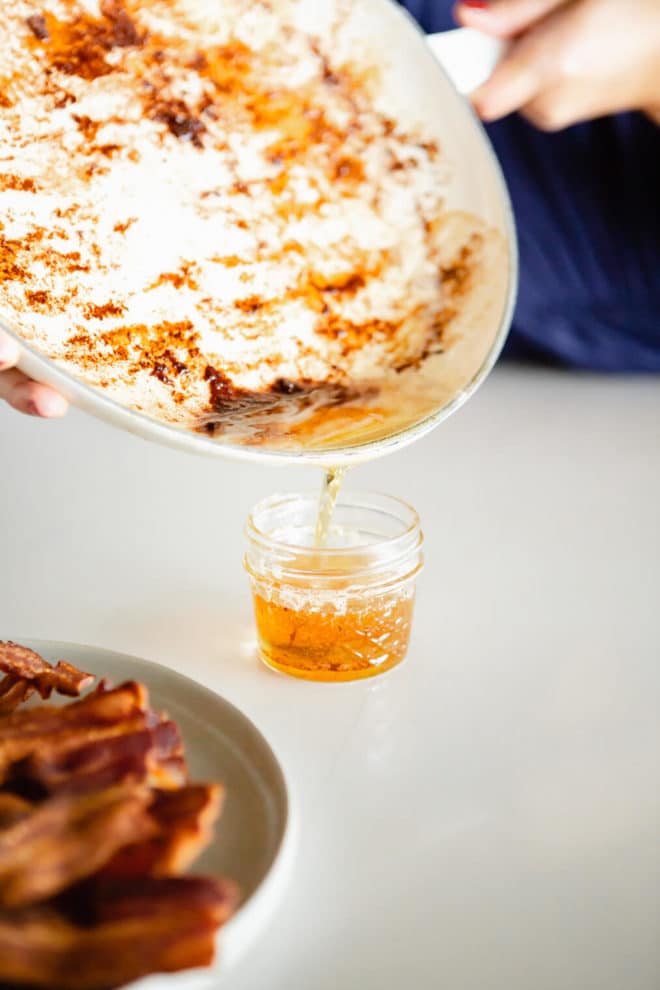 How to Store Bacon Grease
I like to store my bacon grease in a wide-mouth mason jar. Since I cook a lot of bacon in my house, I use a Wide Mouth Mason Jar" target="_blank" rel="noreferrer noopener nofollow">medium-size jar, but these Small Jars" target="_blank" rel="noreferrer noopener nofollow">small jars are the perfect size for one package of bacon.
How Long can you Save Bacon Grease in the Fridge?
Stored in the fridge, your bacon grease is good for up to three months. Stored in the freezer, your grease is good for up to a year.
How to Reuse Bacon Grease
The options for reusing bacon grease are limitless. One of my favorite ways to reuse bacon grease is when making homemade gluten-free pie crust. I simply replace the butter with frozen bacon grease for a deliciously savory crust, which is especially tasty when making chicken pot pie. It's also a great sub for your cooking fat when scrambling eggs for freezer breakfast burritos, but you can really sub it for any cooking fat called for in a recipe!
Video
More Kitchen Hacks
Just for You
Solution Articles
Want more ideas like this?