The Cook Once, Eat All Week Series!
Cook Once, Eat All Week is the ultimate meal prep series that helps walk you through an entire month of Paleo-friendly meal prep with delicious recipes and a budget-friendly plan. This is the perfect FREE guide to follow if you're looking for efficient, healthy success in the kitchen.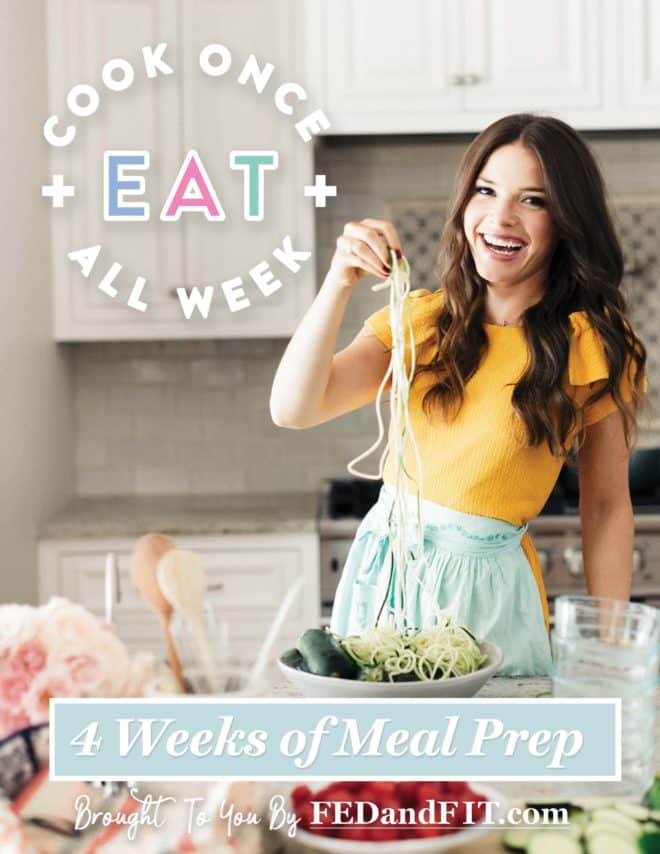 BOY HOWDY am I ever excited about this brand spanking new series!
When my team and I were brainstorming our wishlist of content for 2018, we knew that we wanted to kick off the year with a MAJOR effort to help support your healthy kitchen endeavors. Of course, we have a BIG group kicking off their January Fed & Fit Project (Online), but we also wanted to provide support for those of you who just want a little meal prep support (vs. total healthy lifestyle design overhaul).
For the longest time, the working name for this series was "Efficient Meal Prep" because THAT is what we want to bring you. Our dreams included a series of kitchen/ingredient/recipe hacks that will help you created delicious, nutritious meals with an *efficient* use of your time and resources (ahem: money). Because our recipes don't call for flours, fancy pre-made sauces, or expensive cuts of meat, this series IS budget-friendly (by design). It's also all "squeaky-clean" Paleo-friendly, so it will comply with most healthy dietary protocols that you may be following in the New Year.
I have to say that I'm extremely proud of this upcoming series! True to our design, the days when we prepared the foods for testing + photographing were our EASIEST days in the kitchen. Working through this entire series is also the primary way I prepared a chest full of frozen meals that we'll be able to lean on when baby girl makes her arrival (anytime now).
The Cook Once, Eat All Week series is structured to offer support one week at a time.
Each Week Includes:
3 "Base" Recipes: a protein, a veggie-based starch, and a vegetable with instructions on how to prepare in bulk.
3 Unique Meal Recipes: these will make use of the base recipes, in addition to a few strategic ingredient additions.
1 complete eBook that includes shopping lists for the week, a bonus breakfast recipe idea, and additional meal ideas on how to creatively use the "base" recipes. NOTE: this eBook is sent out to Fed & Fit Newsletter Subscribers ONLY. Make sure you're on the list by clicking HERE.
When the series is completed (at the end of January) we will be sending out a compiled eBook that includes all 4 weeks of the series plus a BONUS 5th week! MAKE SURE you're on our newsletter by then to take advantage of that free download!
Click HERE to sign up for the newsletter.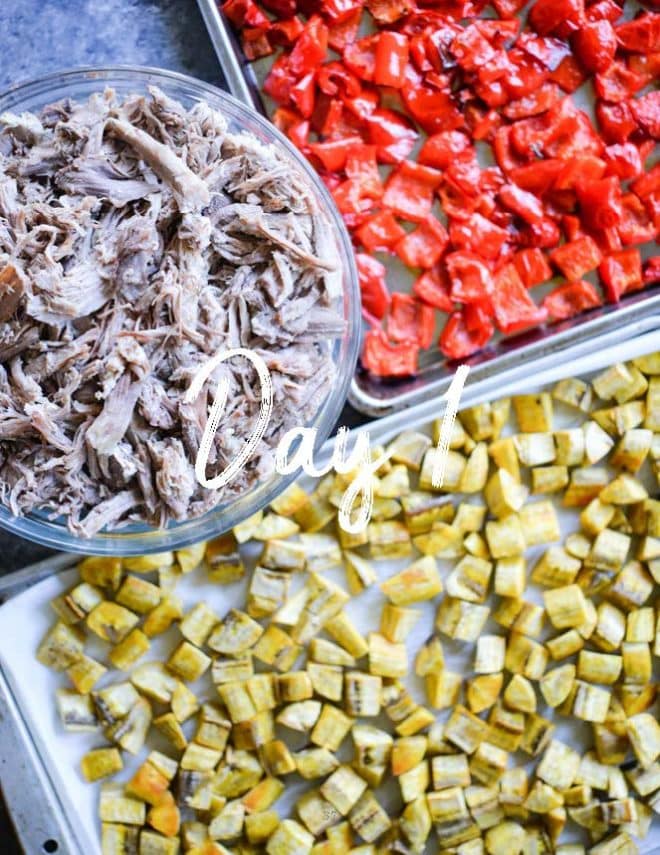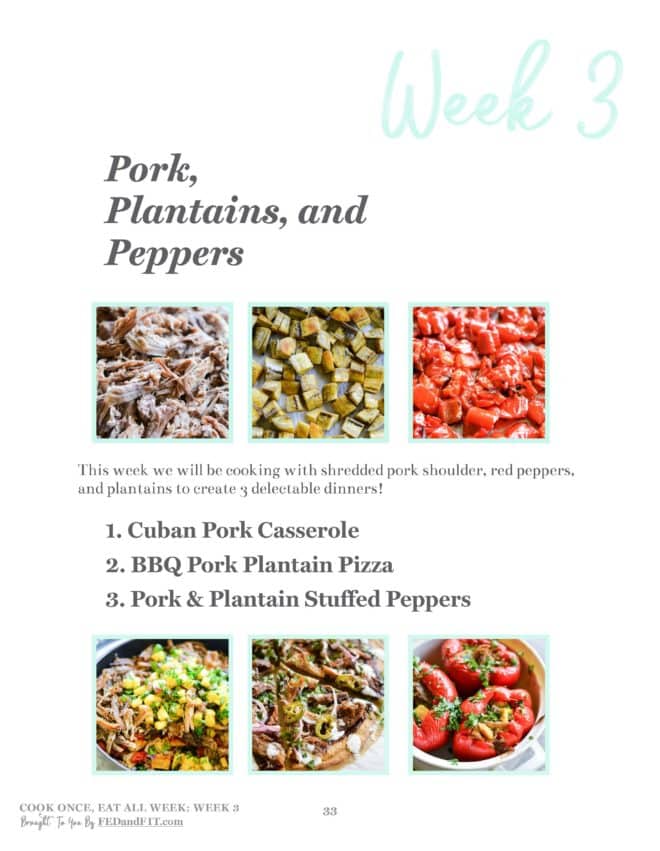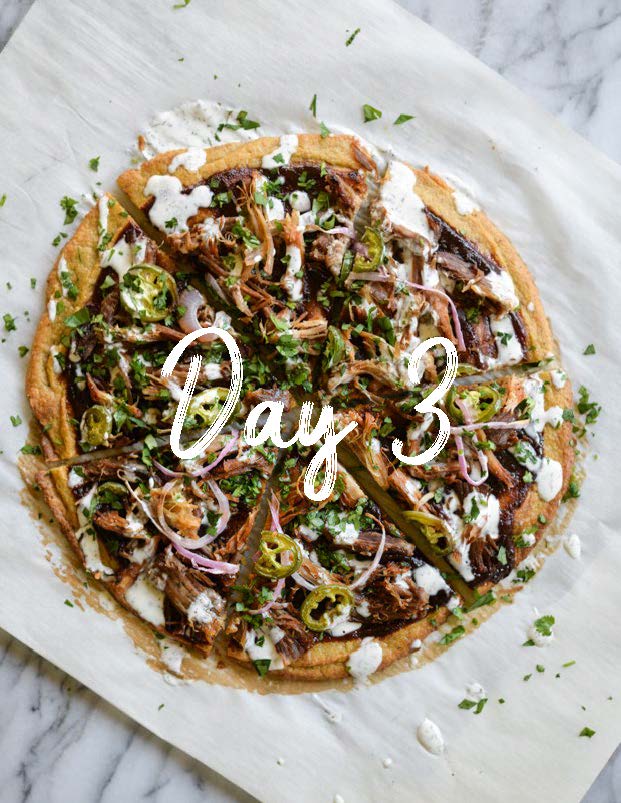 Weekly Cook Once, Eat All Week Schedule:
Each Friday in January (starting today): the next week's "Cook Once, Eat All Week" eBook will be sent out in advance to all Fed & Fit Newsletter subscribers.
Monday: The 3 "Base" Recipes will be published on the blog that we'll make use of that week.
Tuesday: Recipe #1 Published on Blog
Wednesday: Recipe #2 Published on Blog
Thursday: Recipe #3 Published on Blog
How-To Participate in Cook Once, Eat All Week:
The BEST thing to do is to get signed up for our newsletter so that you can get your hands on the upcoming week's eBook that has the complete shopping list and full recipe package in one place. This is best for planning ahead!
Starting Monday (if you're following along on the blog), preview the names of the recipes we have coming up that week and if you're interested, shop for and cook up those base recipes!
Cook the recipes Tuesday, Wednesday, and Thursday as they're published on the blog (or cook them ahead of time if you have the newsletter subscriber-only eBook).
Enjoy meals right away and/or save leftovers in your refrigerator/freezer as you cook. Tips for reheating and freezing below!
Reheating Tips:
For Best Results: the best place to reheat a dish (for the best texture) is where you cooked it the first time. If it was baked, pop it in the oven again until warmed-through. If it was created on the stove, pop it back in a pan, cover, and simmer or sear until warmed (whether frozen or just chilled). If you're reheating from frozen via the oven, I suggest putting the dish in a COLD oven and then turn the oven to heat to 350 F. Once it's at temperature, it's likely your food is perfectly defrosted and heated. Leave in longer if it needs more time.
For Easiest Results: pop that baby in the microwave for 1-2 minutes, or however long it takes to warm-through, and move on with your day. If you're microwaving from frozen, I suggest adding 2 minutes for a single serving. Note: it's best to NOT microwave directly in a plastic container. Transfer to glass or ceramic before microwaving. 
Freezing Tips:
Freezing in Bulk: allow the dish to cool completely, wrap tightly with a layer of parchment paper (or wax paper) and then seal with plastic wrap. Label with the name of the dish and date cooked. Most frozen meals are good for 5 months. To re-heat, follow the instructions listed above and cook right from frozen or allow to defrost first before cooking from a chilled state.
Freezing Single Servings: allow the dish to cool completely and then spoon serving-size portions into the containers of your choosing. I like THESE BPA-free plastic ones because they're inexpensive to stock up on (I have about 200 of them in my deep freeze right now) and stack well. Seal, label, and then when you're ready to enjoy, pop them out of the plastic into a glass or ceramic plate/bowl for re-heating or follow the "for best results" reheating tips above.
Cook Once, Eat All Week Recipes
Week 1: Ground Beef, White Potatoes, and Kale
Week 2: Shredded Chicken, Butternut Squash, and Brussels Sprouts
Week 3: Pork, Plantains, and Peppers
Week 4: Chicken Breast, Spaghetti Squash, and Spinach
I hope you love this Cook Once, Eat All Week series as much as we do! I hope it helps to empower even more kitchen confidence as you pursue your healthy lifestyle in the New Year.
xo, Cassy Joy
Related Posts
18 Responses to "The Cook Once, Eat All Week Series!"
Leave a Comment