Every item on this page was chosen by The Fed & Fit team. The site may earn a commission on some products (read more here).
Get ready to WIN the next taco (or potluck) night, because you're bringing a salsa that everyone will love. This fresh pineapple salsa is easy and delicious. It's a great topping for your next taco, chicken bowl, or just to eat with salty chips.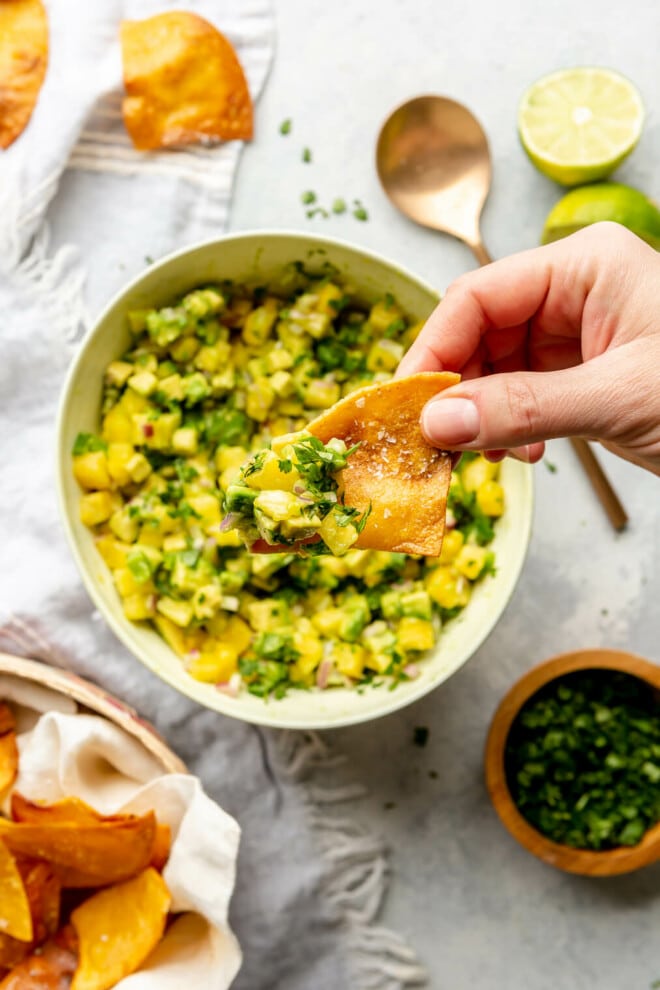 Fresh Pineapple Salsa
I am so excited for you to have this pineapple salsa recipe!! It is so good. So, so good! I also think it's pretty soothing to make because you get to chop a bunch of ingredients into cute little pieces. Put on a show, turn on an audio book, or turn up your favorite album, and start chopping away.
Lime juice brightens, the pineapple sweetens, and the herbs bring it all home for the most delicious bite!
Pineapple Salsa Ingredients
This pineapple salsa is made with all of the freshest, most delicious things. Here's everything you'll need: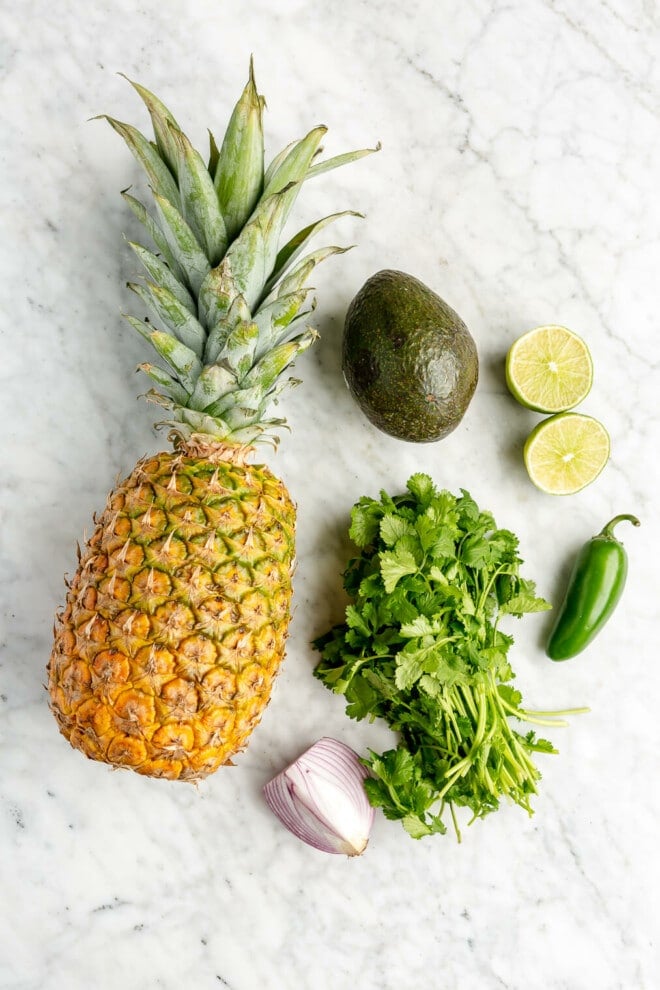 2 cups of pineapple, diced
1 large avocado, diced
2 tablespoons of lime juice, about 1 lime
⅓ cup of fresh cilantro, roughly chopped
¼ of a red onion, diced
1 small jalapeño, seeds removed, diced (optional)
½ teaspoon of salt
How to Select Fresh Pineapple
Knowing how to select fresh fruit at the grocery store or farmer's market can make all the difference between a super hard, unripe fruit that tastes more like nothing than the actual fruit and a beautifully textured and flavorful piece of fruit that lives up to its nickname: "nature's candy."
Pineapples are super funky looking, but when you're selecting a pineapple, you'll want to focus more on how it feels and smells rather than how it looks:
Ready-to-enjoy pineapples should feel firm to the touch with a slight "give" when you squeeze it. The shell should be hard, but you should be able to feel the slightly softer fruit inside. If the entire fruit just feels super hard, it probably isn't quite ready to cut into, and if it feels really soft, the pineapple is likely past its time.
You'll also want to pay attention to the way that the pineapple smells. Give it a quick sniff, and if it smells exactly how you'd want it to taste (think: what you would want a "pineapple-scented" candle to smell like), it's probably perfectly ripe. If it doesn't smell like anything, it's likely way underripe, and if it smells super sweet (think: too sweet – almost syrupy), there's a good chance it's too ripe.
Ingredient Modifications and Variations
Add some extra heat – swap the jalapeno for a serrano pepper for some extra heat!
How To Make Pineapple Salsa
Pineapple salsa is EASY to make, y'all. Here's the how-to: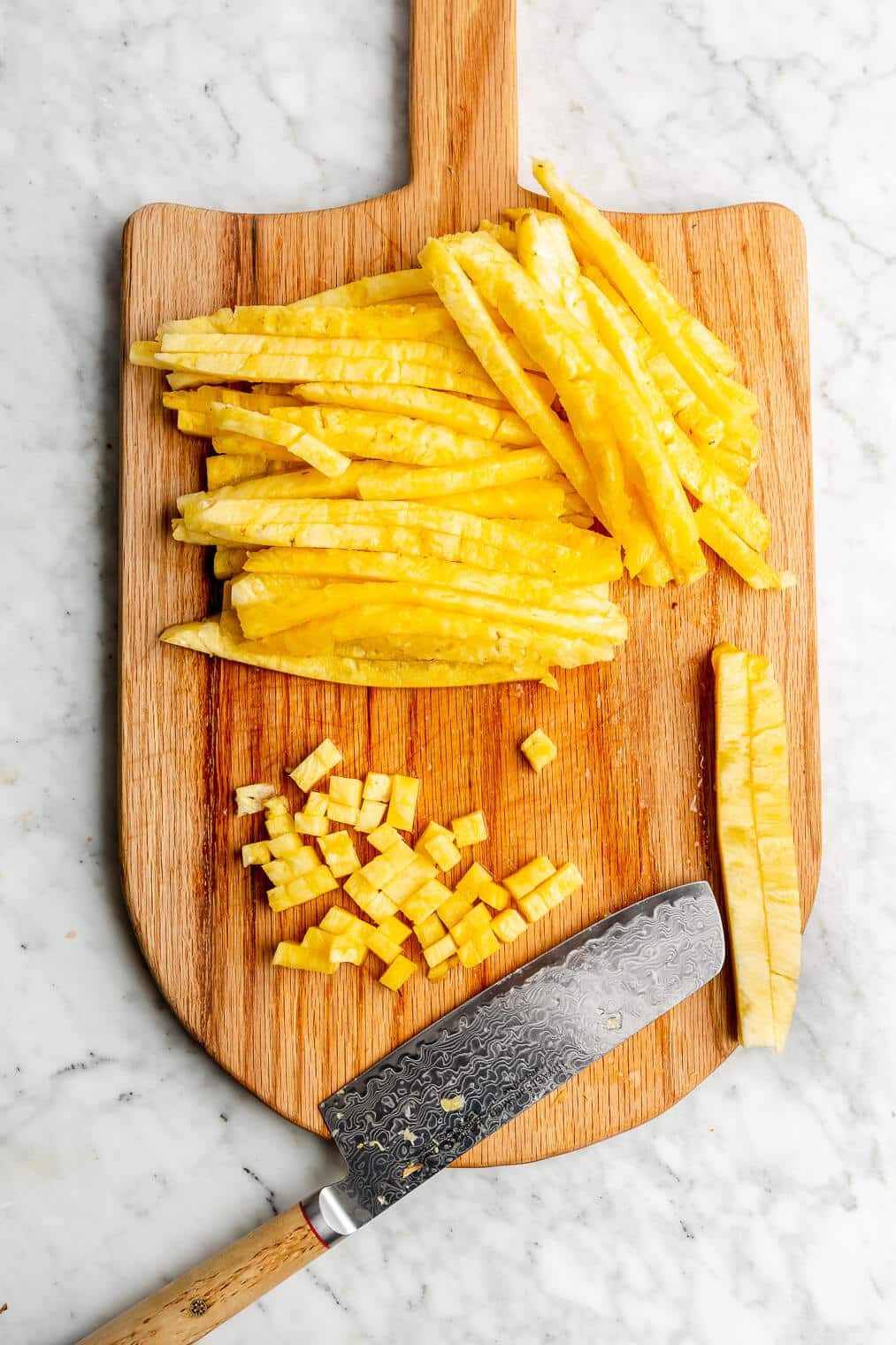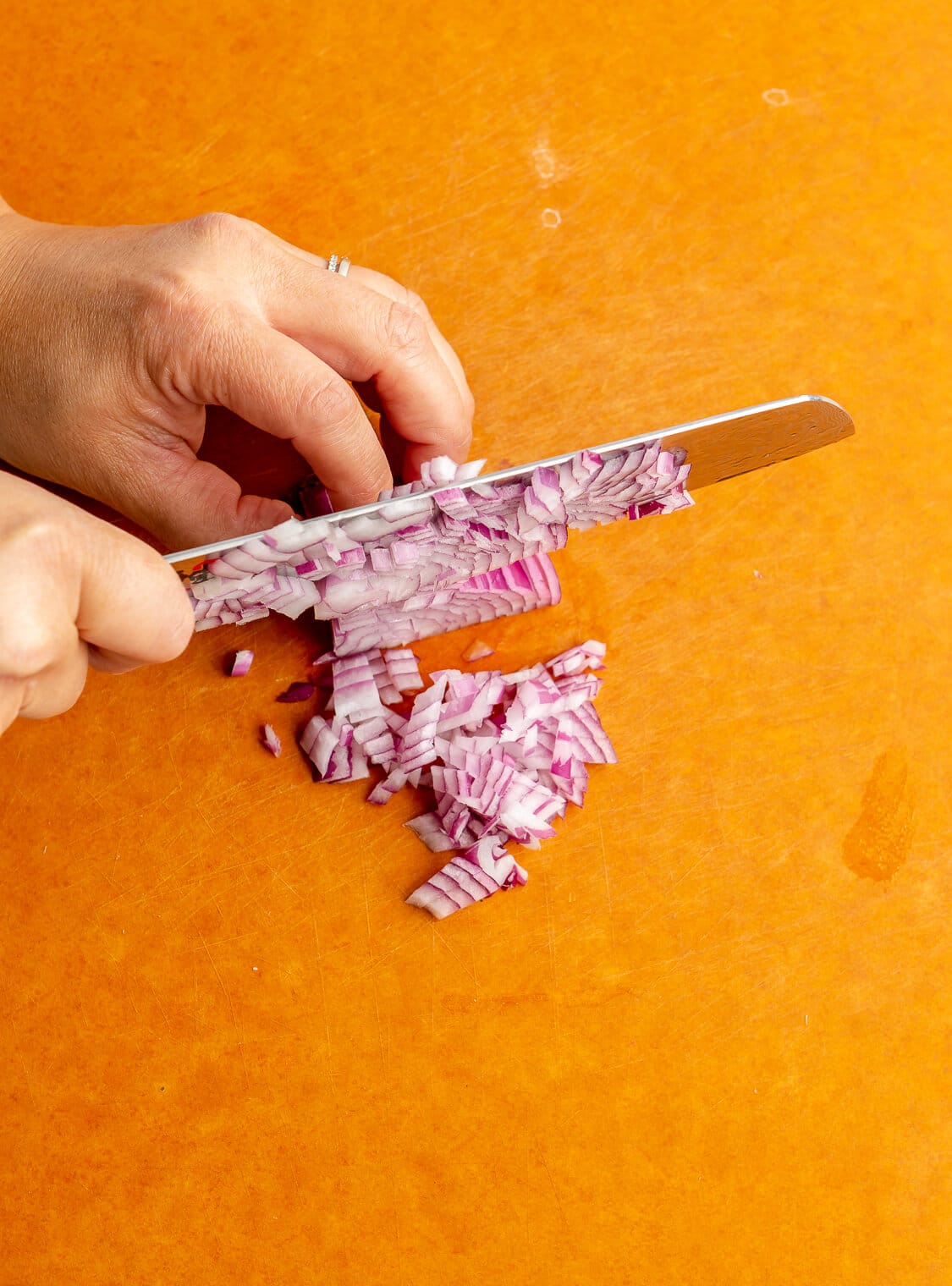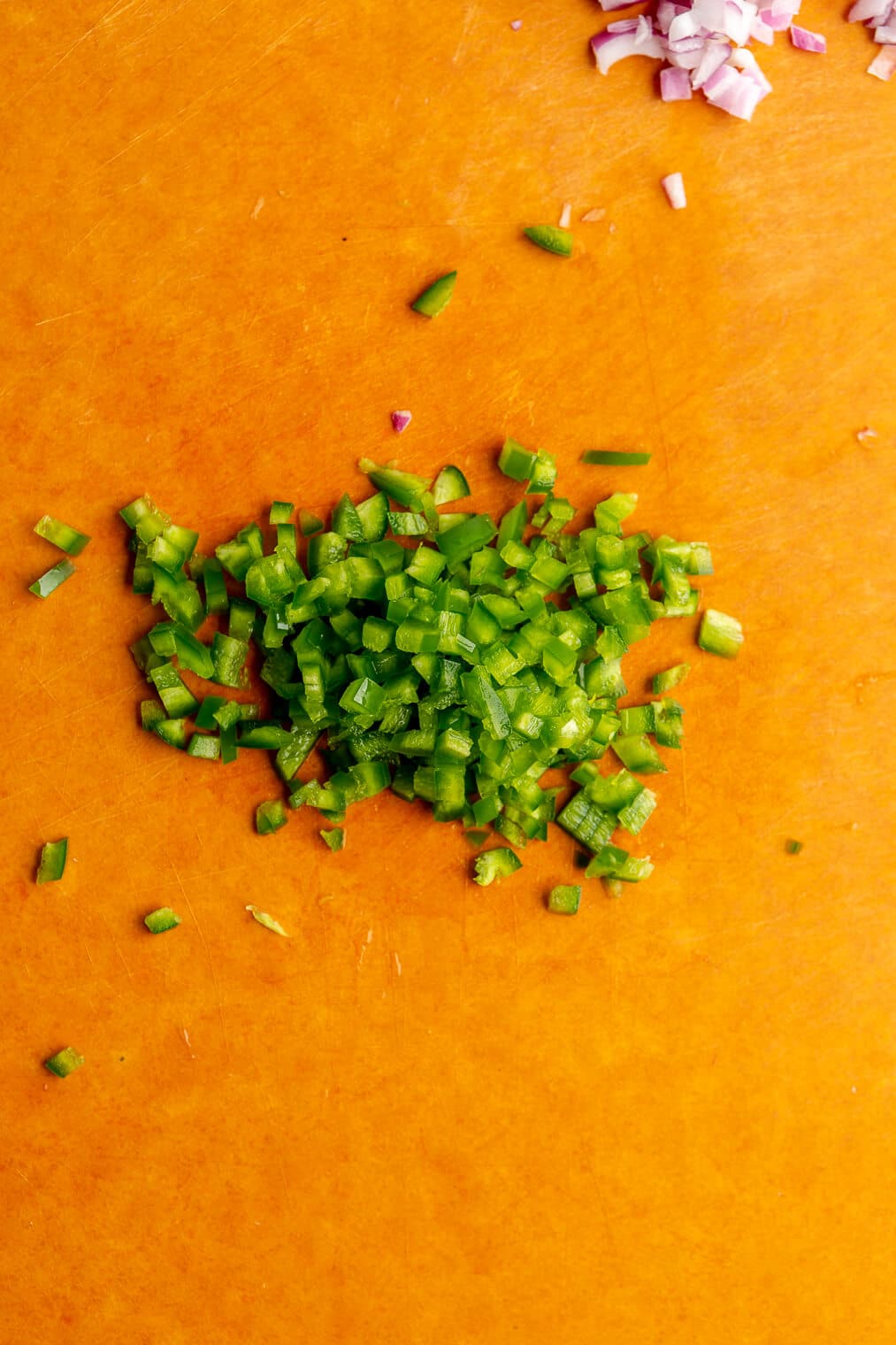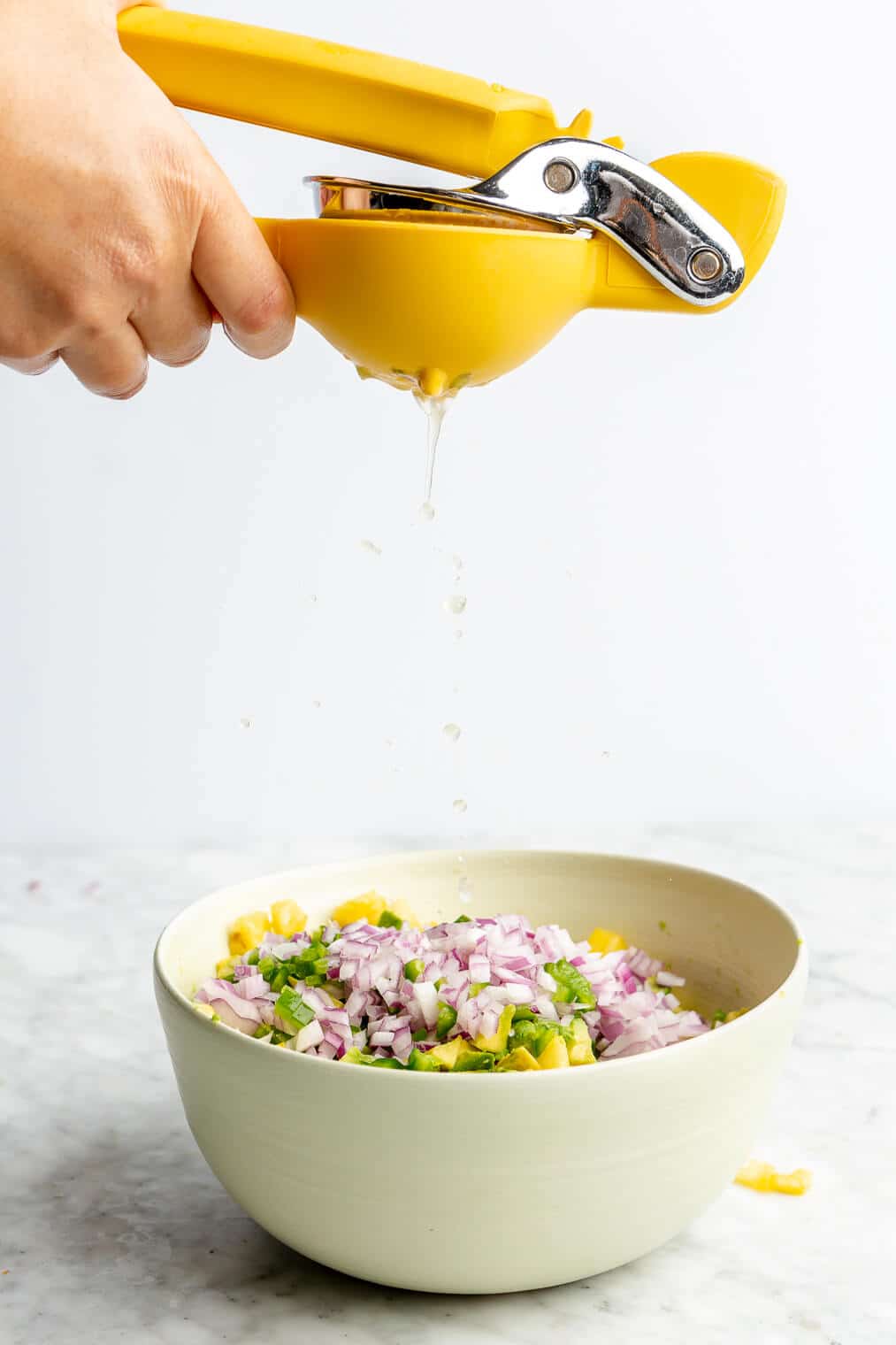 Add all ingredients to a bowl – add all of the pineapple salsa ingredients to a bowl.
Mix together – use a spoon to mix together the pineapple salsa ingredients.
How to Cut Pineapple
When cutting a pineapple, you'll want to remember this mantra: slices, sticks, and dices. You'll cut the shell off of the pineapple, cut the flesh away from the core, and slice the flesh into sticks, and finally, dices!
Find our full How to Cut a Pineapple tutorial HERE!
More of our Favorite
Salsa Recipes
Uses for Pineapple Salsa
From a chip dip to a taco topping, pineapple salsa can be used in a ton of ways! A few recipes that it would be especially delicious with…
How to Store Pineapple Salsa
Store your leftover pineapple salsa in an airtight container in the refrigerator. Stored this way, it'll last for 3-4 days.
How to Prep Pineapple Salsa in Advance
You can chop and dice all of the ingredients (except for the avocado – save that one for the day of!) 1-2 days in advance of serving your salsa. For the freshest results, store each component separately in the refrigerator and mix them together just before serving!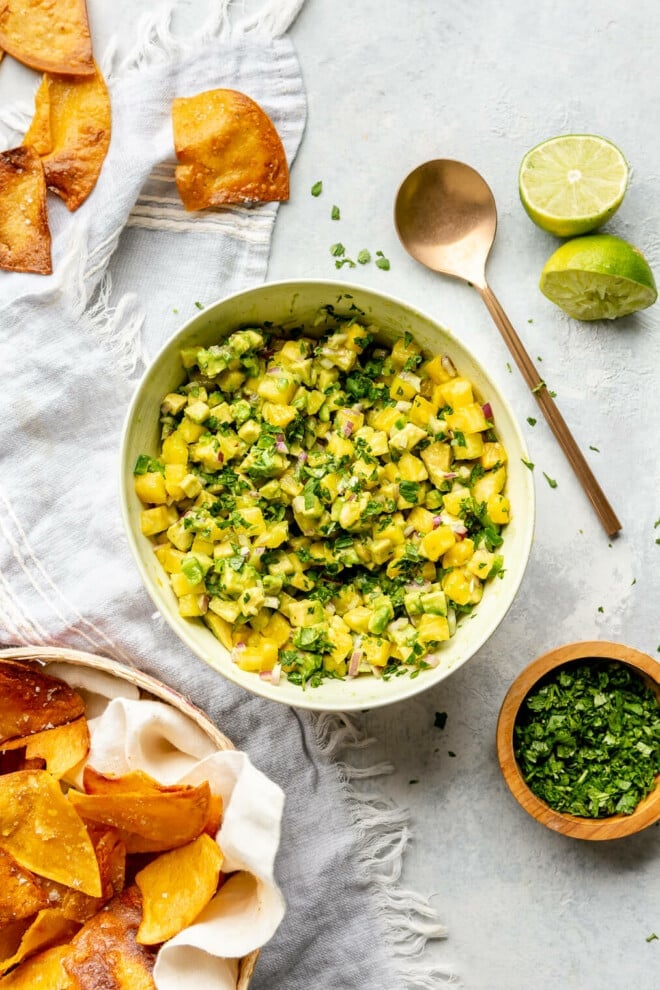 Pineapple Salsa FAQs
Q
What meat goes with pineapple salsa?
A
Most Mexican-style meat (shredded barbacoa-style beef, pork carnitas, shredded Mexican-style chicken, to name a few!) goes really well with pineapple salsa.
Q
How long does salsa last in fridge?
A
Your leftover pineapple salsa will last for 3-4 days in the fridge, but it'll be the freshest the day the salsa components are cut and mixed together.
Q
Can you freeze fresh pineapple salsa?
A
Because this pineapple salsa recipe includes avocado, I wouldn't freeze it. It's such an easy recipe, so chopping and dicing it up just ahead of serving it shouldn't be too much of a chore!
Just for You
Condiment Recipes
Want more recipe ideas like this?
Ingredients
2

cups

pineapple

diced

1

large

avocado

diced

2

tablespoons

lime juice

about 1 lime

⅓

cup

fresh cilantro

roughly chopped

¼

red onion

diced

1

small

jalapeno

seeds removed, diced

½

teaspoon

salt
Instructions
Add all of the pineapple salsa ingredients to a bowl.

Use a spoon to mix together the pineapple salsa ingredients.
Nutrition Information
Nutrition Facts
How to Make Fresh Pineapple Salsa
Amount per Serving
% Daily Value*
* Percent Daily Values are based on a 2000 calorie diet.
Recipe Notes
From a chip dip to a taco topping, pineapple salsa can be used in a ton of ways! A few recipes that it would be especially delicious with: