These blackened salmon bowls are a fun, family-friendly dinner and are bursting with flavor from the blackened seasoning, sweet mangoes, and fresh cilantro lime sauce.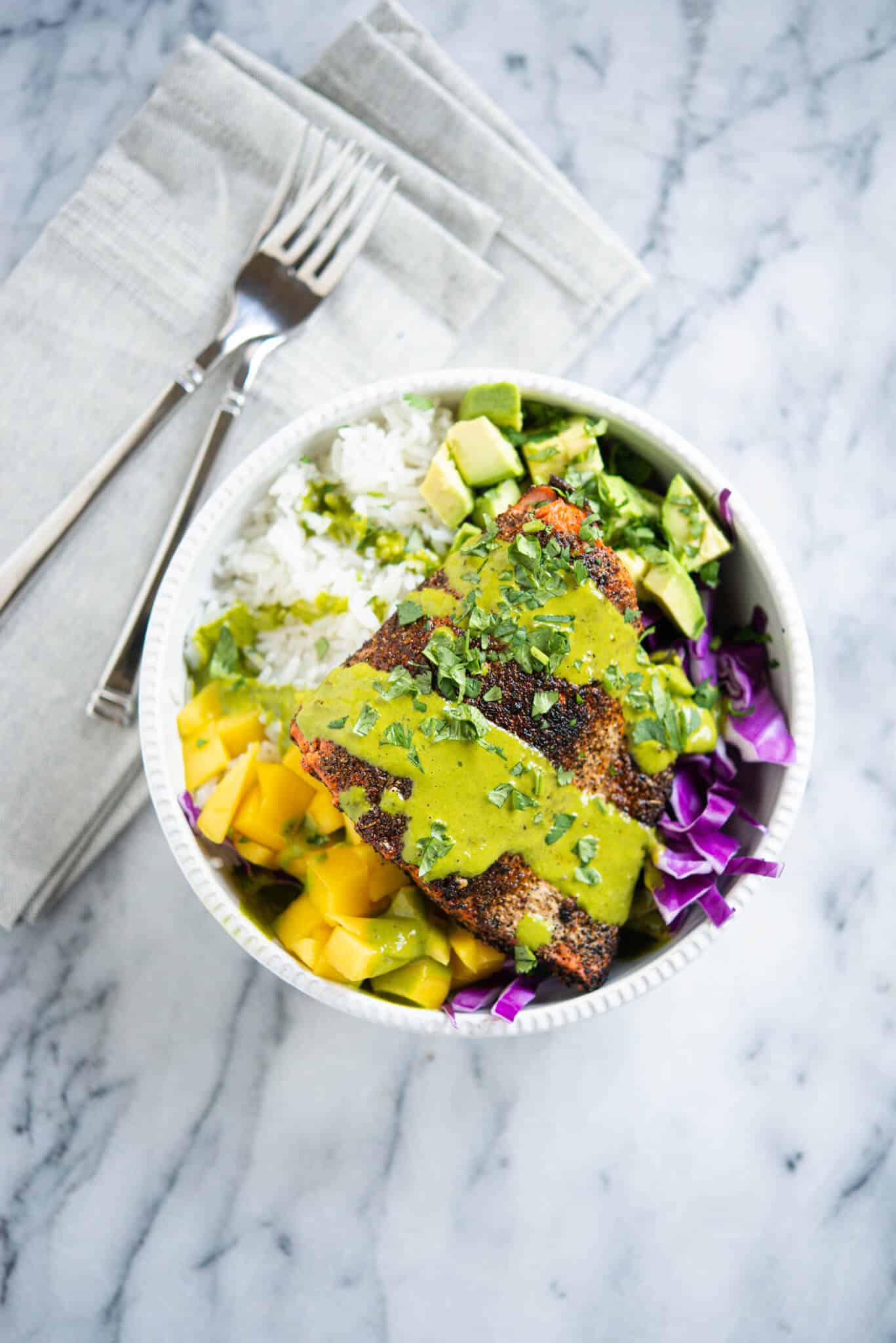 Why is it that bowl-style dinners feel so much more fun than your standard dinner plate? Something about being able to assemble your own bowl with a variety of flavors and customize the ingredients to your liking, then mix it all together is just the best!
These blackened salmon bowls are the perfect thing for welcoming in spring – they're bright, fresh, colorful, and full of flavor. One of the reasons we love salmon (besides the fact that it is super healthy for you) is that it cooks up very quickly, making it an ideal protein for weeknight dinners!
What type of salmon is best to use?
We typically recommend buying wild-caught salmon whenever possible. Wild-caught salmon is caught in its natural habitat using sustainable practices and is typically tastier, and better for you and the environment than farmed salmon. However, not all farmed or wild-caught salmon is created equal. Personally, we get our salmon from Pride of Bristol Bay and it is hands-down the best we've ever tasted!
If you prefer buying your salmon at the store, we recommend looking for wild-caught when you're at the seafood counter and looking for salmon with a MSC Bluefish checkmark, which certifies that it is sustainable.
What does 'blackened' mean?
Before we jump into how to make these bowls, let's talk about what exactly blackened salmon is. Essentially, anything that is blackened has a dark crust on the outside that is formed by both the seasoning used and the cooking method – which can be either grilling or pan-searing.
What's in blackened seasoning?
Blackened seasoning is made from chili powder, onion powder, garlic powder, and other spices, and can range from mild to spicy. You can either buy your blackened seasoning ready-made or use our mild blackened seasoning recipe.
Salmon Rice Bowl Recipe Ingredients
2 tablespoons chili powder
1 tablespoon of paprika
1 tablespoon of garlic powder
1 teaspoon of onion powder
1 teaspoon of dried oregano
1 teaspoon of dried thyme
½ teaspoon of cumin
½ teaspoon of sea salt
¼ teaspoon of ground black pepper
4 salmon fillets, 5-6 ounces each
1 tablespoon of extra-virgin olive oil
4 cups of cooked coconut rice
1 mango, diced
1 avocado, diced
1 cup of purple cabbage, shredded
½ cup of cilantro
2 tablespoons of lime juice
3 tablespoons of extra-virgin olive oil
How to Make Blackened Salmon
Cooking salmon is super simple! While you can grill it, we chose to quickly pan-sear it for this recipe. Here's what you'll do:
Heat one tablespoon of oil in a non-stick pan over medium heat. Using a non-stick pan like this one will really help you get the best result when making delicate proteins like fish, and will ensure that you get that crisp, blackened crust.
Add the salmon to the pan and cook for 4-5 minutes. Once the pan is hot, you'll place it in the pan and cook for 4-5 minutes. Try not to move or flip it multiple times, or you won't get that perfect crust!
Flip and cook for another 3-4 minutes. Once it has cooked for an additional 3-4 minutes you're ready to remove the salmon from the pan and serve!
How to Assemble
Once you've made your salmon, it's time to assemble the bowls! Here's what we chose to put in ours:
Coconut Rice – this fluffy, coconut-scented rice is the perfect balance for the slightly spicy salmon, and perfect for the tropical theme of these bowls! You can also use plain white rice, brown rice, quinoa, or cauliflower rice here.
Mango – We cannot get enough of mango, and it is the perfect sweet addition here. If mango isn't your favorite, try pineapple in its place.
Chopped Avocado – Creamy avocado adds another layer of flavor and texture to this dish.
Shredded Purple Cabbage – We had to get a little bit of veggie into these, and purple cabbage provides beautiful, vibrant color and a delicious crunch!
Cilantro Lime Sauce – This simple sauce adds a bit of acidity and the fresh, herby flavor of cilantro finishes off the bowls.
Recipe Variations
Swap the mango – if you want to swap out the mango, simply use pineapple in its place.
Use a different starch – use regular white rice, brown rice, or even quinoa in place of the coconut rice.
How to Store
Store the ingredients for your salmon bowls in airtight containers in the refrigerator. You can store the rice and salmon together (if you want) because they'll both need to be reheated, but the toppings should be stored separately to keep them nice and fresh.
Frequently Asked Questions
Why is it called blackened salmon?
This salmon is referred to as "blackened" because it has a dark crust on the outside that is formed by both the super flavorful seasoning used and the pan-seared cooking method.
Is blackened salmon spicy?
There is a lot of seasoning involved in this recipe, but the flavor isn't necessarily spicy. It's bold and delicious, but not spicy!
Caribbean Blackened Salmon Bowls
These salmon bowls combine not-too-spicy blackened salmon with sweet mango, creamy avocado, fluffy coconut rice, and a fresh cilantro-lime sauce.
Ingredients
For the Blackened Seasoning:
2

tablespoons

chili powder

1

tablespoon

paprika

1

tablespoon

garlic powder

1

teaspoon

onion powder

1

teaspoon

a dried oregano

1

teaspoon

dried thyme

1/2

teaspoon

cumin

1/2

teaspoon

sea salt

1/4

teaspoon

ground black pepper
For the Bowls:
4

salmon fillets

about 5–6 oz each, skin-on

1

tablespoon

extra-virgin olive oil

4

cups

cooked coconut rice may also use plain white or brown rice, quinoa, or cauliflower rice

1

mango

diced

1

avocado

diced

1

cup

shredded purple cabbage
For the Cilantro Lime Sauce:
1/2

cup

cilantro

2

tablespoons

lime juice

about 1 lime

3

tablespoons

olive oil
Instructions
Whisk together the ingredients for the blackened seasoning, then season each salmon filet with 1 tablespoon of it.

Heat 1 tablespoon olive oil in a skillet over medium heat. Once hot, place the salmon in the pan and sear for 4-5 minutes, until browned and crisp, then flip and sear an additional 3-4 minutes, until browned, and remove from the pan.

Blend all ingredients for the cilantro lime sauce until smooth. If the sauce is too thick, add 1-2 tablespoons of water to thin it out as needed.

To make the bowls – place the coconut rice in a bowl, then top with the salmon, mango, avocado, and purple cabbage. Drizzle the cilantro lime sauce over top and serve!
Recipe Notes
If you don't want to make your own blackened seasoning, feel free to use store-bought instead!
Nutrition
Calories:
624
kcal
|
Carbohydrates:
64.6
g
|
Protein:
33.9
g
|
Fat:
25.3
g
|
Saturated Fat:
3.8
g
|
Cholesterol:
77.9
mg
|
Sodium:
72.5
mg
|
Fiber:
3.5
g
|
Sugar:
6.7
g