Every item on this page was chosen by The Fed & Fit team. The site may earn a commission on some products (read more here).
These Jam Thumbprint Cookies have an incredibly simple and delicious shortbread base that you will absolutely love, and they're gluten-free to boot!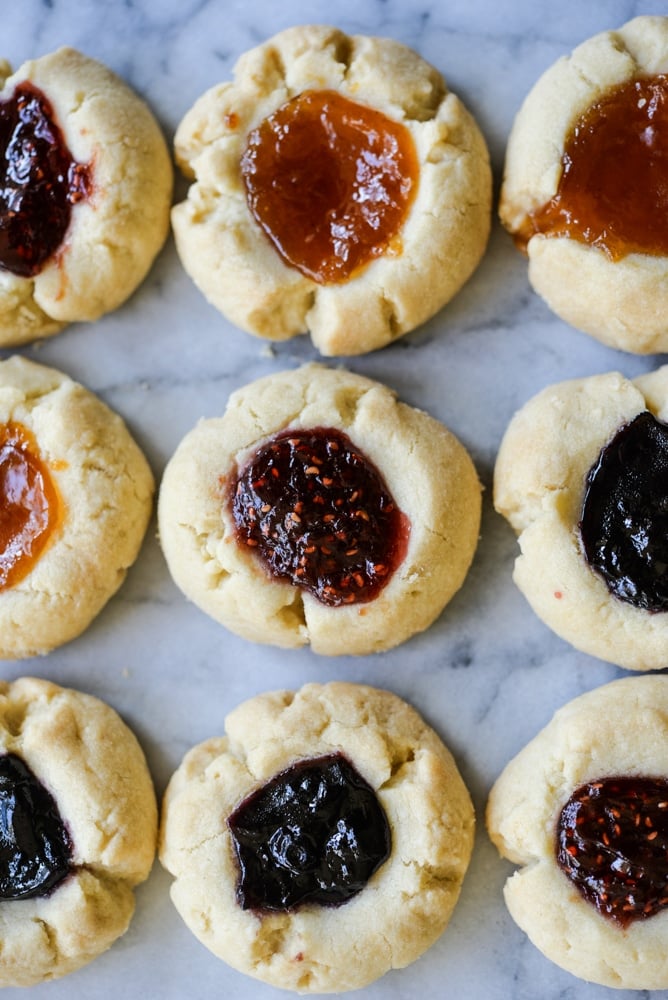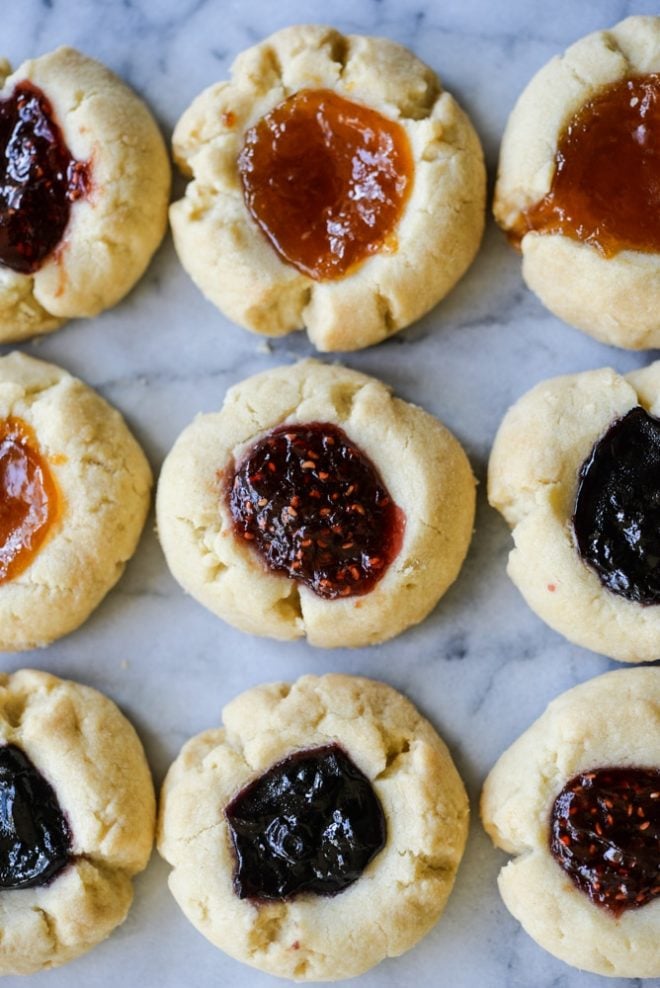 I'm most definitely more of a cook than a baker. I like to add a dash of this, a sprinkle of that, and sear, stir, or bake until I'm happy with the finished product. Cooking allows me to let my hair down and go where the wind blows me while baking usually involves rules that I have to carefully follow. For some reason, this time of year not only makes me want to wear earrings with bells on them …but it also makes me want to BAKE! It makes me want to pull out a flour-dusted recipe card, set out some chilled butter, and follow the directions carefully.
There's something especially soothing about a shortbread cookie recipe. It requires that we mix butter into flour, but not much else. I also feel like a total pro when I make shortbread, even though it's one of the easiest pastries to whip up. A gluten-free friendly shortbread eluded me for SO LONG that when we finally figured out a recipe, the aura of magic intensified even further.
Ingredients
Because we went with store-bought organic jam here, you'll just need ingredients for the shortbread cookies themselves. If you'd like to make your own jam, but feel free to add those ingredients to your list also!
Butter – for this recipe, you'll need 1 cup (2 sticks-worth) of softened butter,…
Vanilla Extract – …2 teaspoons of vanilla extract,…
Almond Extract – …this is totally optional, but ½ teaspoon almond extract adds a nice flavor to the cookies,…
Egg Yolks – …2 egg yolks,…
Granulated Sugar – …1 cup sugar (we tested several different sweeteners here, and granulated sugar was the best by far!),…
Gluten-Free Flour – …2 2/3 cup of flour (we used

King Arthur Measure for Measur

e to make these gluten-free),…

Sea Salt – …¼ teaspoon of sea salt, and…
Jam – …1 cup of no-sugar-added jam or preserves. Our favorites are raspberry, blueberry, or apricot jam! If you'd like to make your own jam, we have a really yummy, easy triple berry jam

here

, or you could use our

easy chia jams

.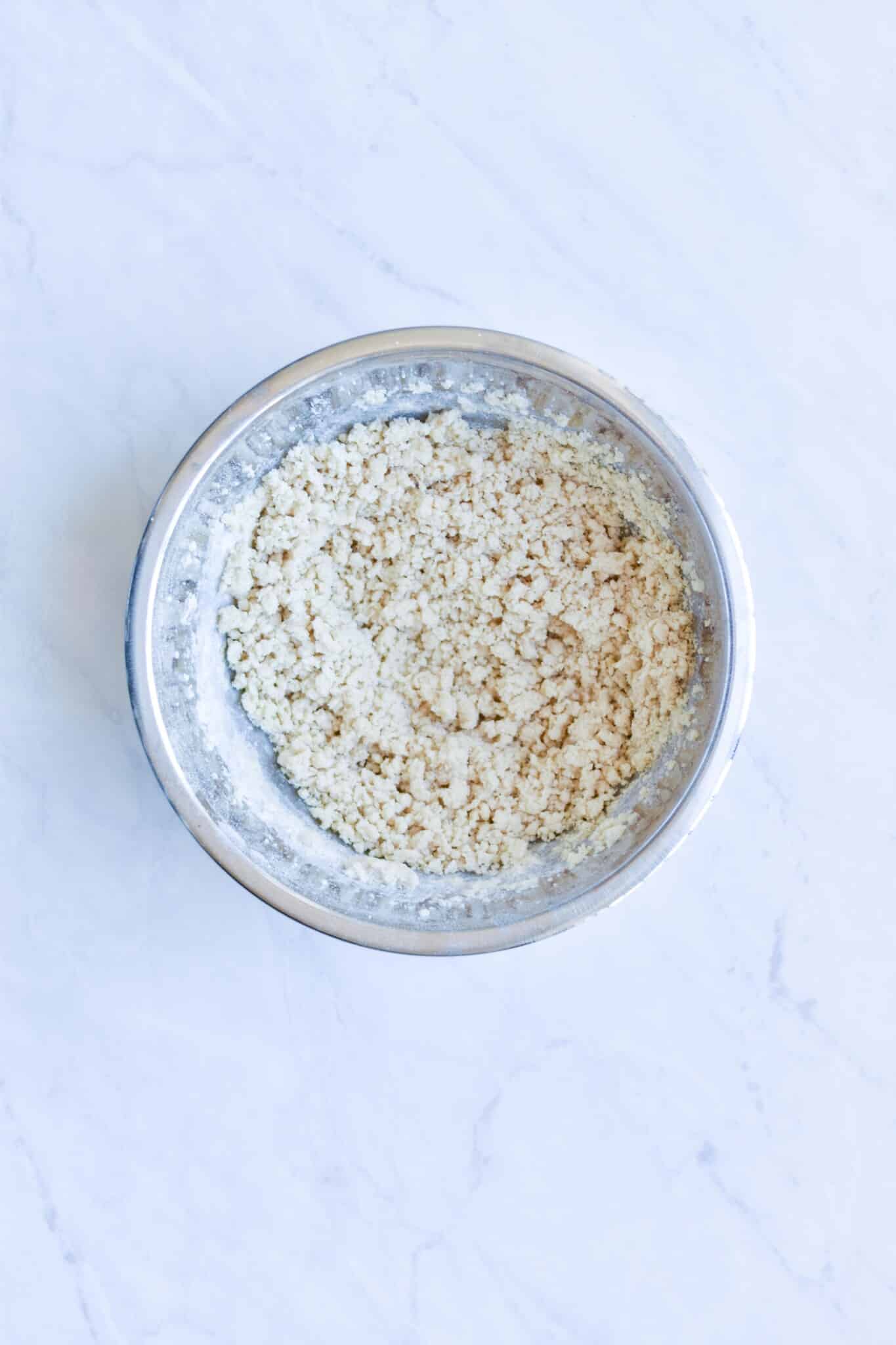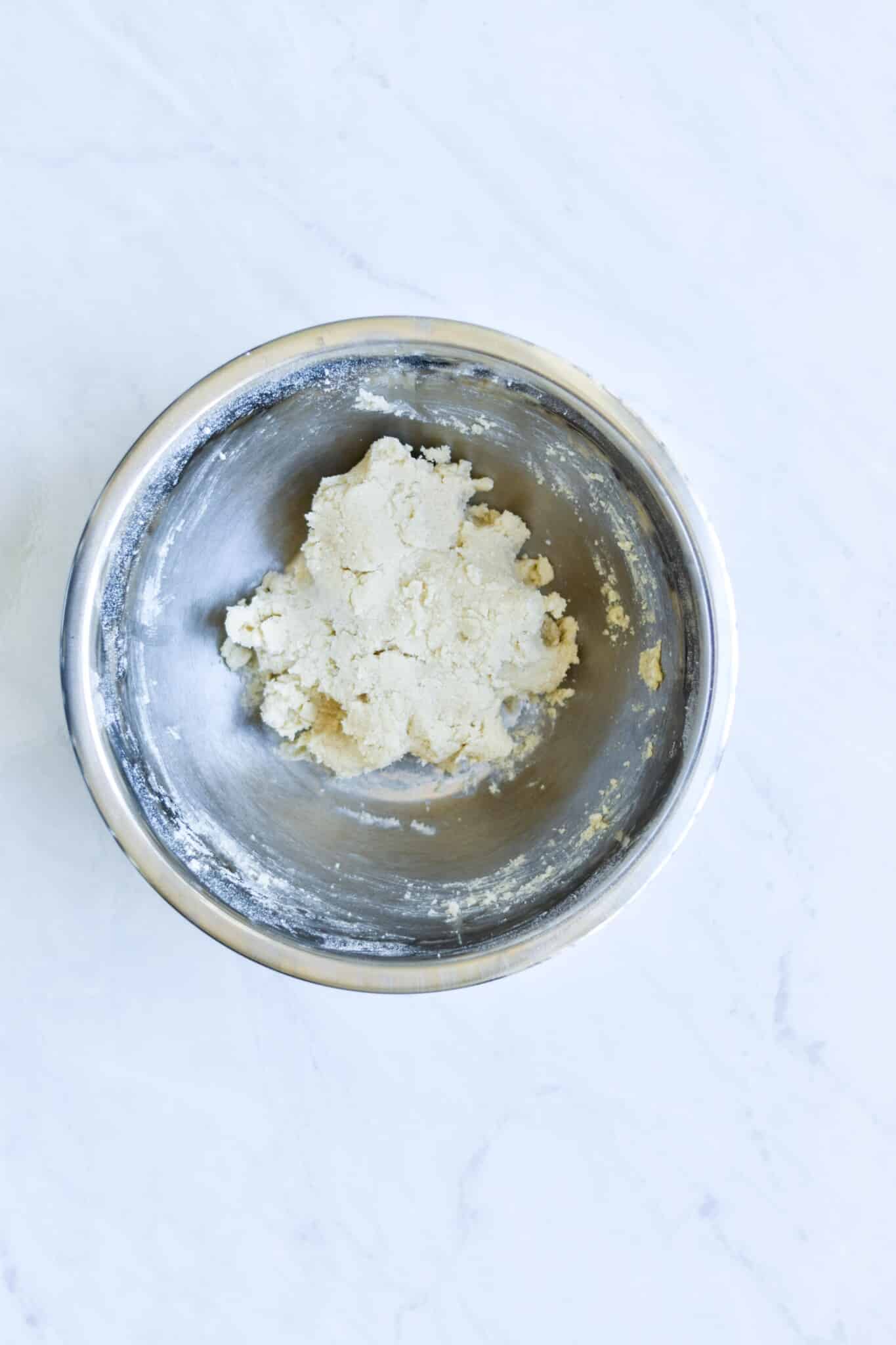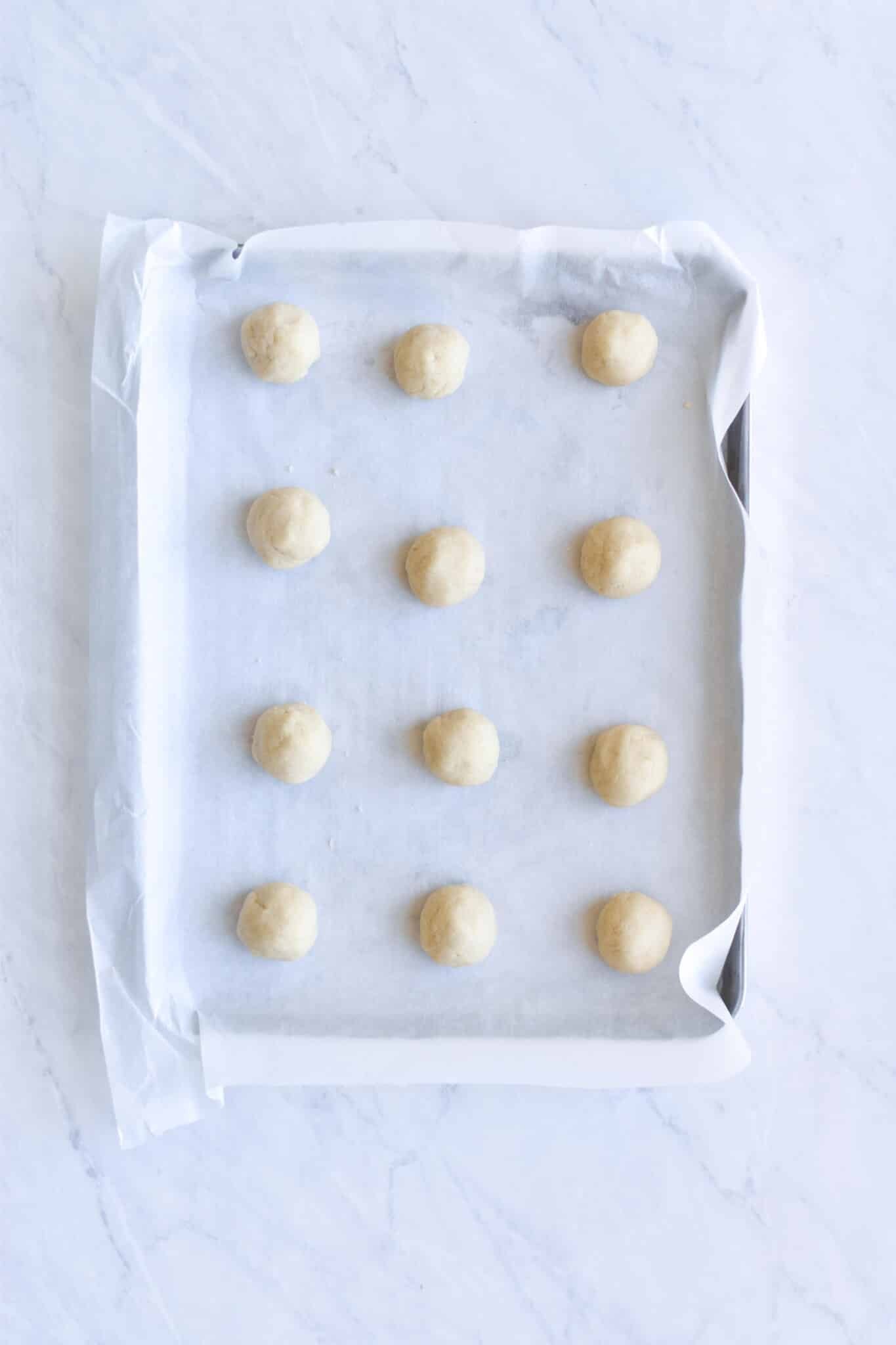 How To Make Thumbprint Cookies
This recipe is about as easy as it gets, I promise! Here's how you'll whip up your very own gluten-free jam thumbprints:
Preheat the Oven to 350°F.
Cream the Butter and Sugar – in a large bowl, beat the butter and sugar with a handheld mixture until creamy.
Add the Vanilla, Almond Extract, Sea Salt, and Egg Yolks – once the butter mixture is creamy, add the vanilla, sea salt, and egg yolk and mix until fully combined. 
Mix in the Flour – next, mix in the flour a ½ cup at a time.
Roll and Fill the Cookies – line two baking sheets with parchment paper, then roll the dough into one tablespoon-sized balls, make an indentation in the center of each ball with a teaspoon (or your thumb!), and fill with jam.
Bake – bake the jam thumbprint cookies for 18-20 minutes, until the cookies brown around the outside.
Let Cool + Serve – let the cookies cool for at least 15 minutes before serving.
I hope you enjoy this gluten-free jam thumbprint cookie recipe and that they bring you some satisfying holiday, baked-good cheer this season!
More of our Favorite
Cookies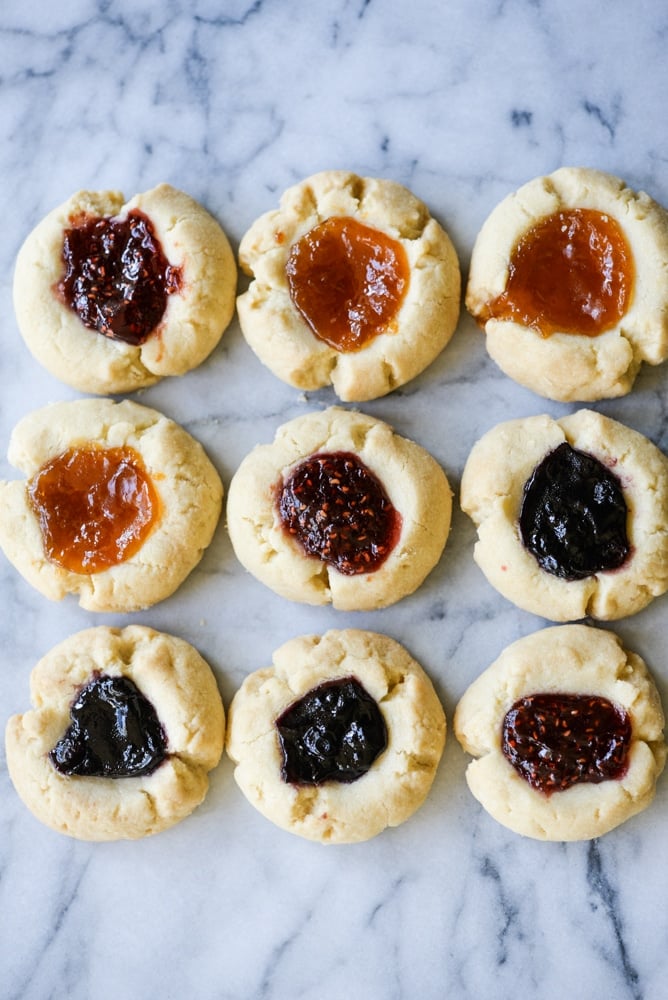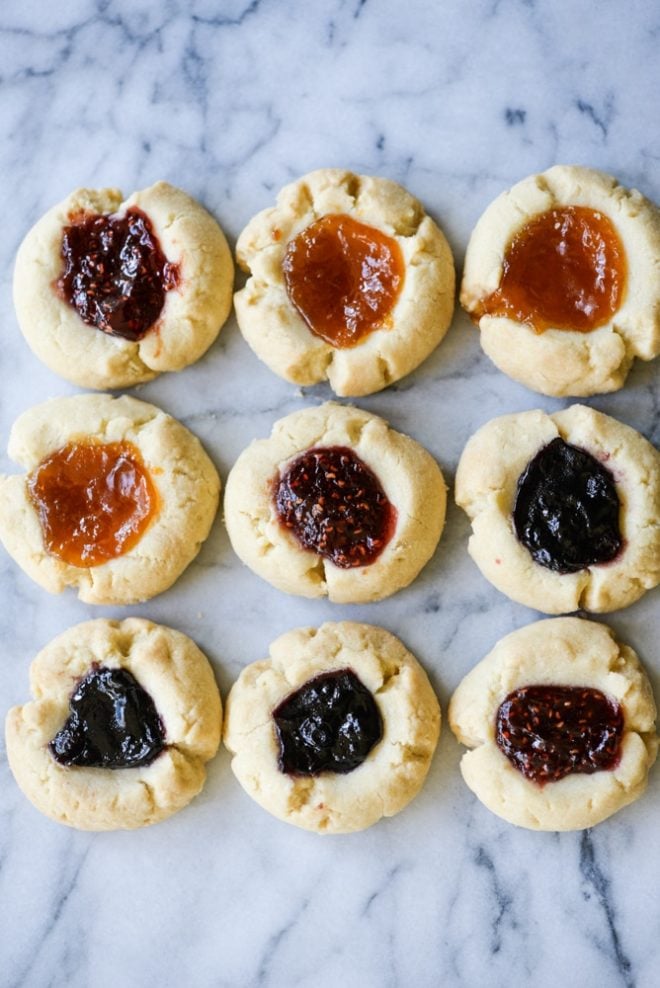 Just for You
Cookie Recipes
Want more recipe ideas like this?
Gluten-Free Thumbprint Cookies Frequently Asked Questions
Q
Can these be made egg-free?
A
They can! The egg yolk in the dough adds a bit of richness, but if you need to be egg-free you can leave it out. Just know that the cookies will be slightly more crumbly than a cookie with eggs. You can also try using an egg replacer for just one egg. We tested the best egg substitutes for cookies and Bob's Red Mill's egg replacer or ¼ cup of applesauce would work great here.
Q
Can I Freeze Thumbprint Cookies?
A
We recommend freezing these cookies unbaked and jam-free. You'll need to make the cookie dough as directed, roll it into cookie-sized balls, make an indention in the middle, then lay flat on a parchment paper-lined baking sheet to freeze. Once the cookies are frozen, feel free to transfer them to a large Ziplock bag or airtight container of your choice (freezing them flat and separated first prevents them from clumping!). When you're ready to enjoy the cookies, simply lay them out on a lined baking sheet, and let them thaw and come to room temperature before dolloping on the jam, and sticking them in the oven to bake!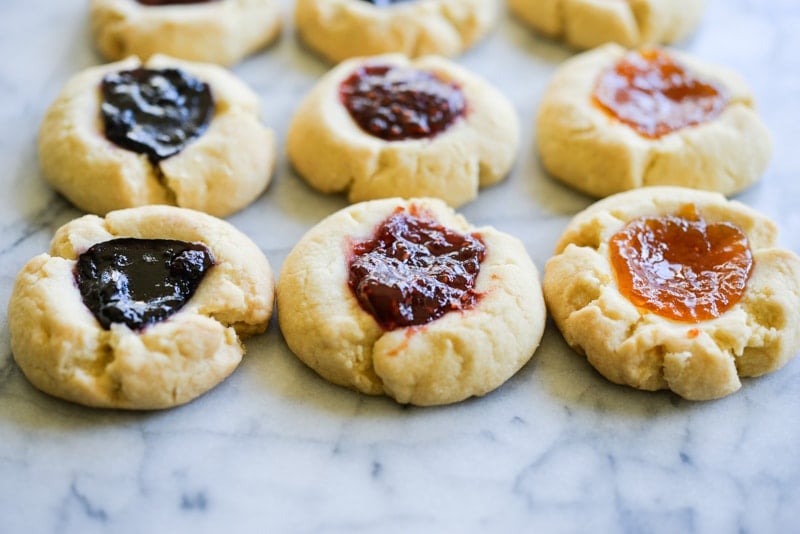 Ingredients
1

cup

of butter

2 sticks, or 16 tablespoons, softened

1

cup

granulated sugar

2

teaspoons

vanilla extract

1/2

teaspoon

almond extract

optional

2

egg yolks

1/4

teaspoon

sea salt

2 2/3

cup

329 g gluten-free flour (we used King Arthur Measure-for-Measure)*

1

cup

no-sugar-added jam of your choice

such as apricot, raspberry, or blueberry
Instructions
Preheat the oven to 350 F.

Add the butter and sugar to a large bowl and beat with an electric mixer for 1 minute, until fluffy.

Add the vanilla, almond extract, egg yolks, and salt to the bowl with the butter and sugar and beat for another 30 seconds, until just combined.

Then, add the flour 1/2 cup at a time, beating constantly, until the dough is fully formed.

Line two baking sheets with parchment paper, then roll the dough into one tablespoon-sized balls, make an indentation in each with a teaspoon, or your finger, and fill with jam.

Bake for 18-20 minutes, until the cookies brown around the outside, then let cool for at least 15 minutes before serving.
Nutrition Information
Nutrition Facts
Gluten Free Jam Thumbprint Cookies
Amount per Serving
% Daily Value*
* Percent Daily Values are based on a 2000 calorie diet.
Recipe Notes
This recipe has been tested using King Arthur Measure-for-Measure flour, which is what we recommend for best results. Others have had success with Bob's Red Mill 1-to-1, but different flour blends may result in different outcomes.