Sesame Seed Crusted Snapper is a quick weeknight meal that brings together red snapper and sesame seeds for a crispy, flavorful fish dish!
Are you having a good week? I'm having a GREAT week.
Despite a series of car troubles, humbling CrossFit WODs, and a perplexing amount of leftover Sunday night pizza, I'm having an awesome week.
San Antonio is getting a good splash of late summer rain. I'd like to say I'm happy for the rain because it's replenishing our aquifer …but that would be a lie. The truth is much more self-serving. The downpour means that I don't have to brave the ruthless early morning mosquitoes, brawl with our twirly water hose, and water our crispy plants! BOOHYA.
Austin is away for work so Gus and I are enjoying some quality, quality time. When we're all together, Gus only has eyes for Austin. They're ridiculously in love with each other. The boys like to wrestle, play chase, and eat excessive amounts of pork rinds. When Gus has only me for entertainment, he softens up a bit. We go on long walks, snuggle, chit chat about our day, and play hide the chewy. Much different than their man time.
Okay, onto the food. I'm hungry!
A few days ago, we played a little game of "would you rather" on my Facebook page.  You were asked, would you rather see a recipe for:
Sesame Seed Crusted Snapper
Paleo Caprese Salad
Some kind of Paleo-friendly doughnut creation that I'm still having trouble narrowing down because they're all so friggin' tasty.
I tallied the votes and here you have it! The Snapper won by a narrow margin over the Caprese Salad. That being said, the most enthusiast votes came in for the doughnuts. I hear you all. Don't worry, I'll eventually post all three.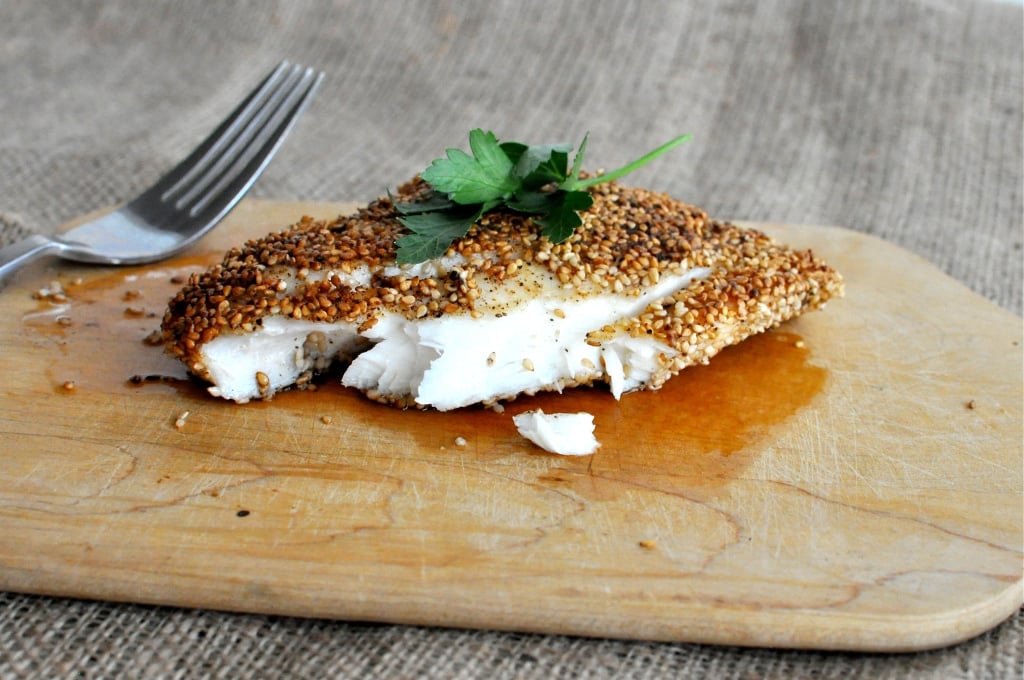 This is one of my most favorite meals. Really. I always have an excessive amount of sesame seeds stored up (for chip making). So when I want a crusty, buttery, flaky fish for dinner, I put them to good use.
Because sesame seeds are high in omega-6 polyunsaturated fats, I don't recommend eating this dish every single day. That being said, the fact that you're eating the seeds with an animal-based omega-3 rich fish (these are important, people) helps the nutrient balancing act. Check out Chris Kresser's notes on the history and dangers of a disproportional omega-6:omega-3 consumption ratio.
What to eat it with? May I suggest …
Sides: Charred Turnip Greens & Lemon (roasted in bacon fat …yum)
Drink: Sparkling Mineral Water + Fresh Lemon Over Ice (my current beverage obsession)
Dessert: Paleo Peach Cobbler (take advantage of those late-season peaches!)
It starts …with snapper! I like red snapper but feel free to use whatever your fish market expert says is the most fresh.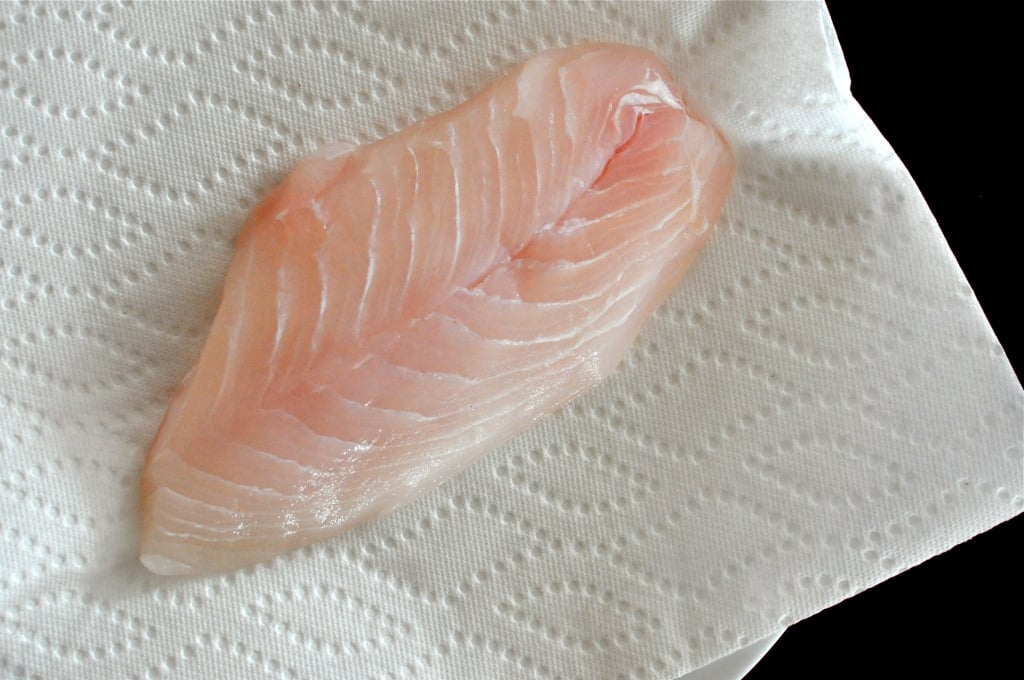 Measure out 1 tablespoon of white sesame seeds and throw them onto a plate.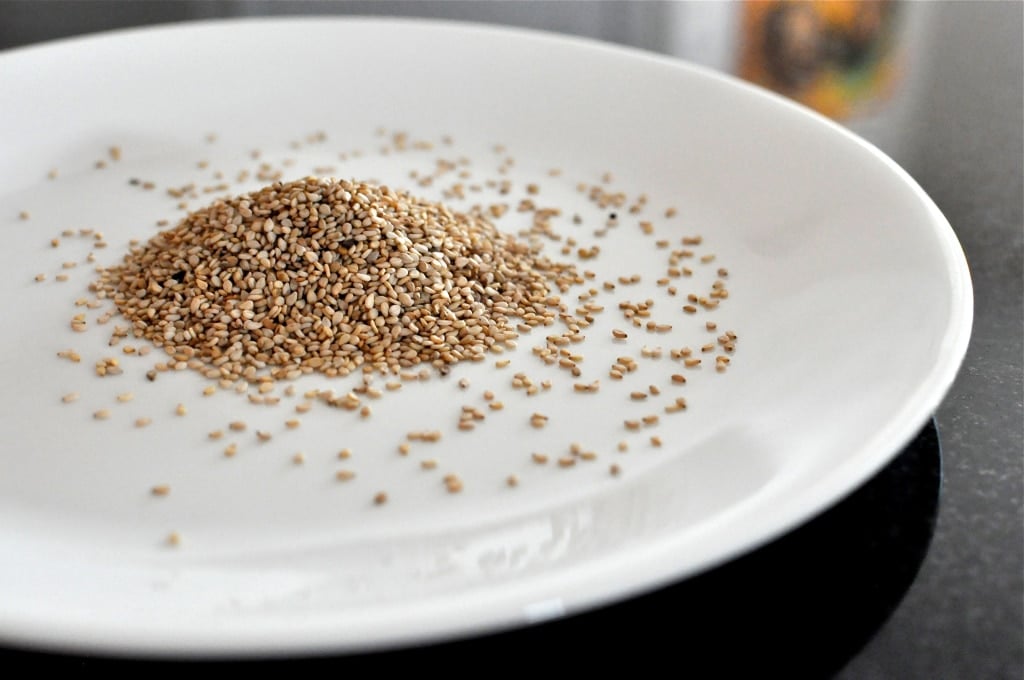 Sprinkle one side of your snapper fillet with kosher salt and then with fresh cracked black pepper. Then place the freshly seasoned side of the snapper face-down on the sesame seeds.
Pat it down so that as much of the fish touches the seeds as possible.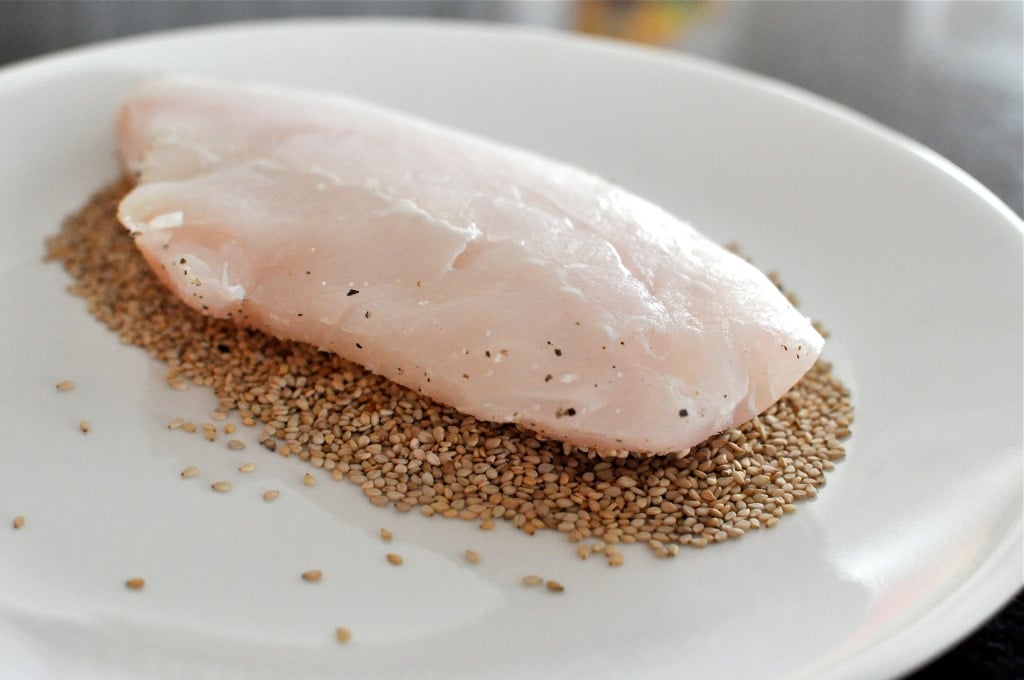 Now dust the up-facing side of the fillet with kosher salt and black pepper. Flip the fish over and wiggle it into the seeds again, ensuring a thorough coating.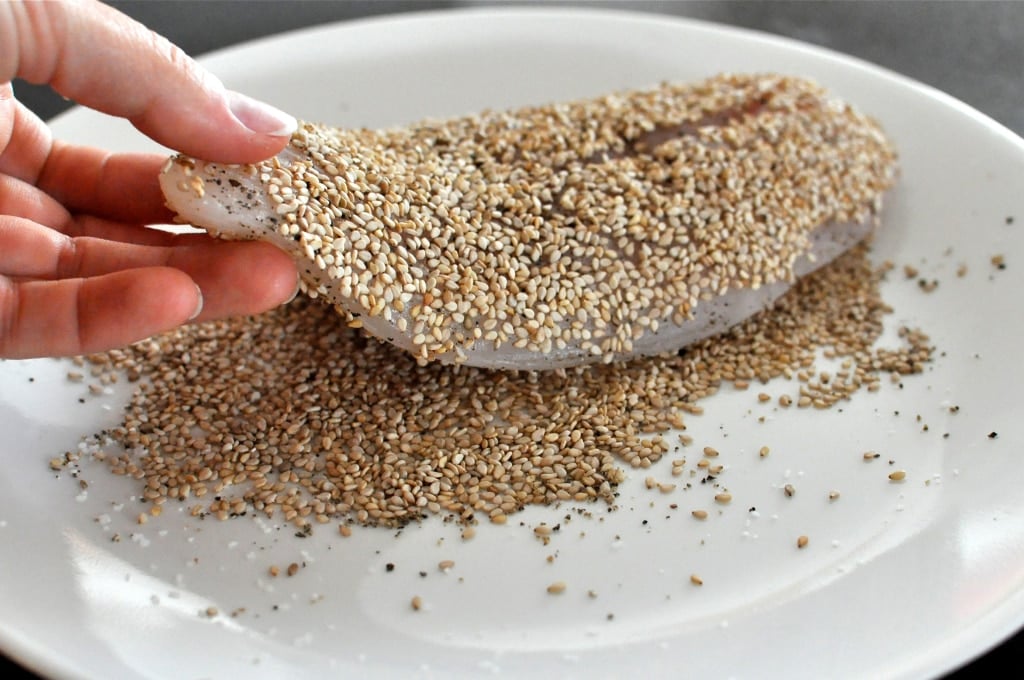 I've been cooking with Kerrygold's grass-fed butter quite a bit. I love the flavor plus I've got cartons of the stuff out the wazoo (I can't say no to a good sale). Feel free to use whatever cooking fat you prefer. Extra virgin coconut oil, ghee, lard, or bacon fat all work well. Melt about 1 teaspoon into a frying pan.
Turn the heat to medium/high when the butter is melted. Lay the fish down in the pan and cook on each side for approximately 3-4 minutes.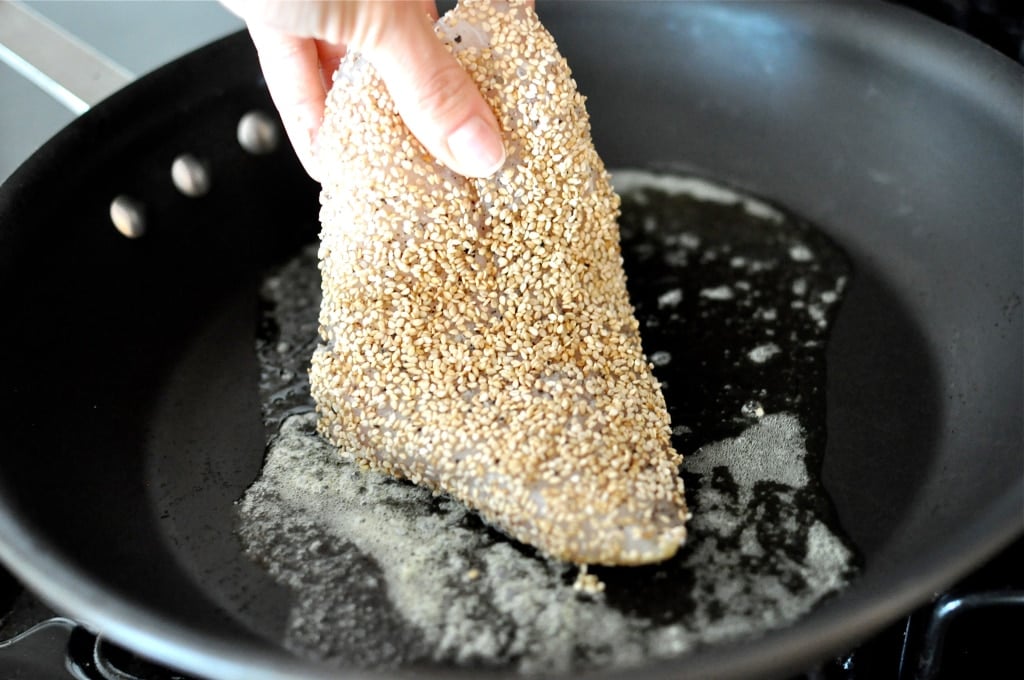 It should have this nice golden color when you flip it.
Remove from the pan, let it rest for a few minutes, and then serve.
Enjoy your Sesame Seed Crusted Snapper!
Sesame Seed Crusted Snapper
Sesame Seed Crusted Snapper is a quick weeknight meal that brings together red snapper and sesame seeds for a crispy, flavorful fish dish!
Ingredients
1 6-7

ounces

Red Snapper Fillet

skinned

1

tablespoon

Sesame Seeds

Kosher Salt

to taste

Freshly Cracked Black Pepper

to taste

1

teaspoon

Grass-Fed Butter

Ghee, Extra Virgin Coconut Oil, or Bacon Fat
Instructions
Lightly dust one side of the snapper fillet with kosher salt then black pepper to your taste. Lay the seasoned side of the fillet on the bed of sesame seeds, pressing down to ensure an even coating. Season the up-facing side of the snapper with salt and pepper then flip over in the sesame seeds.

Melt 1 teaspoon of cooking fat in a frying pan. Over medium/high heat, lay the sesame seed coated snapper on the pan. Cook on each side for 3-4 minutes or until the seeds take on a golden color.

Let the fish rest for a few minutes then serve.

Enjoy!
Nutrition
Calories:
280
kcal
|
Carbohydrates:
2
g
|
Protein:
42
g
|
Fat:
11
g
|
Saturated Fat:
4
g
|
Polyunsaturated Fat:
3
g
|
Monounsaturated Fat:
3
g
|
Trans Fat:
0.2
g
|
Cholesterol:
84
mg
|
Sodium:
160
mg
|
Potassium:
866
mg
|
Fiber:
1
g
|
Sugar:
0.02
g
|
Vitamin A:
336
IU
|
Vitamin C:
3
mg
|
Calcium:
143
mg
|
Iron:
2
mg