Chicken Taco Casserole
jump to recipe
Chicken taco casserole is an easy-to-whip-up dinner with cilantro lime cauliflower rice, Mexican-seasoned shredded chicken, a creamy salsa, fresh pico, and a dollop of guacamole!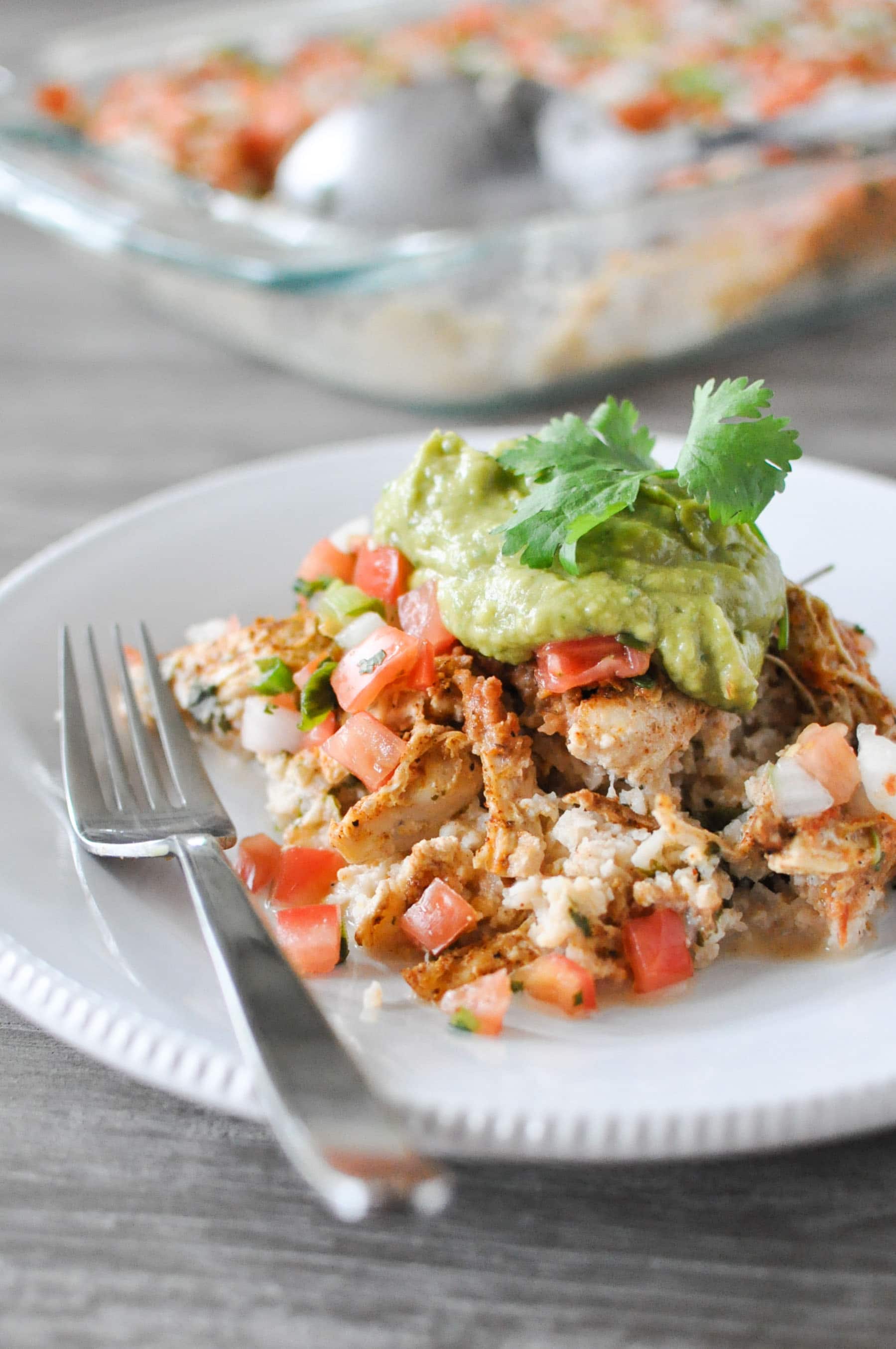 Today we're talking about the final recipe in our "Quick and Healthy Weeknight Dinners" series! This series highlights 3 different dinner ideas that are all ideal for the back-to-school parent, busy professional, and folks who prefer to meal-prep as much as possible.
One key to breezy weekly meal planning is to thread the same basic ingredients throughout multiple meals. In this example, we're using shredded chicken as the protein for all three dinners! Two of our dinners also call for cauliflower or jasmine rice. In each dinner post, I've provided several tips for what steps you can prep in advance so that mealtime is quick and painless.
In case you missed them, here are all the recipes from this series plus the two bonus recipes to help you make the basic components:
Chicken Taco Casserole
I truly think I saved the best for last! When I performed the live demo of all these recipes on FOX Daytime in San Antonio for their "Back to School" special, the crew rushed up after the show to grab bowls of this chicken taco casserole. It wasn't even warmed-up and they were raving about it!
Our family loves this casserole, too. Spicing up your dinner routine with some Mexican flair is a great way to avoid healthy food boredom (i.e. that "if I look at another salad, I might cry" feeling).
This chicken taco casserole dish is made-up of 4 different layers: cilantro lime cauliflower rice, Mexican-seasoned shredded chicken, a creamy salsa, then fresh pico after it comes out of the oven. I also like to add a dollop of fresh guacamole on each plate!
Ideas on how you can meal-prep this dinner for fast assembly:
Make and then season your slow cooker shredded chicken ahead of time.
Make and then season your cauliflower rice.
Buy pre-made pico, salsa, and guacamole.
Like we talked about in the Chicken Teriyaki Bowls, if you are looking for more starches in your meals or have hungry men and/or teenage boys at your table, I recommend you swap the cauliflower rice for Jasmine rice. In the versions I make at home, I make half of the casserole with cauliflower rice (for me) and the other half with white rice (for my Austin).
Enjoy!
Print
Chicken Taco Casserole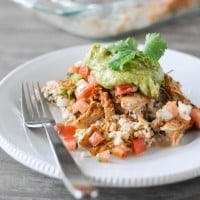 Author:
Prep Time:

10 minutes

Cook Time:

20 minutes

Total Time:

30 minutes

Yield:

8 servings
Ingredients
4 cups

jasmine or basic cauliflower rice, cooked

1/4 cup

lime juice

1/4 cup

cilantro, chopped

4 cups

shredded chicken

1 tablespoon

chili powder

1 tablespoon

cumin

1 teaspoon

onion powder

1 teaspoon

garlic powder

1/2 teaspoon

sea salt
pepper to taste

2 cups

fresh salsa

1

can full-fat coconut milk

2 cups

fresh pico, for final plating
guacamole and cilantro for garnish
Instructions
Mix the rice with the lime juice and chopped cilantro. Spread the seasoned rice evenly into the bottom of a 9×12 baking dish.
Mix the shredded chicken with the chili powder, cumin, onion powder, garlic powder, sea salt, and pepper. Spread the seasoned shredded chicken evenly over the rice in the baking dish.
In a bowl, whisk together the salsa and coconut milk. Pour this mixture over the chicken and rice in the baking dish. Bake at 350 for 20 minutes.
Before plating, spread the fresh pico evenly over the casserole. Garnish individual plates with guacamole and cilantro.