This cottage pie is comfort food at its finest! A rich filling of ground beef, veggies, and herbs is topped with creamy, flavorful mashed cauliflower for a delicious meal the whole family will love!
This recipe comes to you from my first cookbook, Fed & Fit! It has been a reader favorite for a long time and we thought it was time to bring it to the site. I didn't grow up eating cottage pie and hadn't really heard about it until I was newly eating Paleo and came across it while looking for recipes. As a long-time lover of casseroles, I knew I had to give it a try. After one bite, I was hooked! We have a few versions of cottage pie on the site already (including a Mexican Cottage Pie and a shortcut Meal Prep Shepherd's Pie), but this one is my absolute favorite. This recipe is the classic, Sunday dinner-worthy version and the roasted garlic cauliflower mash on top elevates it to the next level!
What's the difference between cottage pie and shepherd's pie?
The difference between cottage pie and shepherd's pie has to do with the meat, shepherd's pie traditionally is made with lamb, while cottage pie is made with beef. While we make this one with ground beef, you can absolutely substitute ground lamb if you have it on hand.
How to Make Creamy Mashed Cauliflower
Traditionally, cottage pie is topped with mashed potatoes, but here we are using mashed cauliflower instead! This adds an extra dose of healthy veggies to the dish and makes for a great lower carb option. Plus, this roasted garlic mashed cauliflower is delicious in its own right – not just as a potato replacement. It is smooth, creamy, and the roasted garlic lends SO much flavor. Here's how to make it:
Roast the garlic. If you haven't roasted garlic before, you may be surprised by how easy it is! Simply cut the top off of a head of garlic, wrap them in foil, and bake for about 45 minutes. Once the garlic is cooled, squeeze the bulbs to get all of the garlic out.
Steam the cauliflower. If you've ever had watery cauliflower mash, this is one of the keys to better mash! By steaming, instead of boiling, you ensure that the cauliflower cooks until it is just-tender and doesn't absorb any additional water.
Blend the cauliflower. Next, it is time to blend the cauliflower. Place the steamed florets, roasted garlic, coconut milk, butter, lemon juice, salt, and pepper in a blender or food processor and blend until smooth.
How to Make Cottage Pie
Now that you've finished making your mashed cauliflower, it's time to make the cottage pie! Here's what you'll do:
Cook the onion and garlic. You'll start off by cooking a diced onion and 4 cloves of garlic over medium heat until it is just starting to brown.
Cook the ground beef. Once the onion is cooked, add the ground beef along with spices and cook until beef is fully cooked through and browned.
Stir in the tomato paste, veggies, and broth. Next, you'll add a can of tomato paste, along with a cup of beef broth, and one pound each of frozen peas and frozen carrots. Stir it all together then set aside.
Assemble the casserole. Place the cottage pie mixture in the bottom of a 9×13 or other similarly sized casserole dish, then spread the cauliflower mash over top. Cover it with aluminum foil.
Bake the casserole. Finally, you'll bake the casserole for 30 minutes at 300 F, then remove the foil and bake for an additional 10 to 12 minutes at 425 F until the cauliflower topping is browned.
Is this recipe freezer-friendly?
Yes! Cottage pie freezes amazingly well. Here are two options for freezing it:
Freeze an entire casserole. If you want to freeze a full casserole, follow all the steps, but don't bake it. Just place it in a 9×13 aluminum casserole dish, cover with foil, and freeze. Once you are ready to use it, place the covered dish in the oven at 350 F for 45 minutes-1 hour, until it is warmed through, then uncover it and bake at 425 for an additional 15 minutes.
Freeze a portion of the casserole. If you want to freeze the leftovers, you can portion them into individual containers (we have a full guide to our favorite meal prep containers), then reheat the individual portion either by microwaving for 3-4 minutes, or placing in the oven at 350 F for 10-15 minutes.
How do I make low-carb cottage pie?
If you'd like to make this cottage pie work for a low-carb or keto plan, all you need to do is swap out the peas and some of the carrots with an equal amount of another low-carb veggie. These could include kale, spinach, green beans, broccoli, or even mushrooms!
Cottage Pie with Roasted Garlic Cauliflower Mash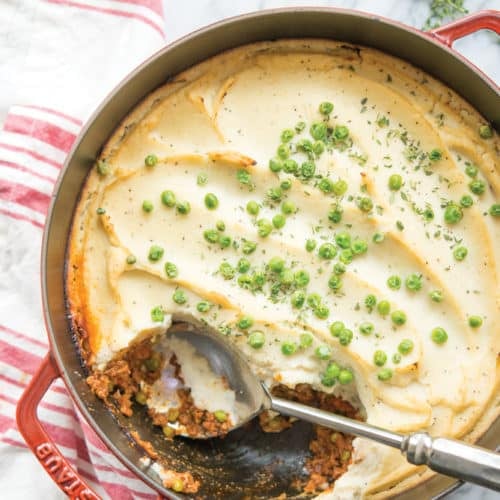 This cottage pie is classic comfort food! A flavorful ground beef filling is topped with silky roasted garlic cauliflower mash for a delicious and veggie-packed meal.
Ingredients
For the Roasted Garlic Cauliflower Mash
2

bulbs

roasted garlic

4

heads

cauliflower

trimmed and cut into florets (about 6 cups)

2

tablespoons

salted butter

use olive oil for dairy-free

Cream scooped from the top of 2 cans of full-fat coconut milk

about 1 cup (may also use sour cream)

2

tablespoons

lemon juice

about 1 lemon

1 - 1 1/2

teaspoon

salt

to taste

1/2

teaspoon

ground black pepper
For the Cottage Pie
2

tablespoons

salted butter

use olive oil for dairy-free

1

yellow onion

chopped

4

cloves

garlic

minced

2

pounds

ground beef

1½

teaspoons

rubbed dried sage

1

teaspoon

dried rosemary leaves

1

teaspoon

dried thyme leaves

1

teaspoon

fine sea salt

½

teaspoon

ground black pepper

½

teaspoon

ground coriander

1

6-ounce can tomato paste

1

cup

beef broth

store-bought or homemade

16

ounces

frozen crinkle-cut carrots

16

ounces

frozen green peas

reserve ¼ cup for the top
Instructions
For the Roasted Garlic Cauliflower Mash
Preheat the oven to 375°F.

Cut off the very top of each garlic bulb to expose the tips of the individual cloves. Peel away the outer papery skin, but make sure that all of the cloves stay attached to the main bulb. For cloves that don't reach the top, use a paring knife to cut off their tops so that every clove is exposed.

Wrap each prepared bulb in a square piece of aluminum foil. Place the wrapped bulbs, evenly spaced, in two wells of a metal muffin tin. (This keeps them upright.) Bake for 45 minutes.

Remove from the oven and let cool.

To extract the roasted garlic, squeeze the bulbs or individual cloves until all of the roasted garlic is pushed out of the cloves.
Steam the cauliflower by using one of these two methods:
Microwave option: Place the cauliflower in a microwave-safe bowl with ¼ cup water. Cover and microwave on high for 10 minutes, until cooked through. Let cool slightly, then drain. Add the butter and toss to combine.

Stovetop option: Melt the butter in a large frying pan or sauté pan over medium heat. When the butter is melted, add the riced cauliflower. Stir to incorporate, then cover the pan. Let steam over medium-low heat for 12 to 15 minutes, until the cauliflower is cooked through.

Place the cooked cauliflower in a food processor or blender. Squeeze the roasted garlic from the cloves into the bowl, then add the rest of the ingredients, except the chives. Blend until smooth, then set aside.
For the Cottage Pie
Melt the butter in a large enameled cast-iron pot or frying pan over medium-high heat. Add the onion and cook for about 10 minutes, until translucent and just starting to brown. Add the garlic and cook for 2 to 3 more minutes, until fragrant.

Add the ground beef, sage, rosemary, thyme, salt, pepper, and coriander and cook over medium heat, stirring regularly to break up the meat, until all of the moisture has evaporated and some pieces are starting to develop a deeper brown color. Add the tomato paste, broth, carrots, and peas, reserving ¼ cup of the peas for the topping. Stir to combine, then set aside.

Preheat the oven 300°F. If working in a frying pan, transfer the meat mixture to a 9 by 13-inch or similar-sized baking dish. Spread the cauliflower mash over the meat mixture. Sprinkle the top with the leftover peas.

Cover with a sheet of aluminum foil and bake for 30 minutes, or until the edges start to look bubbly. Remove the foil and return to the oven. Increase the oven temperature to 425°F and bake for an additional 10 to 12 minutes, until the cauliflower topping just starts to brown.

Let the pie rest for at least 15 minutes before serving. Garnish with the fresh parsley and serve warm.
Nutrition
Calories:
566
kcal
|
Carbohydrates:
36
g
|
Protein:
31
g
|
Fat:
35
g
|
Saturated Fat:
16
g
|
Polyunsaturated Fat:
1
g
|
Monounsaturated Fat:
13
g
|
Trans Fat:
2
g
|
Cholesterol:
113
mg
|
Sodium:
1265
mg
|
Potassium:
1793
mg
|
Fiber:
12
g
|
Sugar:
16
g
|
Vitamin A:
10600
IU
|
Vitamin C:
173
mg
|
Calcium:
167
mg
|
Iron:
5
mg