Every item on this page was chosen by The Fed & Fit team. The site may earn a commission on some products (read more here).
Crunchy, crispy, and packed with protein, roasted chickpeas make for a delicious snack or meal topper, and today we're bringing you 5 flavor variations of these addicting little bites!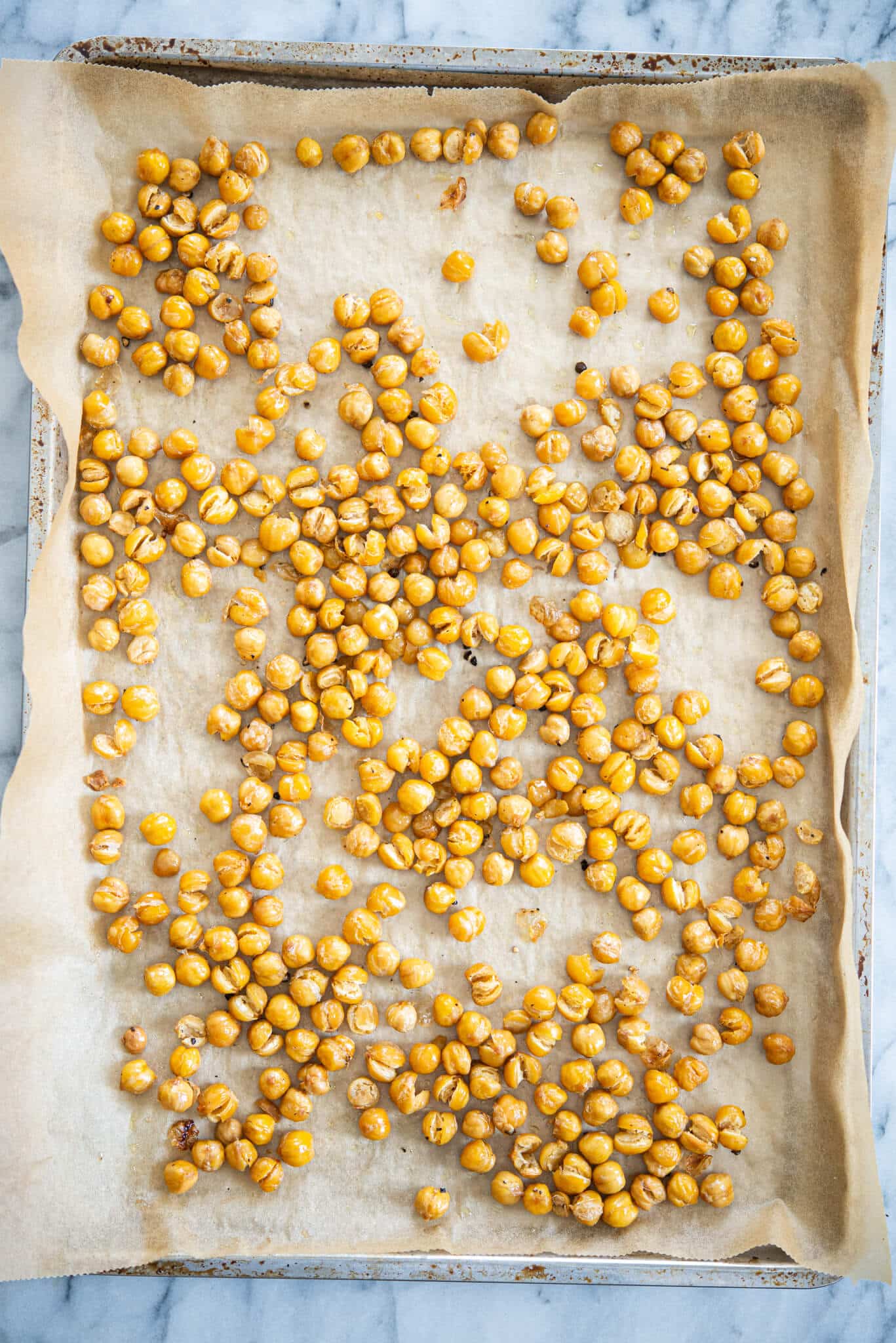 Though roasted chickpeas are super versatile, our all-time favorite way to enjoy them is as an afternoon snack. We appreciate a snack that checks all of the boxes – protein-packed, satisfying, tasty, and nutritious – and these chickpeas do just that! Plus, with 5 variations, you're bound to find a flavor that speaks to you and your snacking dreams! 
How to Make Roasted Chickpeas
It's really so simple! Here's how to make the crispiest roasted chickpeas:
Prep.

Start by preheating the oven to 425°F (hot oven = crispy chickpeas!) and lining a rimmed baking sheet with parchment paper. Then, drain and rinse the chickpeas, and dry them thoroughly. 

Toss + season the chickpeas.

Toss the chickpeas with salt, pepper, and 2 tablespoons of olive oil, and then spread them out on the parchment-lined baking sheet.

Bake.

Bake the chickpeas for 30-45 minutes, tossing halfway through. Keep an eye on those chickpeas towards the end of the baking time – we want them perfectly crisped, but not burnt! 

Remove from oven and enjoy!

Once crispy, remove the chickpeas from the oven, toss them in your choice of spices + seasonings (see our favorite flavors below), and let them cool slightly. Enjoy!
Tips for Perfect Crispy Chickpeas
Dry the chickpeas first! Make sure the chickpeas are thoroughly dried before roasting. We like to pour the canned chickpeas into a strainer, rinse them under a running faucet, and then completely dry them on either a dish towel or paper towel. 
Wait for the spices! Don't add the spices until the chickpeas are done cooking. We want to taste the spices themselves, and not an overroasted version of them. Toss the chickpeas in the flavor-boosters post-roast! 
Give the chickpeas room to crisp! Make sure your baking sheet is large enough to accommodate the spread out chickpeas. If it isn't, either roast in batches, or grab a bigger sheet. Overcrowding the chickpeas causes them to steam rather than roast, and results in soggy chickpeas. 
Don't be afraid to add extra time! If the chickpeas aren't crispy once the timer goes off, simply toss them and bake for another 3-5 minutes. Don't overcomplicate it – every oven is a little bit different, and yours may just need a few extra minutes to get those chickpeas nice and crispy!
5 Flavor Variations
Now here's where it gets fun! We're not only bringing you the basic (and super tasty!) salt and pepper recipe, but also 5 flavorful variations that are sure to make your taste buds dance! Satisfy your sweet tooth with cinnamon sugar roasted chickpeas and top your salad with the lemon garlic variety! For each of these flavors, stick with the base recipe, and when the chickpeas come out of the oven (nice and crispy, of course!), toss them in the spices and seasonings! 
Lemon Garlic (1 teaspoon garlic powder + 1 tablespoon lemon juice) – tangy and salty, this variation is super tasty to snack on, but also REALLY delicious on top of a salad (like this simple

arugula salad

)!

Moroccan (1 teaspoon Moroccan seasoning + 1 tablespoon lemon juice)

– sweet and savory, this variation has it all! Moroccan cuisine has such a depth of flavor, and these chickpeas are no exception. 

Cinnamon Sugar (1 1/2 tablespoons sugar + 1/2 teaspoon cinnamon)

– for the sweet tooths of the world! If you're making these, leave out the salt, pepper, and lemon juice in the base recipe. Just toss with the olive oil, cinnamon, and sugar, and roast until crisp.

Curried (1 teaspoon curry powder + 1 tablespoon lemon juice)

– this variety is bold and FULL of flavor. Eat as a snack, or use as a crunchy topping on this

Curried Butternut Squash Soup

!

Mediterranean (1/2 teaspoon garlic powder, dried oregano, and dried basil + 1 tablespoon red wine vinegar)

 – use these as a topper for your favorite pasta – go simple with pasta tossed in EVOO, salt, and pepper, or make your favorite pasta dish (this

Italian sausage + kale pasta

is a good one!) Either route you take, these crispy chickpeas will add the perfect crispy texture to your dish.
How to Use Roasted Chickpeas
These crunchy little morsels are SO versatile, you guys! As mentioned above, snacking on these chickpeas is an obvious (and completely delicious) option. You can also serve chickpeas on top of a salad, soup, stew, quinoa/rice bowl, or pasta dish! Basically, if a crouton can do it, a roasted chickpea can do it better! They really do add the perfect amount of crunch and texture. Pick a flavor variation that compliments your meal (or just go with basic salt + pepper), and get to topping! 
How long do they keep?
Truth be told, these crispy chickpeas are at their prime on the day of roasting. While you can absolutely store them in an airtight container at room temperature, know that it won't take them long to lose their crunch (about 2 days), so make sure to enjoy them relatively quickly! 
Ingredients
Basic Roasted Chickpeas:
2

cans

chickpeas

rinsed and thoroughly dried

1

teaspoon

coarse sea salt

1/4

teaspoon

black pepper

2

tablespoons

extra-virgin olive oil
Lemon Garlic Flavor:
1

teaspoon

garlic powder

1

tablespoon

lemon juice
Moroccan Flavor:
1/4

teaspoon

paprika

1/4

teaspoon

garlic powder

1/4

teaspoon

cumin

1/4

teaspoon

turmeric

1/4

teaspoon

ground ginger

1

tablespoon

lemon juice
Curry Flavor:
1

teaspoon

curry powder

1

tablespoon

lime juice
Mediterranean Flavor:
1/2

teaspoon

garlic powder

1/2

teaspoon

dried oregano

1/2

teaspoon

dried basil

1

tablespoon

red wine vinegar
Cinnamon Sugar:
1 1/2

tablespoons

white sugar or coconut sugar

1/2

teaspoon

cinnamon
Instructions
Preheat the oven to 425°F and line a rimmed baking sheet with parchment paper.

Toss the chickpeas with the salt, pepper, and olive oil and spread out on the baking sheet.

Bake for 30-35 minutes, tossing halfway through, until crisp.

Remove from oven, toss with spices and lemon juice, if using, let cool slightly, then serve!
Nutrition Information
Nutrition Facts
Crispy Roasted Chickpeas
Amount per Serving
% Daily Value*
* Percent Daily Values are based on a 2000 calorie diet.
Recipe Notes
For the Cinnamon Sugar Variation:
Toss the chickpeas with the olive oil, sugar, cinnamon, and 1/2 teaspoon coarse salt then bake at 425°F for 30-35 minutes, until crisp.
Nutrition information is for plain roasted chickpeas.