This Caprese Orzo Salad is a fuss-free make-ahead lunch option that is bursting with juicy tomatoes, fragrant basil, and fresh mozzarella!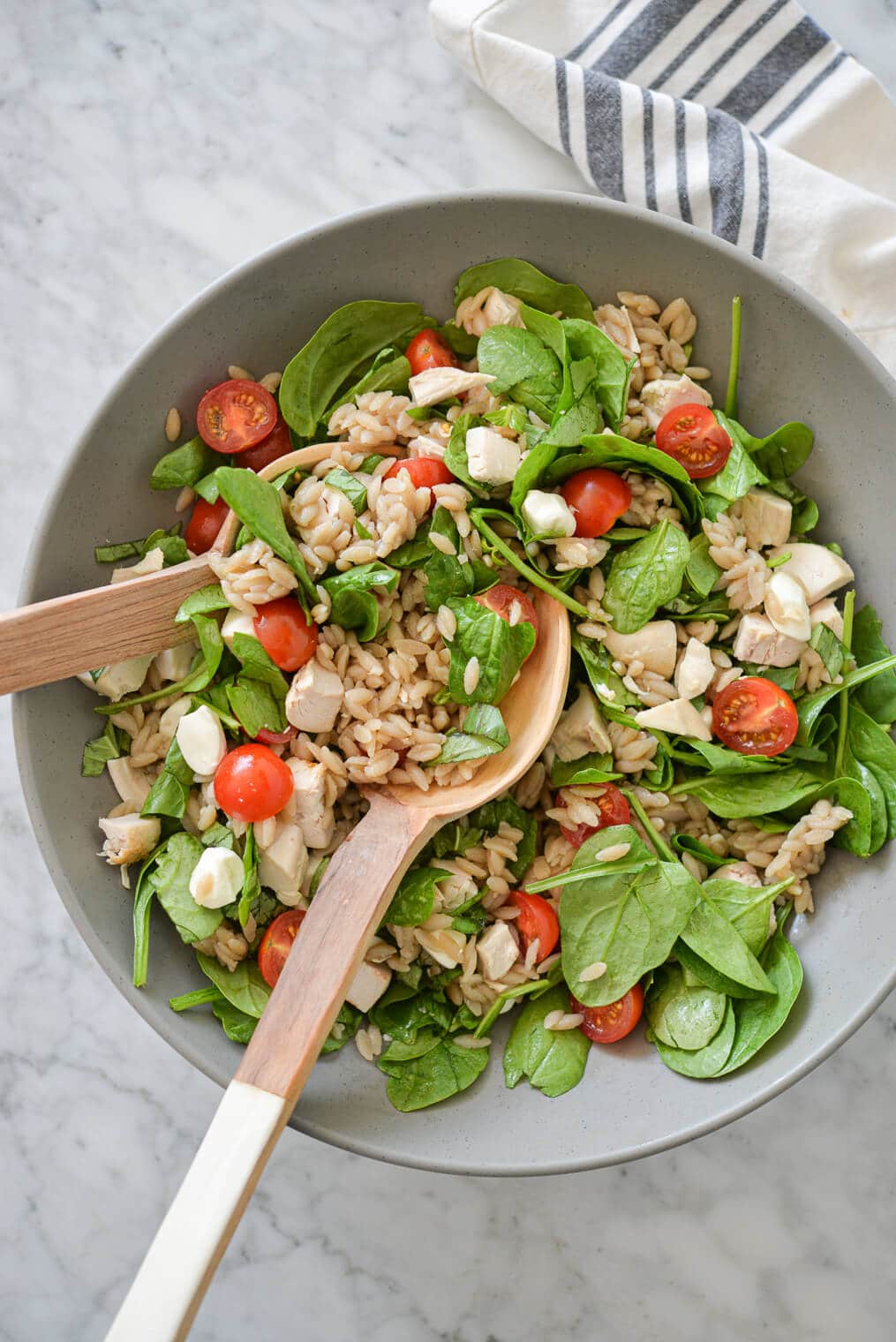 Meal prepping dinner comes pretty naturally to me at this point (thanks, Cook Once, Eat All Week!), but meal prepping lunch is a different story entirely. When I do take the time to meal prep lunches for the week, my days run so much more smoothly, I never get "hangry" (you know what I'm talking about!), and I NEVER hit the 2 pm energy slump that grabbing something far less nutritious than what I'd prep pretty much guarantees.
This Caprese Orzo Pasta Salad is loaded with protein-rich chicken, fresh basil, mozzarella, juicy tomatoes, yummy orzo, nutritious spinach, and was designed to be paired with our Greek Chicken Salad (COMING SOON!) to bring you an entire week's worth of lunches that can be prepped simultaneously in a flash. Each one is dang tasty, totally nutritious, and energizing enough to get you through the second half of your day! And while this salad makes an absolutely crave-worthy lunch, you can totally serve it at your next gettogether for a crowd-pleasing side dish – we can pretty much guarantee that everyone will love this easy orzo salad!
Caprese Orzo Ingredients
First thing's first – what do you need in order to throw this easy Caprese pasta salad together? Not too much, actually! We'll start with a protein and healthy carbohydrate, move on to fresh veggies, and then add some major flavor-boosters in the form of CHEESE (YAS!), dressing, and fresh herbs!
Dry Orzo – you'll need 2 cups of dry orzo pasta here – this carb will keep you full of energy to tackle the rest of your day! Do note that you can totally use 2 cups of cooked quinoa (see our fail-proof quinoa method HERE) in place of the orzo, and if you're looking for a low-carb option, cauliflower rice works great too!

Extra Virgin Olive Oil – we'll toss our cooked orzo in a tablespoon of EVOO to keep it from sticking and add a delicious layer of flavor to our salad!

Diced Chicken – to keep things easy, we recommend buying a rotisserie chicken and dicing or shredding it here, but you can totally grill or bake a couple of chicken breasts and dice those if you prefer. Either way, you'll need about 4 cups of cooked, diced chicken.

Baby Spinach – we need to get those greens in, right?! 8 cups of baby spinach will do the trick!

Cherry Tomatoes – 2 cups of sliced cherry tomatoes adds a beautiful brightness to our dish.

Mozzarella Balls – you'll also add about a cup of fresh mozzarella pearls, and…

Fresh Basil Leaves – …1/2 cup of thinly sliced fresh basil – two key ingredients in the classic Caprese salad!

Balsamic Vinegar, Honey, and Dijon Mustard – 1/4 cup of balsamic vinegar and 2 teaspoons of honey and dijon mustard add the perfect hints of sweetness and acidity to finish this salad off beautifully!
How to Make Caprese Orzo Salad
It's easy, and that's an important part of meal prep, don't you think?! Spending all day in the kitchen to prep goods for the week is not how you want to spend your weekend, so keeping things simple is always the best bet in sustainable prep! Here's how you'll throw this easy orzo pasta salad together:
Cook the Orzo – cook the orzo according to package instructions, then drain it, toss it with olive oil, and let it cool.

Combine – once cooled, add the orzo, diced chicken, baby spinach, grape tomatoes, mozzarella balls, fresh basil, sea salt, and black pepper to a large bowl and toss to combine.

Make the Balsamic Vinaigrette – Add the olive oil, balsamic vinegar, honey, dijon mustard, salt, and pepper to a mason jar or other similar container, then secure the lid and shake it up until the dressing is fully combined. If you're prepping this salad for the week ahead, wait to add the balsamic vinegar until you are ready to eat so that it doesn't wilt the spinach!

Enjoy!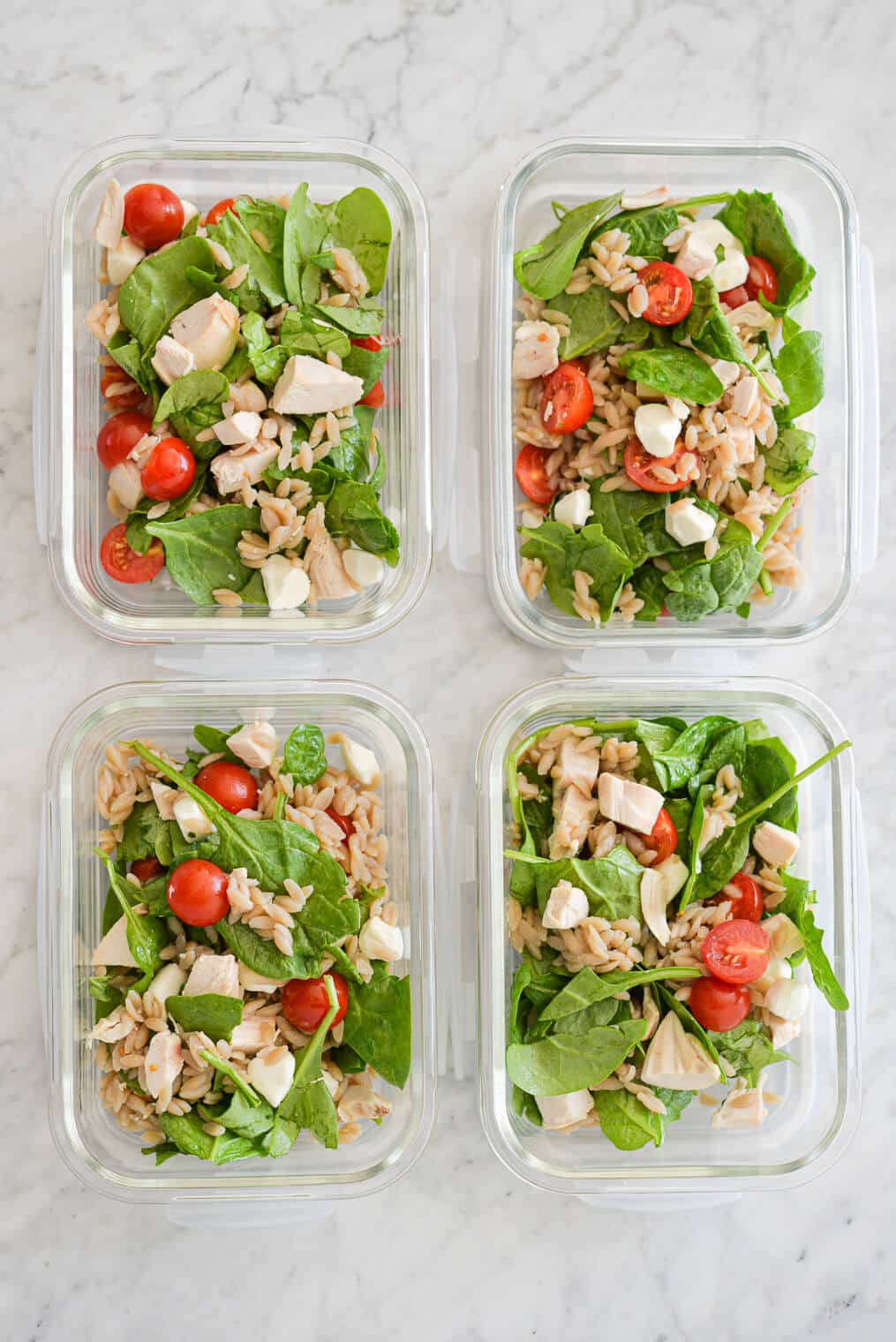 Orzo Salad Variations
Though this salad is divine as written, feel free to switch things up and make it your own! Here are a few yummy ideas that'll work great:
Stir a dollop of basil pesto (this Roasted Garlic Pesto is delish!) into the orzo before combining the orzo with the other salad ingredients.

Swap the fresh mozzarella for shaved parmesan cheese or even goat cheese if you'd prefer!

Add a chopped red bell pepper to the mix for an extra dose of veggies – roasted red peppers work great here too!

Add 1/2 of a thinly sliced red onion for a little bit of bite.

If you don't want to serve this as a main dish, leave out the chicken for a perfect side dish!

Throw some toasted pine nuts into your salad for some added crunch.

Use a premade balsamic dressing or balsamic vinaigrette if you're out of balsamic vinegar!
How to Store Make-Ahead Orzo Salad
This orzo salad saves great in airtight containers in the fridge – these glass meal prep containers are our FAVORITE and always keep things fresh. You can choose to store the entire salad in one large container and then portion when you're ready to enjoy (this is a great idea if you're at home during the day!) or store the salad preportioned in individually portioned containers (this is a great option if you are on-the-go during the day!). If stored in airtight containers, your salad will last for up to 5 days in the fridge.
More Fresh Lunch Recipes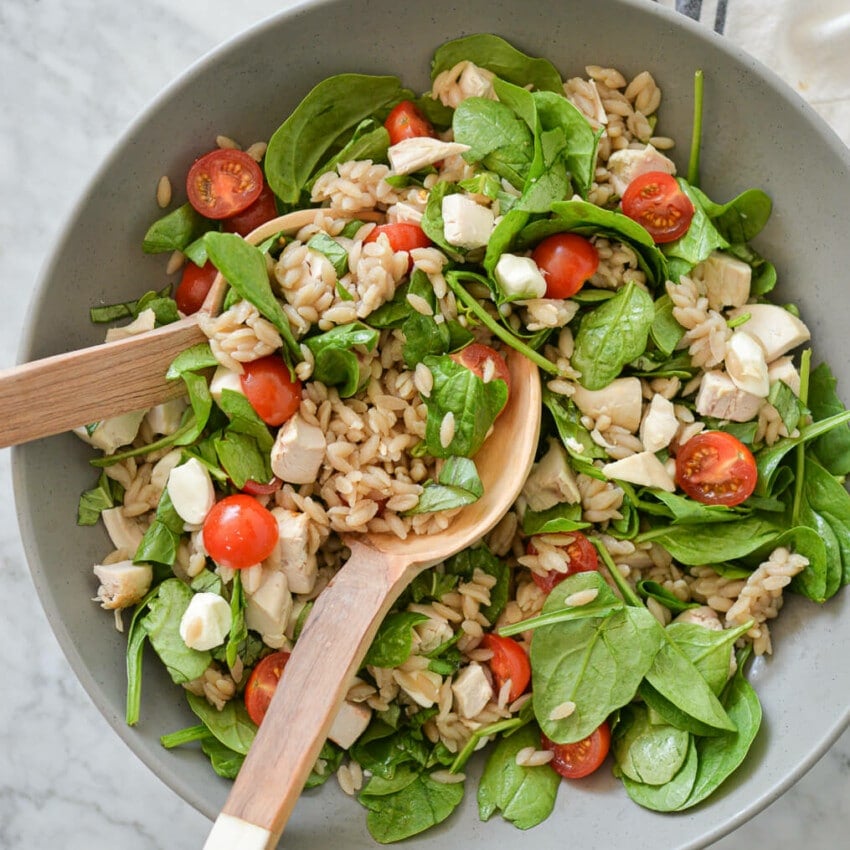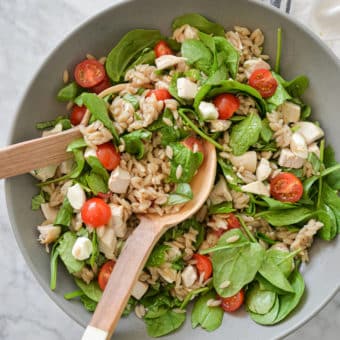 This Caprese orzo salad is easy to make and perfect for a no-cook lunch option!
Ingredients
For the salad:
1 1/2

cups

dried orzo*

we used this one to make it gluten-free

1

tablespoon

extra-virgin olive oil

4

cups

diced or shredded chicken

from one rotisserie chicken or about 2 pounds of cooked chicken breast

8

cups

baby spinach

2

cups

cherry tomatoes

sliced in half (about 1 pint)

1

cup

pearl mozzarella

1/2

cup

fresh basil

thinly sliced

1/2

teaspoon

sea salt

1/4

teaspoon

black pepper
For the balsamic vinaigrette:
Instructions
Cook the orzo according to package instructions, then drain, toss with one tablespoon olive oil, and let cool.

Add the orzo, chicken, spinach, cherry tomatoes, mozzarella, and basil to a large bowl and toss to combine.

Make the balsamic vinaigrette: add all of the vinaigrette ingredients to a mason jar, then secure the lid and shake the bottle vigorously for about 10 seconds, until combined.

If eating immediately, pour the vinaigrette over the salad and toss to combine. If prepping ahead for the week, leave the dressing in a separate container and pour over the salad when ready to eat.
Recipe Notes
This salad will keep for up to 5 days in the refrigerator.
You may also use 4 cups cooked quinoa in place of the orzo, or 4 cups of cauliflower rice for a low-carb option!
Nutrition
Calories:
563
kcal
|
Carbohydrates:
42
g
|
Protein:
46
g
|
Fat:
23
g
|
Saturated Fat:
5
g
|
Polyunsaturated Fat:
3
g
|
Monounsaturated Fat:
11
g
|
Cholesterol:
102
mg
|
Sodium:
518
mg
|
Potassium:
810
mg
|
Fiber:
3
g
|
Sugar:
7
g
|
Vitamin A:
4945
IU
|
Vitamin C:
28
mg
|
Calcium:
161
mg
|
Iron:
4
mg