Lemon Poppy Seed Pound Cake (GF)
jump to recipe
A dense, luscious treat, this gluten-free lemon poppy seed pound cake can be pulled together in no time! Make it for a weekend brunch, potluck, or for a slice of something delicious to enjoy next to your morning coffee.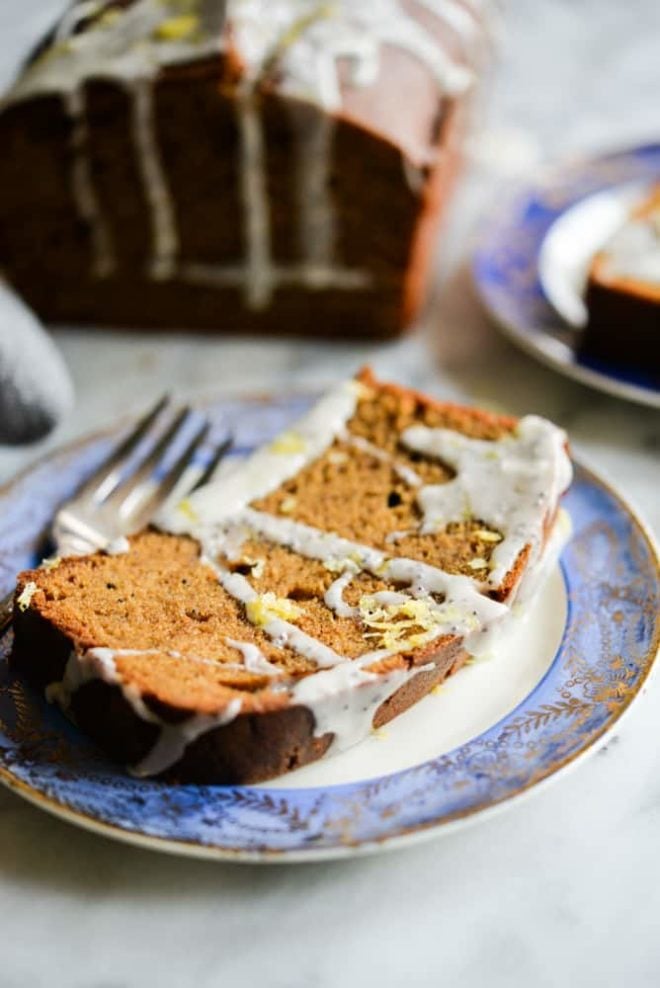 Breakfast cakes are in a world of their own, aren't they? While I may try to only have dessert once a week, I can TOTALLY enjoy a breakfast cake (of some sort) each morning without blinking an eye. Maybe it's because breakfast cakes are really easy to portion. Maybe it's because they go so well with a cup of coffee. Or maybe it's because I know I'm going to need the fuel for a slam-packed day, but goodness, I can get behind a breakfast cake.
Some of my favorite breakfast cakes include: blueberry scones, hazelnut coffee cake, cranberry orange scones, and this oh-so-awesome pumpkin spiced coffee bundt cake with a cold brew icing.
Today's breakfast cake is also an anytime cake. It's a Mother's Day cake, a "gosh, I'm awesome and I deserve this" cake, and a "I can't refuse anything with lemon" cake. Though we considered developing a recipe that mixed gluten-free flours to form a base that we liked, I scrapped the idea. Truth be told, I'm now at a point in my own kitchen where I really just want to use a gluten-free flour mix. There are SO MANY good ones out there now! I'm now much less worried about measuring out the exact amount of arrowroot (to the teaspoon, sometimes) to get the best texture. Instead, I just snag a gluten-free flour and dive headfirst into some no-fuss baking.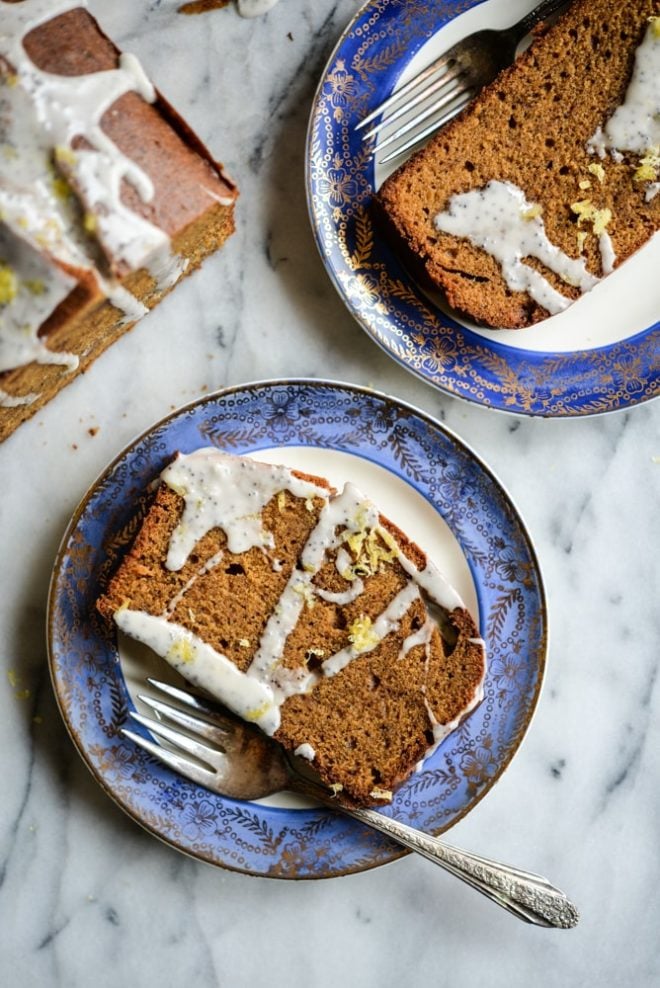 This lemon poppy seed pound cake is made in true pound cake fashion. It's dense, moist, and delicious. I didn't actually know this fun fact until we started developing this recipe, but DID YOU KNOW that cream cheese is the surprising star of the pound cake show? It is! The cream cheese is what helps add weight, body, and that luscious texture we've come to love in a pound cake.
For this lemon poppy seed pound cake, you can use real-deal cream cheese (as in, full dairy) OR you can substitute with a dairy-free alternative like Kite Hill. Both work great! Note that I we used coconut sugar to sweeten this cake. I like coconut sugar because it carries a smaller glycemic load and adds a lovely brown sugar-like flavor to a baked good. Note that the reason this cake has a lovely brown color is because of the coconut sugar!
Dry ingredients are mixed with dry, wet mixed with wet, and the two are combined to form one lovely loaf. The icing is a traditional one made with lemon juice, powdered sugar (omit, if you prefer), and extra poppy seeds.
Can this be made egg-free?
It can! In fact, we tested a TON of different egg substitutes in several different baked goods, took all kinds of notes, and then laid it all out for you in this super helpful guide to egg-free baking. For cakes and cupcakes, we recommend subbing in plain Greek yogurt (¼ cup of yogurt per egg) – Greek yogurt made for fluffy and slightly crisp on the outside cakes that had a really delicious flavor and held together really well.
Slice this beauty up, serve it with coffee (or a mimosa? or sparkling water?), and enjoy on the most precious little plates that your Grandmother (or "Nana") left you.
Print
Lemon Poppy Seed Pound Cake
Author:
Prep Time:

15 minutes

Cook Time:

50 minutes

Total Time:

1 hour 5 minutes

Yield:

8

1

x
Scale
Ingredients
For the Pound Cake:
For the Glaze:
Instructions
Preheat the oven to 350 F.
In a medium sized bowl, whisk together the flour, baking powder, lemon zest, poppy seeds, and sea salt.
Add the butter, cream cheese, and vanilla extract to a large bowl. Beat with an electric mixer for 1-2 minutes until fully combined and fluffy.
Add the coconut sugar to the bowl and mix for an additional minute, then beat in the eggs.
Add the flour mixture to the butter mixture 1/2 cup at a time, mixing thoroughly.
Line a loaf pan with parchment paper, or grease with butter, then fill with the batter. Bake for 50-55 minutes, until the top is browned and a toothpick inserted into the middle of the loaf comes out clean.
Let the bread cool for at least one hour, then make the glaze. In a small bowl, combine the powdered sugar, poppy seeds, and lemon juice. Pour the glaze over the bread, sprinkle with lemon zest, slice, and serve!