Every item on this page was chosen by The Fed & Fit team. The site may earn a commission on some products (read more here).
These pan-fried sweet plantains make for the most delicious side dish or starchy addition to your favorite protein bowl!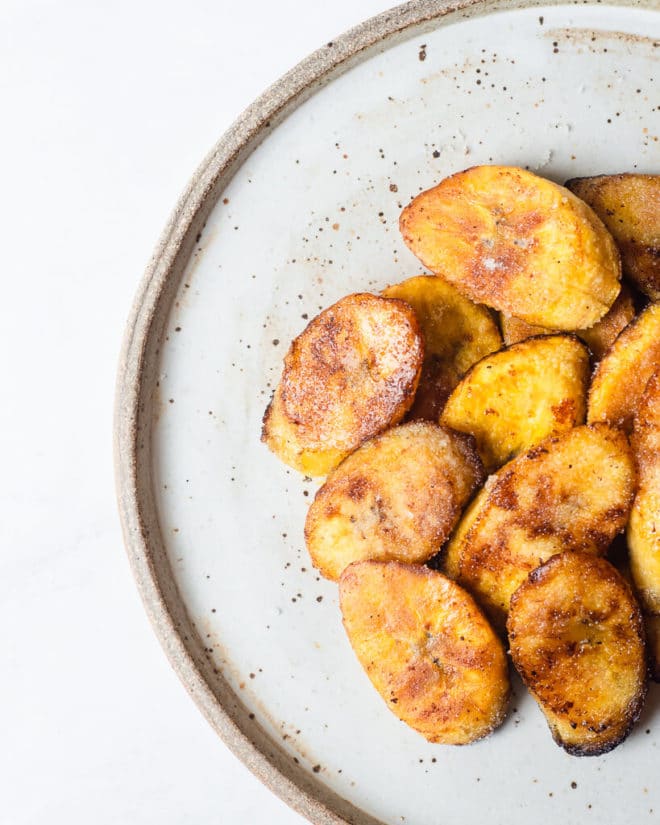 GOODNESS, I love plantains! To start, they're perfectly crispy + caramelized on the outside and soft on the inside, and they have a sweet, satisfying taste that makes them seriously crave-able and a really nice complement to a breakfast plate or a crispy carnitas bowl. Basically, if pan-fried plantains are on the menu, I'm down!
What are plantains?
Plantains are commonly used in Latin American cooking and look remarkably close to a banana, but it doesn't taste like them at all! Plantains are much starchier than bananas and have much thicker skin than bananas do. While you can eat a banana raw, plantains need to be cooked prior to eating and are typically served alongside a savory meal (basically, if you can eat it with a potato, you can eat it with a plantain). Plantains can be enjoyed at each of their three stages of ripeness – green, yellow, and brown. As a plantain ripens, the starch converts to sugar, leading to a sweeter, less-firm plantain. At the green stage, plantains can be made into chips, fried into tostones, and even boiled and mashed! As they ripen, they become better suited for frying, and can even be used in desserts.
More of our Favorite
Fruit Recipes
How to Cook Plantains (Pan Frying)
Though pan-frying can sometimes be intimidating, these plantains are anything but! Here's what you'll need to do to get the perfect pan-fried plantains: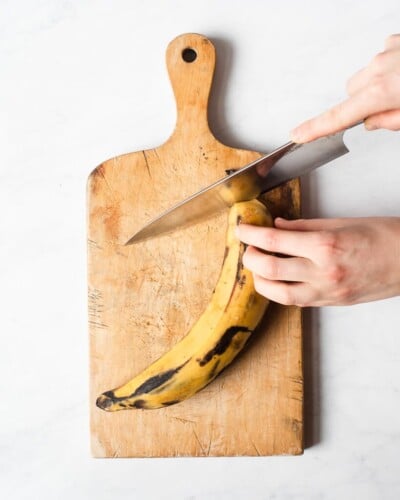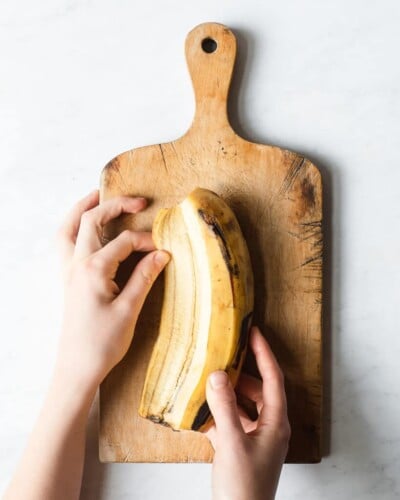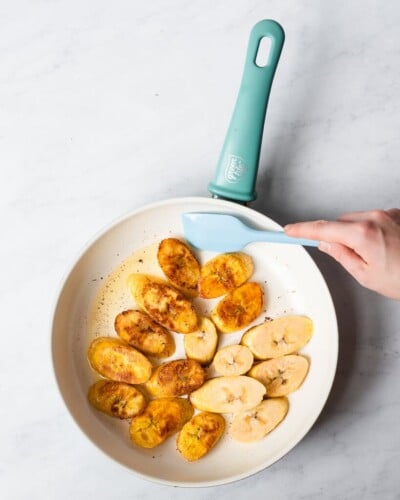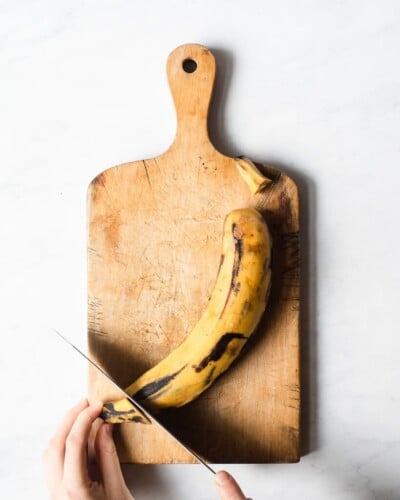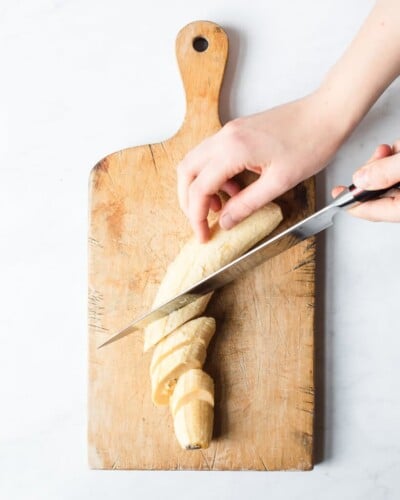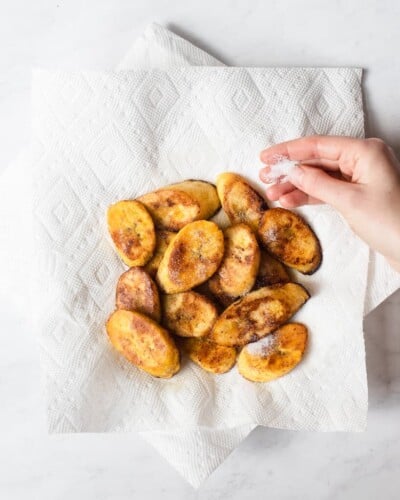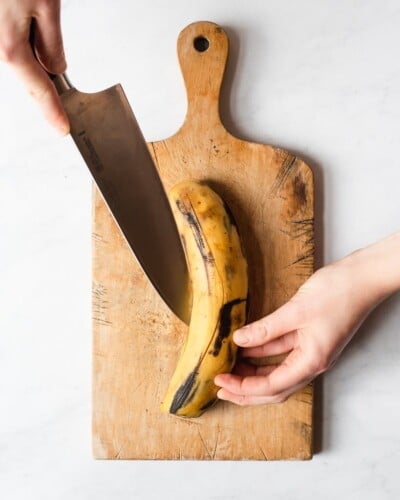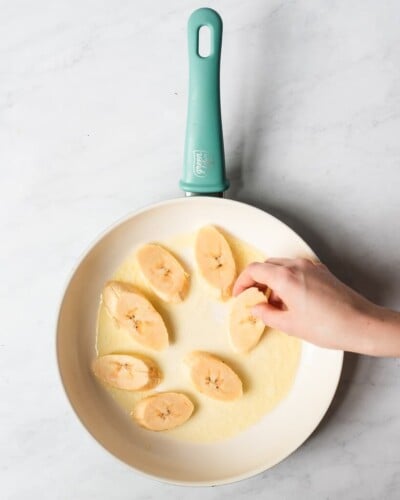 Peel + slice the plantains. Peel your plantains (reference peeling directions above) and slice them crosswise into

¼-inch-thick discs.

Heat the oil. Heat oil or butter (enough to skim-coat the bottom of your pan – about a tablespoon) in a large skillet over medium heat for about 2 minutes.
Add the plantains. Add the plantains to the pan in a single layer and cook for 4 minutes. Note: if your plantains don't all fit in the pan at once (as is often the case here), you'll need to work in batches. Be patient here – you want to make sure your plantains reach a perfect golden brown.
Flip the plantains. Using tongs or a spatula, flip the plantains and continue cooking for 4 more minutes, until both sides are golden brown.
Transfer the plantains + season. Transfer the golden brown plantains to a paper towel-lined plate and sprinkle the tops with salt.
Serve warm + enjoy!
What to Serve with Pan Fried Sweet Plantains
I love eating pan-fried sweet plantains with breakfast (think: fried eggs, perfectly crispy bacon, pan-fried plantains, and a spoonful of lemony kale…YUM!) If you'd rather go egg-free, this DIY breakfast plate and this bison breakfast bowl are also super yummy options!
Pan-fried plantains are also a delicious starchy side dish for dinner! Crispy carnitas, sweet plantains, roasted brussels sprouts, and a drizzle of homemade ranch is a ridiculously tasty combo! Truly, plantains will go great with any meal that you'd typically enjoy roasted cubed potatoes with!
How to Store
If you somehow resisted the urge to eat all of the plantains (not an easy task!) and you have leftovers, store the cooled plantains in an airtight container (this glass set is a great option) in the fridge. They'll save for up to 5 days! To reheat, heat a tablespoon of oil in a pan over medium-high heat, and once hot, add the plantains and cook for 1-2 minutes per side, until warmed through.
We hope you enjoy these crispy, caramelized pan-fried sweet plantains as a fun twist on your typical starchy side!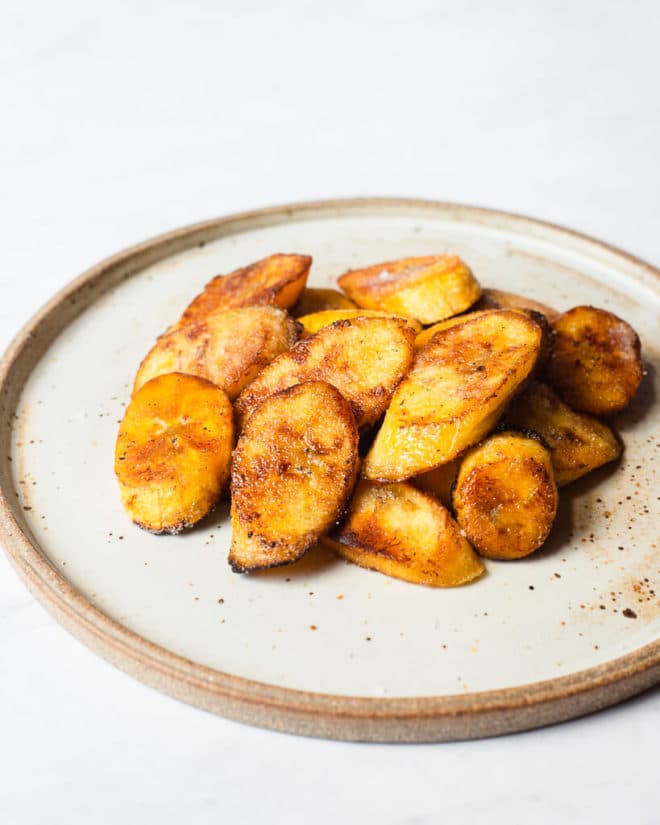 Fried Plantains Frequently Asked Questions
Q
Are plantains good for you?
A
I first came around to plantains when I was on a grain-free, Paleo-style diet. I quickly got tired of relying on potatoes and sweet potatoes for my carbohydrate intake, so I decided to experiment with different starches, and plantains quickly became my favorite! But, are they healthy? Of course, whether or not something is healthy for you depends on your overall health and tolerances, but plantains are a great healthy option.
Plantains are a great source of healthy carbohydrates and fiber, and green plantains contain resistant starch, which can help stabilize blood sugar and feeds the good bacteria naturally present in your gut! Plantains are also rich in potassium, magnesium, and Vitamins A, B6, and C.
Q
How ripe should plantains be for frying?
A
Good question! If you've never picked out a plantain before, the range of plantain color and ripeness at the grocery store can be pretty intimidating. Here's the low down: green plantains are the least ripe and the starchiest of the bunch (these are the most the potato-like), yellow plantains are sweeter, and brown spotted or fully brown plantains are the sweetest option (though still nothing like a banana).
When it comes to pan-frying, we love the sweeter variety of plantains because they get a nice crispy caramelization on the outside!
Q
What is the difference between this Sweet Fried Plantain recipe and Tostones?
A
The first difference between plain fried plantains and tostones is that fried plantains utilize sweet plantains, while tostones use green plantains. The other difference is the method! For regular fried plantains, you'll simply fry them on both sides and eat as-is. For a tostone, you'll fry a sliced plantain until browned, then smash it and fry it again, which creates a thinner, more crisp result.
Q
How to Buy Sweet Plantains
A
Sweet plantains range from yellow to brown (almost black) in color, getting progressively softer as they darken. For this reason, we don't want totally brown plantains (they'll look more like the bananas you use for banana bread) – they'll be too soft, making it difficult to slice and fry. Opt for yellow (or yellow with brown spots) plantains – perfectly sweet, and firm enough to easily prepare!
A
Thanks to that thick skin, plantains don't peel easily like bananas do! In order to peel a plantain, you'll need to score the plantain lengthwise four times, along the seams. Using a knife, make a cut from the top of the plantain to the bottom, just deep enough to penetrate the peel, not cut into the plantain), then slide your finger under the peel to break it off. You can see a video demonstration for how to do this in our plantain chip recipe.
Ingredients
1

tablespoon

salted butter,

coconut oil, or ghee

2

ripe plantains

– peeled and sliced crosswise into ¼-inch-thick discs

½

teaspoon

fine sea salt
Instructions
Add the oil or butter to a large skillet over medium heat. Let the oil heat for about 2 minutes.

When the butter is bubbling or the oil is shimmering, add the plantains. If the plantains don't all fit in the pan at once without crowding, work in batches. Cook the plantains on one side for 4 minutes, then flip and cook the other side for an additional 4 minutes, until golden brown.

Transfer the cooked plantains to a paper towel-lined plate and immediately sprinkle the tops with the salt. Enjoy warm.
Nutrition Information
Nutrition Facts
Pan Fried Sweet Plantains (Platanos Maduros)
Amount per Serving
% Daily Value*
* Percent Daily Values are based on a 2000 calorie diet.