Each of these 30-minute dinner recipes is bursting with flavor, super quick to whip up, and loaded with protein and probiotics!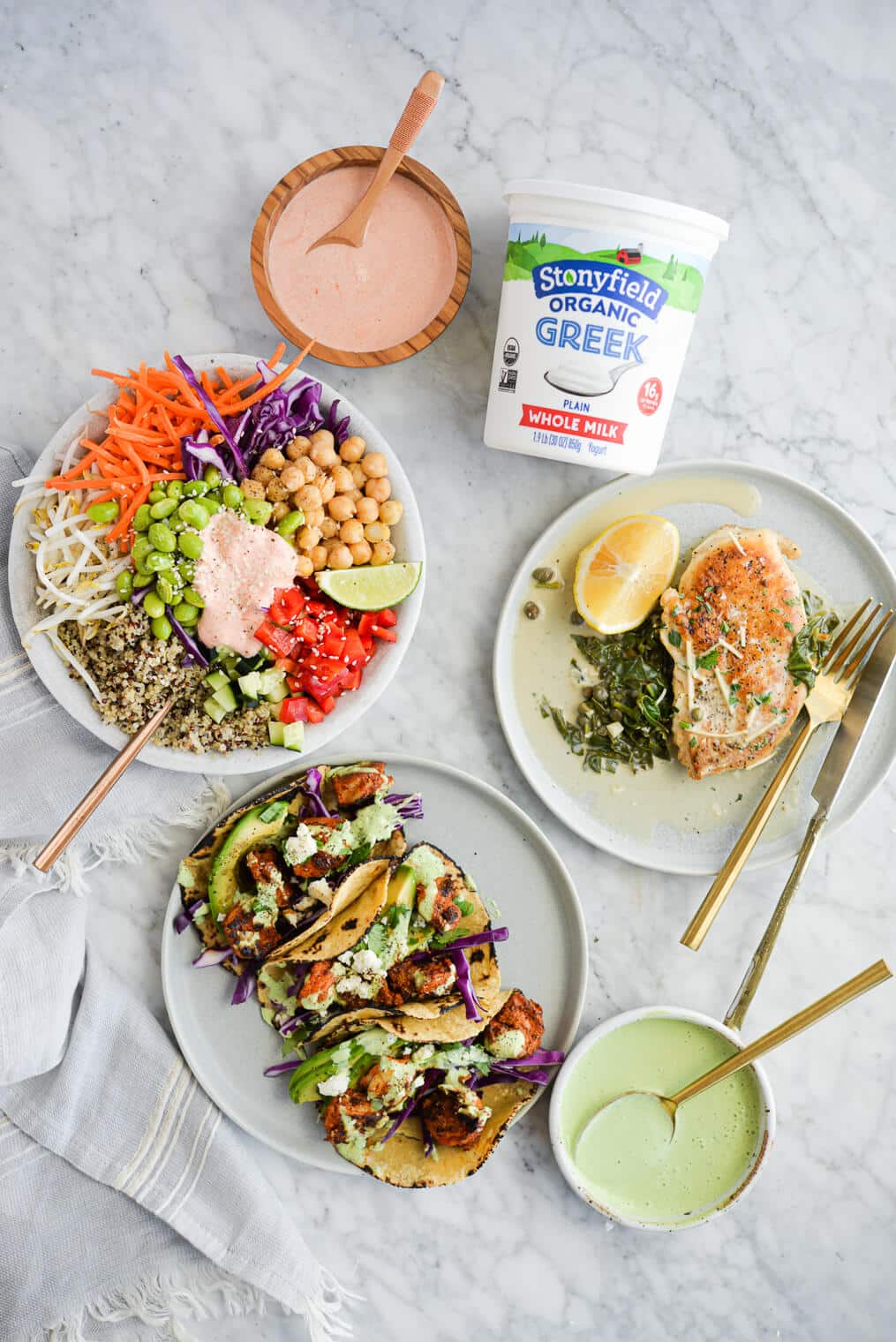 We've partnered with our friends at Stonyfield to bring you another set of delicious, protein-packed recipes that'll leave you wondering why you don't add yogurt to every single thing that you eat! Earlier this year, we brought you a luscious, no-bake Strawberry Yogurt Pie, then a yogurt dog treats, a refreshing Yogurt Fruit Salad, and tender, juicy Lemon Pepper Yogurt Grilled Chicken. Then, last month, we let thick, creamy Greek yogurt shine in its natural element with 5 loaded Greek yogurt bowls that are packed with good-for-you ingredients! 
This time, we're bringing you 3 quick, healthy, flavorful dinners that each highlight the goodness that is Stonyfield's plain Greek yogurt. Best part? One quart of Stonyfield's Greek yogurt will do the trick for all three recipes, so if you're making one, you may as well add all three to your menu for the week (you won't regret it…promise)!
Why use Greek yogurt in savory recipes?
Though yogurt is most often thought of as a sweet breakfast or snack food, it can (and should!) be used in savory recipes too! Plain Greek yogurt makes for an excellent substitute for sour cream or mayo because it's thick and tangy. Consuming Greek yogurt often also ensures that you are taking in probiotics (beneficial bacteria) and the host of benefits that come with them. Adding a dollop of yogurt on top of your favorite Mexican-inspired dish or replacing mayo with Greek yogurt in your favorite sauce also gives your meal a boost of protein!
What's the best type of Greek yogurt?
We LOVE Stonyfield's whole milk organic Greek yogurt because it is super thick, creamy, and honestly, just the best Greek yogurt we've ever tasted. Since we're talking savory recipes here, we'll, of course, want to stick to plain yogurt! When it comes to yogurt, we rest pretty firmly in the full-fat camp – the rich, creamy texture and well-balanced nutrient profile just can't be beat!
If you don't enjoy the tangy taste of Greek yogurt, you can totally use regular full-fat yogurt, just know that regular yogurt is much runnier than Greek yogurt, so you may not get the picture-perfect dollop that you're going for, but it'll still be delicious!
What is the difference between conventional and organic dairy?
This is SUCH an important question! We, at Fed and Fit, believe that organic yogurt is best for several reasons. Organic milk + milk products are actually more nutritious than their conventional counterparts. Crazy, right? Here's why: organic milk comes from cows that are organically raised (spending their days grazing on grass as they roam the pasture…just as cows should!), and because they're living and roaming as nature intended, the milk they produce is actually higher in all of the good stuff (think: Omega-3 fatty acids, conjugated linoleic acid (CLA), and healthy fats. Fascinating, isn't it?!
Choosing organic dairy over conventional is an incredible way to use YOUR voice as a consumer! The more organic dairy purchased, the louder our voices! Read more about why organic is best HERE!
3 30-minute Dinner Recipes featuring Greek Yogurt
Now that you've got the skinny on organic yogurt and why it's a MUST in all recipes (yes, even the savory ones!), let's chat QUICK, EASY DINNERS! These three 30-minute dinners are the busy weeknight cook's dream – they're incredibly easy, done (start to finish) in 30 minutes, healthy, and full of flavor. Next time you're at the grocery store, grab a quart of Stonyfield's Greek yogurt, and use it to can whip up all three of these dinners throughout the week!
Thai Buddha Bowls
My personal favorite (give me ALL OF THE THAI CURRY!), these Thai Buddha Bowls are loaded with quinoa, colorful, crunchy veggies, protein-packed chickpeas, and topped with a bold, Greek yogurt red curry sauce! Though most buddha bowls are meat-free, there are NO rules when it comes to your dinner, so throw shredded chicken or sauteed shrimp into the mix if you're looking for some extra protein, and know that you can sub the quinoa for cauliflower rice for a low-carb option!
Recipe: Thai Buddha Bowls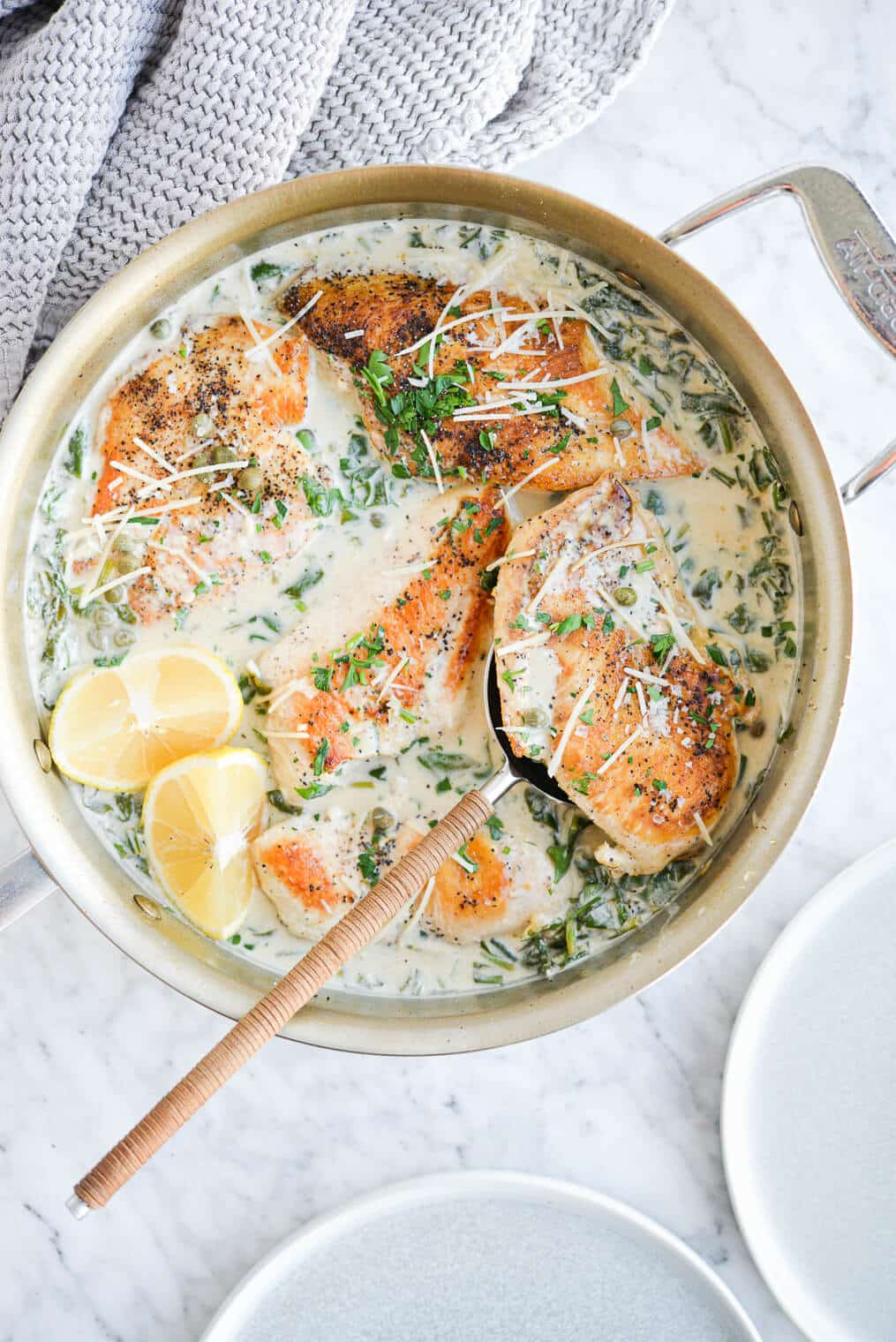 Chicken Piccata Skillet
This one-skillet meal is incredible, y'all. It has all of the lemon-y, garlic-y, brine-y flavors that chicken piccata is known for, but the addition of Stonyfield's Greek yogurt gives this dish a delightful creaminess that really takes it over the edge!
Recipe: Chicken Piccata Skillet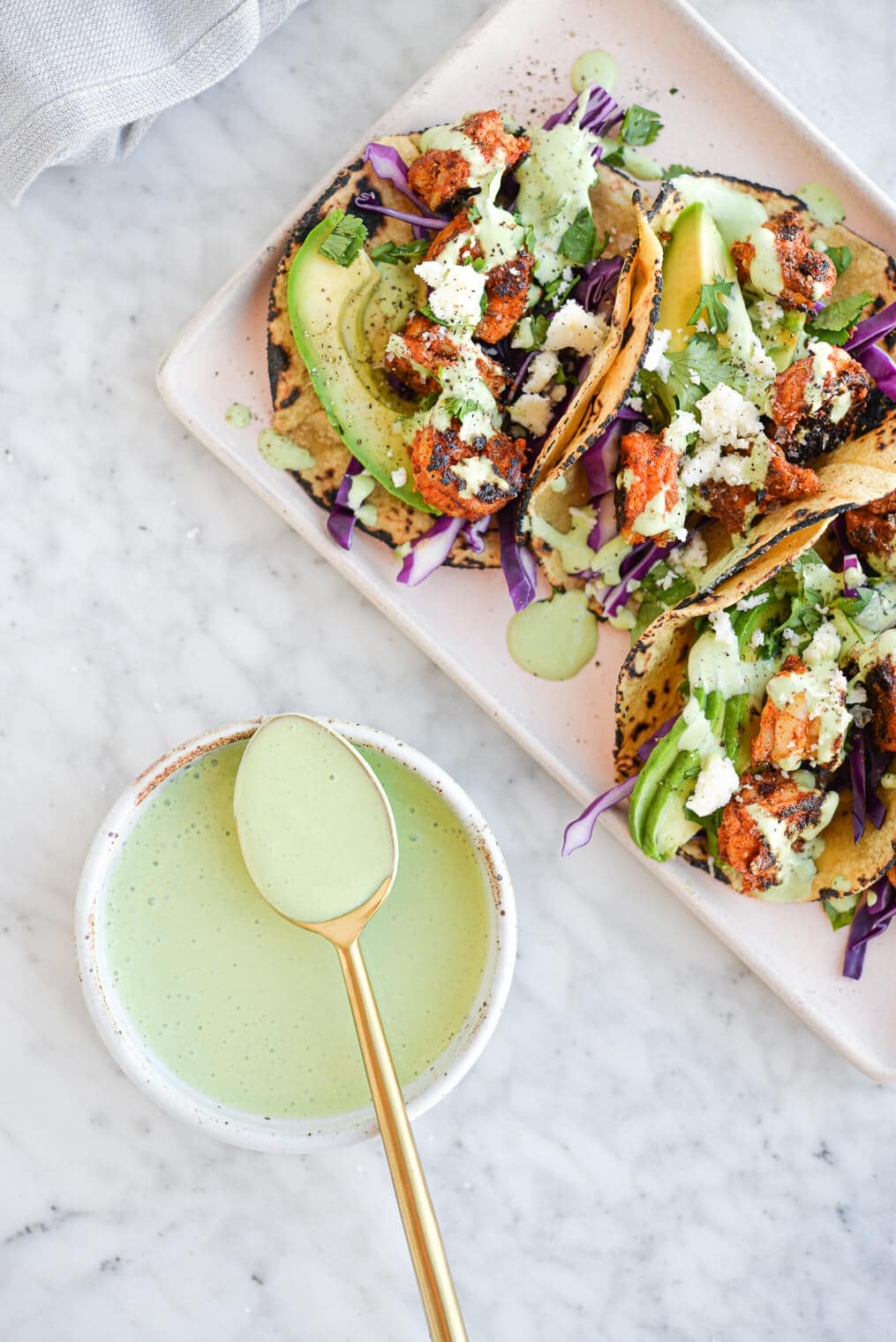 Shrimp Tacos
These shrimp tacos are SO good. Jumbo shrimp is seasoned with an array of Mexican-inspired spices (think: chili powder, cumin, garlic powder, and oregano) and then pan-seared to perfection before it's stuffed into tortillas with avocado, cabbage, Cotija cheese (if you wish), and then drizzled with a DIVINE Greek yogurt Cilantro Citrus Sauce…YUM!
Recipe: Easy Shrimp Tacos
More Savory Ways to Use Greek Yogurt
The sky's the limit when it comes to using Greek yogurt in savory recipes, but here are a few of our very favorites!
Caprese Greek Yogurt Bowl
This Caprese Greek Yogurt bowl is loaded with fresh tomatoes, crunchy cucumbers, fresh, aromatic basil, yogurt (of course), and then drizzled with balsamic for a deliciously different take on a yogurt breakfast bowl!
Swap Greek Yogurt for Sour Cream or Mayo
As previously mentioned, because Greek yogurt is thick and tangy, it makes for a fabulous sour cream or mayo swap! These are a few of our favorite places to swap in Greek yogurt:
Dollop Greek yogurt on top of any dish that you'd typically enjoy sour cream on:

Sub in an equal amount of Greek yogurt for mayo or sour cream in a sauce:
Use it as a Marinade
Plain regular or Greek yogurt makes for a perfect marinade for any protein, because it breaks down and tenderizes meat in a way that many other marinades just don't. The lactic acid found in yogurt actually reacts with the protein to make meat fall-apart tender! Find our Lemon Pepper Greek Yogurt Marinade.
Make Tzatziki
Tzatziki is the hallmark sauce of Greek foods, and for good reason. It is tangy and *so* darn delicious! Essentially just a mixture of Greek yogurt, grated cucumber, garlic, and sea salt, tzatziki is quick to whip up and truly livens up any meal. Top Greek meatballs, Greek beef kabobs, and Greek Chicken Salad with a heaping dollop of homemade tzatziki, or use it as a dip for crunchy cucumbers + pita chips!
Make a Simple Sauce
Get creative in the kitchen, and make your very own sauce! Start Greek yogurt, stir in your favorite spices + seasonings, and thin it all out (if needed) with a little bit of lime or lemon juice or a splash of water. 
We hope you feel inspired to pick up a quart of yogurt to use in your next delicious savory meal!