These slow cooker baby back ribs take a grand total of 5 minutes of prep time before they cook away all day in the slow cooker with Paleo-friendly BBQ sauce, resulting in fall-off-the bone amazingly good ribs.
Slow Cooker Ribs
If there is one food that inspires me to throw "what's in the sauce?" caution, "but I'm wearing white" fear, and "I'm getting full" notions to the wind, it's baby back ribs. I mostly avoid BBQ baby back ribs from restaurants because the meat sourcing is usually questionable, the sauce is FULL of mysterious "not food" foods, and I have limited ordering willpower. Here's how it usually goes on a typical night out with my honey, Austin: I totally and completely convince myself that I will order the grilled chicken salad, and when the waiter comes, I say with *so* much confidence, "I want the baby back ribs." I DON'T KNOW WHAT COMES OVER ME!
They're always delicious and I'm in absolute heaven right up to the point that I throw my last licked-clean bone down on the plate. Then, I feel miserable. Too much food. Too much brown sugar, starches, unhealthy fats, and other crazy ingredients. I waddle out of the restaurant, wedge myself in the passenger seat of Austin's car, and whine all the way home about how my tummy hurts.
Desperate for a way to have my cake (amazing ribs) and eat it too (BBQ baby back ribs that don't make me feel terrible), I got to work on a homemade Paleo-friendly Crock Pot BBQ ribs recipe (because slow cooking is the ultimate no-fuss cooking solution!).
Ingredients for Slow Cooker Baby Back Ribs
2 ingredients (because salt + pepper don't count!)…2 INGREDIENTS! That's it. Result? The actual BEST baby back ribs EVER. Here's what you need:
Pork Baby Back Ribs – for this recipe, you'll *definitely* need a full rack of baby back ribs (I'm thinking you knew that though, right?!). We LOVE grabbing our pork ribs from US Wellness Meats

. They are the best of the best.

BBQ Sauce – use your favorite barbecue sauce for these ribs (good BBQ sauce is important here). I'm partial to my homemade sauce recipe

because it's made with quality ingredients and can be customized 4 different ways – sweet, tangy, spicy, and regular. Regardless of the barbecue sauce you choose, you'll need 2 cups.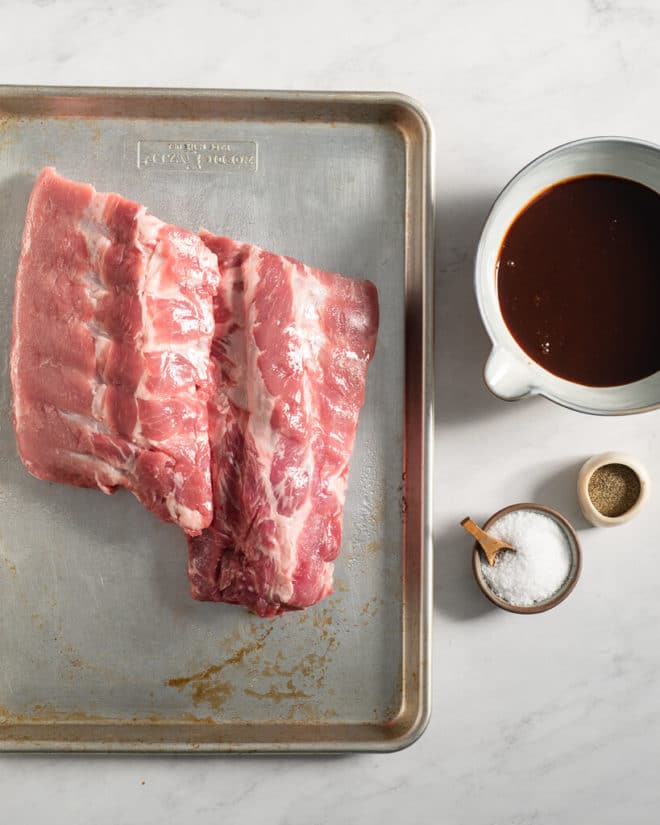 How To Cook Baby Back Ribs In Crock Pot
These Crockpot ribs are LEGIT. Legit, I tell you! They're sourced from the very, very best (I like ButcherBox or US Wellness Meats), covered in my customizable Paleo BBQ Sauce, and brought together in holy barbecue ribs harmony in everyone's favorite "no experience required" kitchen tool, the slow-cooker. Best of all? They take a grand total of 5 minutes to prep. Then you just walk away, go have yourself an awesome day, and come home to your very own indulgent (but still good for your tummy) dinner. Let's get cookin'!
Prep Your Ribs – place your rack of ribs on a plate, and dust the front and back of the ribs with a generous sprinkle of kosher salt and black pepper. That's it…these babies are prepped!
Add the Ribs to the Slow Cooker – place ribs in your favorite slow-cooker

with the meaty side up. Got 'em both in there? Excellent.

Add the Sauce – it's BBQ sauce time! Pour barbecue sauce over the ribs (1 batch of my homemade sauce, or 2 cups of your BBQ sauce of choice).
Cook – put the lid on and let them cook for about 8 lovely, your-house-will-smell-amazing, hours.
Crisp – this step is totally optional, but if you want the sauce to crisp up further, you can put your finished ribs on a baking sheet and zap in a 450°F oven for about 3-5 minutes. They'll be totally delicious if you decide to eat straight from the slow-cooker, too.
Cool, Chop, and Serve – let them cool a bit, chop em up, and serve!
What is the difference between baby back and spare ribs?
The biggest difference between baby back ribs and spare ribs is the area of the pig that they come from. Spare ribs come from the belly area (and tend to be longer in size), while baby back ribs come from the back area (on either size of the spine) and tend to be shorter in size.
Should you remove the membrane from ribs?
While it isn't completely necessary, removing the membrane from your ribs first will result in a more tender finished product. To do this, simply slide a knife under the membrane (along the bone) to pry the membrane from the bone, and then, using your hands, peel the membrane off completely.
Can you slow cook ribs too long?
It's awfully hard to overcook ribs (or really anything) in the slow cooker, so I wouldn't worry too much about that. Typically, the longer something cooks in the slow cooker, the more tender and fall-apart it'll be!
Why didn't my ribs fall off the bone?
Slow cooked ribs should *definitely* fall off the bone, so if yours didn't, you may not have had them in the slow cooker for long enough. Remember, you'll want to cook these ribs on low for 8 hours or on high for 5-6 hours. If, when you're pulling the ribs from the slow cooker, you notice that they don't seem tender enough, let them slow cook for an extra 30 minutes or so!
What to Serve with Crockpot Ribs
My first thought? Fries. A main dish of bone tender ribs with a side of fries is a match made in foodie heaven. If you've got an air fryer, these air fryer french fries are your best bet. If you don't, these oven-baked potato wedges are absolutely delicious. If you want to go the potato route but prefer something other than fries, these Loaded Smashed Potatoes are a delicious pick. For a fresh green addition to your meal, try this simple arugula salad, and for a heartier green, try this Broccoli Crunch Salad! Truly, these are the best slow cooker ribs, so your meal will be absolutely delicious no matter which sides you choose!
More Easy BBQ Recipes
We hope you love this easy slow cooker ribs recipe for your next game day party, family gathering, or Monday night!
Slow Cooker BBQ Baby Back Ribs Recipe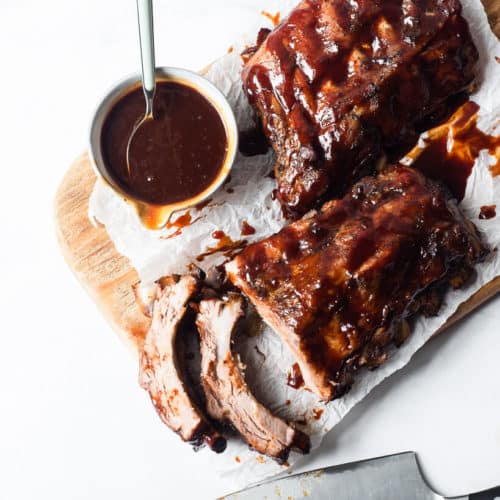 These slow cooker baby back ribs take a grand total of 5 minutes of prep time before they cook away all day in the slow cooker with Paleo-friendly BBQ sauce, resulting in fall-off-the bone amazingly good ribs.
Ingredients
1

package

pork baby back ribs

1/2

teaspoon

salt

1/2

teaspoon

pepper

2

cups

BBQ Sauce
Instructions
Pat ribs dry with paper towels.

Rub with salt and pepper.

Lay meat-side up in slow cooker.

Pour half of the BBQ sauce over the ribs, cover, and cook on low for 8 hours or high for 5-6 hours, until they fall apart easily.

Before serving and if you want the ribs more caramelized, turn oven to 450°F and then bake the ribs for no more than 5 minutes. Watch carefully so they don't burn.

Cut and serve with extra BBQ sauce. Enjoy!
Recipe Notes
Instant Pot Version:
Set Instant Pot to 'saute' mode and add ghee.
Season short ribs with salt and pepper. Once ghee is melted, add short ribs to the Instant pot to brown, 4-5 minutes per side. You will need to work in 2-3 batches to make sure you don't overcrowd the pan.
Once the short ribs are browned, add the BBQ sauce over.
Place the lid on the Instant Pot and set it to "manual" and adjust to 45 minutes. Let the pressure release for about 15-20 minutes, then open the pot.
Follow Steps 5 and on to serve!
Nutrition
Calories:
1128
kcal
|
Carbohydrates:
117
g
|
Protein:
56
g
|
Fat:
48
g
|
Saturated Fat:
17
g
|
Polyunsaturated Fat:
8
g
|
Monounsaturated Fat:
20
g
|
Trans Fat:
0.4
g
|
Cholesterol:
196
mg
|
Sodium:
3774
mg
|
Potassium:
1371
mg
|
Fiber:
3
g
|
Sugar:
95
g
|
Vitamin A:
706
IU
|
Vitamin C:
2
mg
|
Calcium:
185
mg
|
Iron:
4
mg