Every item on this page was chosen by The Fed & Fit team. The site may earn a commission on some products (read more here).
The combination of avocado, Greek yogurt (or mayo), jalapeno, and lime juice makes for a zesty, Mexican-inspired dressing that is tempting to eat by the spoonful!
What makes this Avocado Dressing so yummy?
This creamy avocado dressing first landed a spot on FedandFit.com by way of our Easy Mexican Coleslaw recipe (a must-try, if you haven't already had it, by the way), but Amber and Cassy came to the realization that this dressing (and many of our others) is good enough to stand all on its own, and along with that sentiment, can do so much more than just dress coleslaw! So alas, we give to you the creamy avocado dressing of your dreams!
Ingredients for Creamy Avocado Dressing
Here's what you'll need for this delicious, creamy dressing: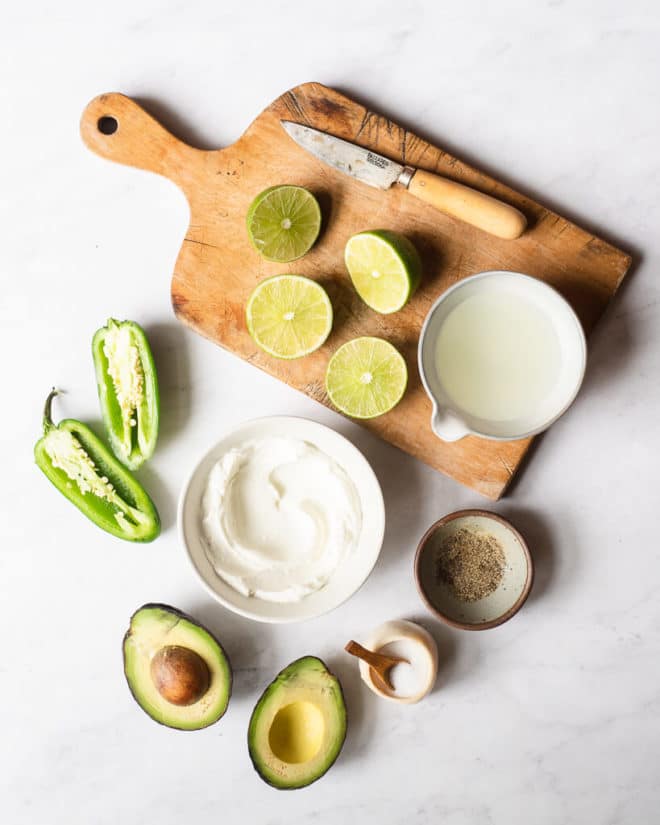 Greek Yogurt – to start, you'll want to grab a ½ cup of Greek yogurt. If you're looking to make this dairy-free, feel free to use avocado oil mayo instead.
Avocado – this wouldn't be a creamy *avocado* dressing without avocado, would it?! You'll need 1 small avocado (or ½ of a large avocado) here.
Jalapeno – the ingredient that really puts a pep in this dressing's step: ½ of a fresh jalapeno. Feel free to remove the seeds for a less spicy option!
Lime Juice – to add some brightness + a punch of acidity to the dressing, you'll need the juice from 3 limes (about 6 tablespoons-worth of lime juice).
Sea Salt + Black Pepper – ½ a teaspoon of sea salt and cracked black pepper to taste are the only seasonings needed here!
How to pick a ripe avocado?
I pick my avocados based on their firmness. If an avocado is rock-hard, I know that it likely won't be ready to enjoy for 4-5 days. If it gives a little when I press on it and is slightly soft, it's ready to enjoy, and if it's mushy when pressed, it's past its time!
Tips, Tricks, and Substitutions for Avocado Dressing
Here are the best tips, tricks, and substitutions for this recipe:
Use mayo instead of yogurt – if you're dairy-free, feel free to sub your favorite mayonnaise (THIS is ours) for the Greek yogurt. It'll still be delicious! Your favorite dairy-free un-sweetened yogurt could also be a great swap.
Make sure your avocado is ripe – like any fruit, a ripe, ready-to-enjoy avocado just tastes better than a hard, not-quite-ready one. Be sure to pick a ripe one for this recipe.
Use fresh lime juice – when it comes to ANY citrus, fresh is always best! In this case, I definitely recommend juicing 3 limes as opposed to buying bottled, shelf-stable lime juice. Your finished sauce will taste fresher because of it. If you can find fresh-squeezed lime juice (like we have in San Antonio, TX), that will get you the closest to a fresh flavor.
Adjust to your preferred spice level – the addition of jalapeno in this recipe provides both spice and flavor, so I don't recommend omitting it altogether. Instead, if you're looking for less spice, deseed the jalapeno completely before tossing it into the blender. Alternatively, if you want *more* spice, leave the seeds in, and if you're somewhere in the middle, take some seeds out and leave some in!
How to make Avocado Lime Dressing
The process is super simple: place the ingredients in a blender or mason jar (with a large enough opening for you to use an immersion blender), and blend on high for 1 to 2 minutes, or until smooth. Add more lime juice (or water) if needed to get the consistency you want!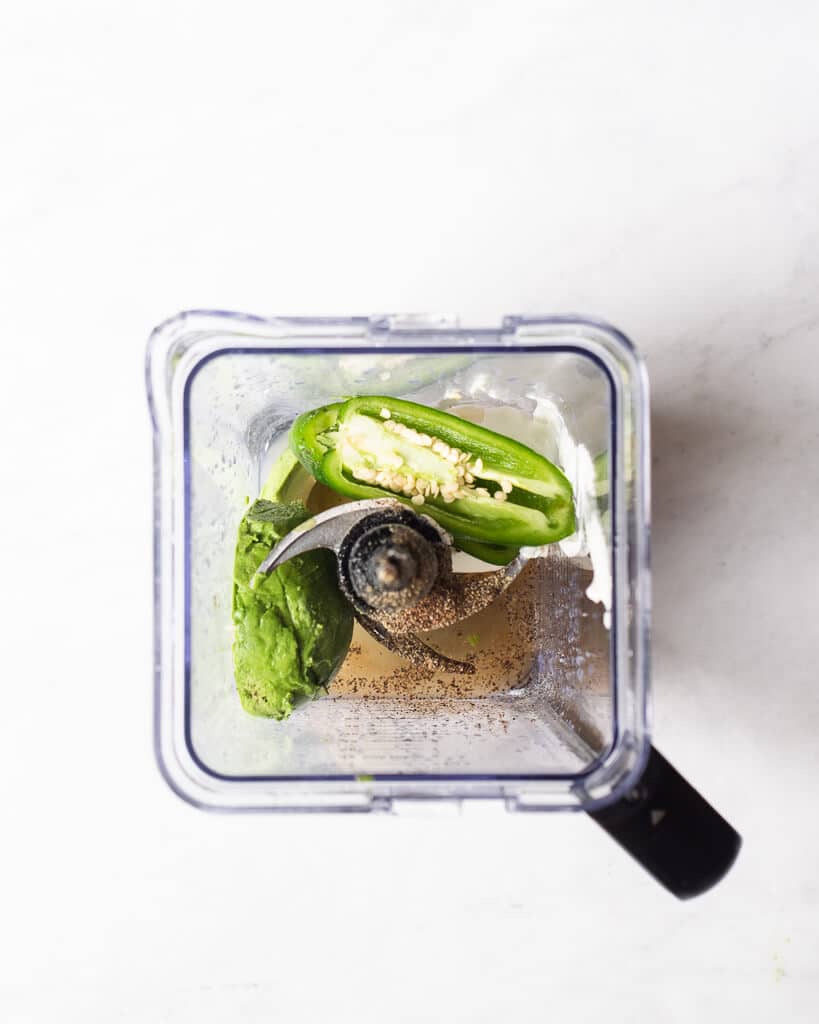 What makes this Avocado Dressing Recipe so creamy?
In short: the avocado. You might think it's the yogurt, but if you've ever added avocado to a smoothie (don't knock it until you try it!), you know that it literally transforms a could-be gritty smoothie into a luscious, creamy one. It does the same thing here!
How to serve creamy homemade avocado dressing?
As mentioned above, this recipe was originally created as a coleslaw dressing, so that's one great, really obvious application for it. It's also really delicious as a salad dressing, a sauce to finish off a bowl with (think: pan-fried plantains, black beans, shredded chicken, and this creamy avo sauce), or even a finishing sauce on tacos (fish, ground beef, shredded chicken — you name it!). Cassy has also been known to drizzle a generous amount over this easy snapper with rice on the side.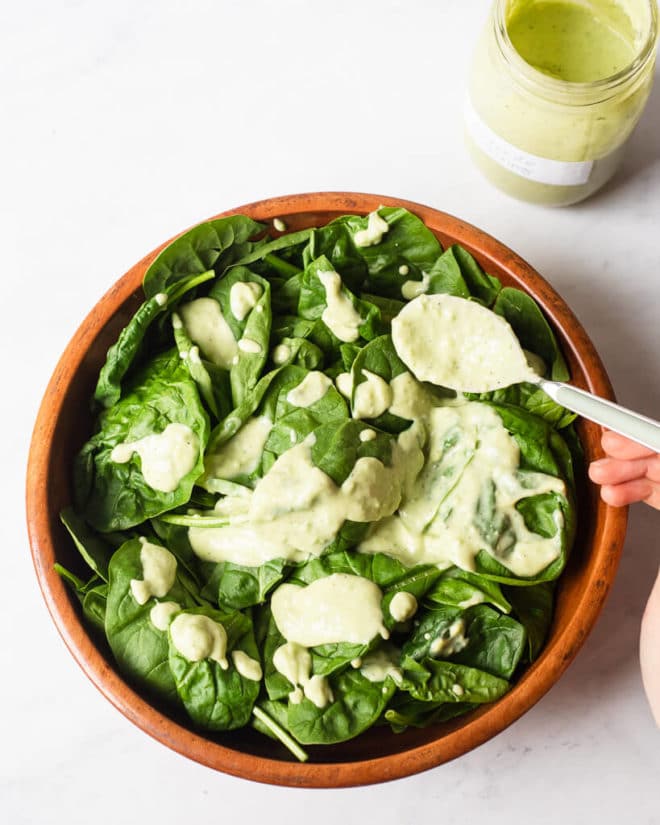 How to store creamy avocado dressing?
This dressing is best stored in the refrigerator in an airtight container or jar (a mason jar works really well here.) Stored this way, it'll last for 4-5 days.
Can I freeze avocado dressing recipes for a later use?
I actually don't recommend freezing this sauce. It's so quick and easy to whip up fresh, and there's a good chance that the flavor and texture will be compromised after being frozen and thawed.
What to serve with this homemade avocado dressing?
Here's a list of recipes that this sauce would be really delicious with:
Ingredients
1/2

cup

Greek yogurt or avocado oil mayo

1

small avocado

or 1/2 large

1/2

fresh jalapeno

seeds removed for less spicy option

3

limes

juiced

1/2

teaspoon

sea salt

cracked black pepper

to taste
Instructions
Place the dressing ingredients in a blender or mason jar (where you can use an immersion blender). Blend on high for 1 to 2 minutes, or until smooth. Add more lime juice (or water) if needed to get the consistency you want.
Nutrition Information
Nutrition Facts
Creamy Avocado Dressing
Amount per Serving
% Daily Value*
* Percent Daily Values are based on a 2000 calorie diet.
Recipe Notes
Makes about 1 1/2 cups of dressing